Published on July 23, 2018  
Amid all the spectacular performances in the first half of the MLB season, Aaron Nola stands out as one of the best. At 12-3 through twenty starts, he's racked up 131 strikeouts, a 2.30 ERA, only thirty-five walks and has given up only six homeruns. Coming into this season, many regarded him as a quality mid-rotation pitcher and veteran acquisition Jake Arietta as the true ace in the rotation. As the second half of the season begins, the question now is could Nola win the NL Cy Young Award this year.
A Change of Pace
One of the biggest reasons that Aaron Nola has flourished this year is his usage of his changeup. Thought of as a mediocre fourth pitch last season, it's now become one of his go to pitches in his arsenal. Only thrown 20% of the time in all counts last season to lefties and 12% to righties, it's now jumped to 22% for lefties and 19% to righties. He's also been using it to get back into counts when the batter is ahead. In 2017 he was only able to manage a 52% swing rate and 15.65% whiff rate on his change up but in 2018 he's increased both to 58.8% and 18.8% respectively.
Along with his changeup, his curveball has been excellent. Continuing with his trend from last season, Nola has used his curveball often as the first pitch in an at-bat. He starts left handed hitters with his curve 36% of the time and 38% of the time to righties. He also raised his strike rate with his curve from 36.84% in 2017 to 43.55% this season.

Brooks Baseball, Nola 2017

Brooks Baseball, Nola 2018
These two charts depict a lot of the efficiency Nola has shown through the first half of the season. He's throwing his breaking balls with more velocity and with more movement than the previous season making his fastball that much more effective.
Team Dominance
Nola has been far and away the most effective pitcher on the Phillies' staff this half of the season. He started twenty games of the ninety-six total for the team. He leads them in wins (12), ERA (2.30), innings pitched (129), strikeouts (131) and WHIP (.997).
The Phillies themselves are a young pitching club, second youngest in the league in fact at the age of 26.7. They also rank eleventh in the league in ERA with a respectable 3.85.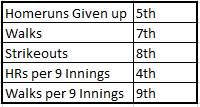 The chart above shows some of the Phillies rankings in other pitching stats, thanks in large part to Nola leading the rotation.
League Dominance
Along with leading the Phillies' pitching staff to a strong first half of the year, Nola has done his part to put himself among the top pitchers in the entire league. One of the most impressive parts of Nola's start this year is his WAR. WAR is the hottest stat in Major League Baseball and his being applied to every player to display just how much he brings to the team. Not only did Nola rank second in WAR behind deGrom for pitchers, but he was in the top five overall in the league. He also ranks fifth in ERA, tied for second for wins, sixth in walks and hits per innings pitched and seventh in hits per nine innings. Nola is more than holding his own as an elite pitcher.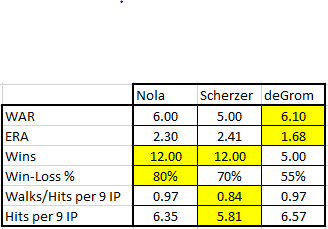 Above are the three current front runners for the NL Cy Young Award, including the winner of the past two, Max Scherzer. Nola is a top three pitcher in the National League and is looking to build off his strong first half and lead the Phillies to their first National League East title since 2011. He'll have tough competition from the reigning champion Nationals and the up and coming Braves but with a similar second half, he could very possibly be looking at his first Cy Young and first post season appearance.
Works Cited
https://www.baseball-reference.com/leagues/MLB/2018-pitching-leaders.shtml
https://www.baseball-reference.com/players/n/nolaaa01.shtml
https://www.baseball-reference.com/teams/PHI/2018.shtml
http://www.brooksbaseball.net/