Published on August 13, 2018 by William Edward Bazemore, Jr.  
In the heat of August, NASCAR's attendance numbers continue to find a way to stay cool, and not in a good way. While the recession of 2008-2009 hurt all sports, NASCAR really took it on the chin. Attendance continues to dwindle each year, and NASCAR has struggled to adjust. There used to be a buzz that flowed throughout the sports world as the Daytona 500 approached. Even for run-of-the-mill fans, there always seemed to be an enticing factor that surrounded the starting roar of the engines. It has become apparent that this is not the case now, and this can be attributed to multiple factors.
By the Numbers
First, we'll look at data. These statistics come from the Sports Business Research Network (SBRnet). The total number of fans attending races dropped from 4,727,000 to 4,059,000 from 2016 to 2017. The number of fans attending more than one race a year dropped 5.8%. Television numbers suffered too, as the total number of people who viewed races on television declined from 34,399,000 to 30,657,000.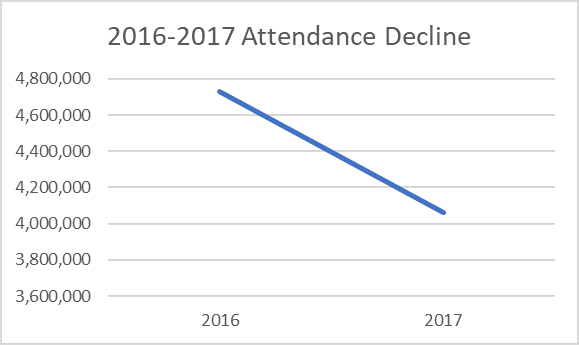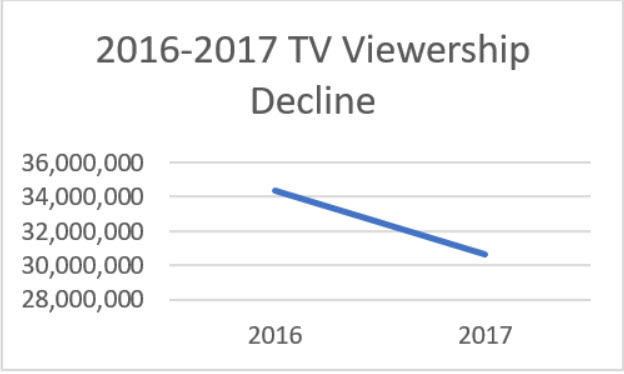 There have also been declines in some specific demographic areas. According to SBRnet, the number of fans ages 13-17 who attended a race dropped almost 2% from 2016 to 2017. The percentage of total fans who purchased NASCAR sports logo apparel declined from 16.9% to 15.3% between those same seasons. What seems to be causing these various declines?
What's the Problem?
Jeff Gordon, Dale Earnhardt, Jr., Tony Stewart, and Carl Edwards have all recently retired from the sport. When these household names called it quits on the track, other drivers were expected to step up to fill the star power shoes; unfortunately, that has not seemed to happen. According to John Saunders, the current president of the International Speedway Corporation (ISC), NASCAR is still having "an issue with star power, and hopefully this stable of young drivers coming along will start to win and build their brands" (John Saunders, SBD). In response to this, Ryan Blaney (@Blaney), himself a member of the "stable of young drivers," stated that the young guns are "trying. We're trying our hardest."
Another potential cause of decline in attendance is the state of the tracks and the atmosphere that they present. Daytona International Speedway, arguably the most historic track in NASCAR, began a major overhaul in 2013 that was dubbed "Daytona Rising." According to one article, the intention of the sizable $400 million renovation was to "make the grandstands more of a modern hangout than just a big bunch of seats." The article goes on to say that Daytona "made the seats larger, added more concession stands, made social areas and doubled the amount of restrooms at the track." The renovation was a good thing, but here is an interesting bit of information: approximately 50,000 seats were removed from the grandstand. The Daytona 500 sold out this year, but would it have sold out if it still had those 50,000 seats?
Darlington and Richmond have announced renovations. This will benefit these tracks, but will it benefit the sport as a whole? The effect probably will not be large. This leads to the dark cloud question that currently hovers over the sport: is NASCAR really trying hard enough to get out of the hole?
With attendance lacking as much as it has recently, one might conclude that people have found other alternatives to what some dub as "cars going in a circle for hours." Leagues like the NBA and NFL have learned how to adapt to and capture modern audiences through their social media presence. For instance, the NBA has almost nine times the Twitter followers that NASCAR currently possesses. As far as personalities go, well, there once was a time when NASCAR drivers used to go after each other week in and week out, off and on the track. The sport carried an edge that captured people's attention; now, other sports have stolen that spotlight.
Finding a Solution
For NASCAR to pull itself out of its current attendance hole, it must be willing to adapt to the modern fan. In today's age, people seek instant gratification. A way to do this would be to design a race day experience that caters to the modern sports fan. Following a path like the one that "Daytona Rising" took could be a good start. Fans now want spots where they can hang out and socialize; this would probably serve as a relief for fans in the grandstands during a 300-lap race. Involving technology by creating a virtual reality experience for fans that allows them to ride with their favorite driver would be attractive to many young fans. Of course, traditionalists would probably argue against this, saying it takes away from the real "feel" of a race. That may be true, considering how raucous and rowdy NASCAR environments tend to get. Times have changed, however, and NASCAR must be willing to adapt harder.
This blog post was written by Samford University student William Edward Bazemore, Jr. You can learn more about William Edward Bazemore, Jr, at https://www.linkedin.com/in/will-bazemore-4a1329133/.
Works Cited
Helber, Steve. (2018, April 19). Richmond Raceway renovations. Retrieved from https://www.usatoday.com/picture-gallery/sports/nascar/2018/04/18/richmond-raceway-renovations/33930919
King, Alanis. (2018, February 18). The Daytona 500 Is Sold Out, But Only After The Track Removed Almost 50,000 Seats. Retrieved from https://jalopnik.com/the-daytona-500-is-sold-out-but-only-after-the-track-r-1823115572.
(2018, January 31). Darlington Raceway to make facility improvements, improve seating. Retrieved from NASCAR.com
(2018, July 6). Young NASCAR Drivers Push Back On Blame For Sport's Woes. Retrieved from https://www.sportsbusinessdaily.com/Daily/Issues/2018/07/06/Leagues-and-Governing-Bodies/NASCAR.aspx
Sports Market Analytics: A service of SBRnet. Retrieved from sportsmarketanalytics.com.ezproxy.samford.edu/Sports/Motorsports.aspx