Published on October 15, 2018 by Luke Reagan Hill  
The 2018 FIFA World Cup came to its conclusion in July, and it was one of the most thrilling tournaments to date. Global soccer superpowers like Germany, Spain, and Argentina were eliminated early, leaving plenty of fresh faces to the latter stages. It ended with a 4-2 barn burner in favor of France, winning their second World Cup.
Then, once the World Cup fever is gone, its back to league play, as players return to their clubs. For the MLS, it means many of their stars returned to action, as the World Cup occurs right in the middle of the MLS season.
Major League Soccer has seen some tremendous growth in the last decade, as evidenced by many stats and trends that we see today. Nashville, the most recent expansion city, will pay $150 million to have an MLS franchise. Just 10 years ago, Toronto only paid $10 million. Filip Bondy of Forbes (@FilipBondy) wrote: "Major League Soccer is expanding at a pace almost unprecedented in sports history."
While there are several numbers worth examining, viewership numbers do not show the great news that the money shows.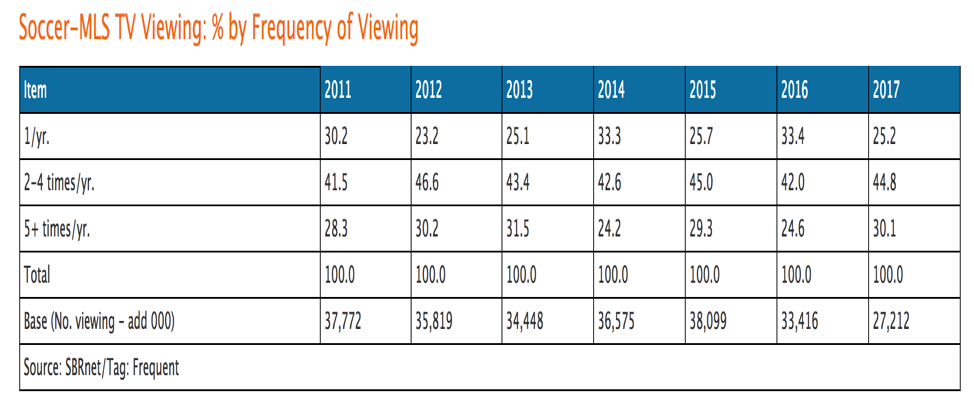 Chart 1 above shows the percentage of viewers who only watch the MLS once per year, 2-4 times per year, and 5 or more times per year. The result is the total viewership of the MLS divided up into three percentages representing how frequently they watch the MLS.
Starting at the bottom, there has been a large decline in the base viewership numbers, losing over 10,000,000 from 2015-2017. This may be proved by the viewers who reportedly only watched one time per year. That number dropped from 33.4% in 2016 down to 25.2% in 2017. This could potentially show that the MLS is not retaining those one-time viewers and that these viewers have simply decided not to watch at all.
Another issue we are seeing with MLS viewership is the target demographic of 18-34 year olds has continuously decreased in recent years.

The base total is the same total from the first chart, but now we see the viewers divided into age groups. The most important age group is 18-34 years old, as that is the age group that is the most likely to buy merchandise, buy tickets, and remain fans for a long time. According to these numbers show in chart 2 above, the MLS may be having a problem reaching this important audience, as that percentage of the viewership has fallen two years in a row.
Norman Chad of the Washington Post (@NormanChad) wrote the following in his article on MLS expansion: "The bad news is that TV viewership is, well . . . how can I put this gently? Remember those old Emergency Broadcast System tests that ran on our pre-cable, 19-inch TV screens? They would attract more viewers today than your typical MLS game."
The MLS is having huge success in bringing in revenue, as apparent by the $150 million expansion franchise fees. The MLS is also succeeding in bringing in star players, such as Bastian Schweinsteiger and Zlatan Ibrahimovic. But as simply as Chad put it, the MLS is struggling with TV ratings.
However, this could be explained away in a few different ways.
The first possibility and the simplest is that people are not watching the games on television anymore. Instead, they have turned to live streams of the game or other web-based content. "Cord-cutting" has hurt every single major sports league in the United States, as television ratings have fallen across every sport. Even the NFL, after a decade of seemingly unstoppable growth, has suddenly turned and headed in the wrong direction.
On top of that, it is the 18-34-year-old demographic that is most likely to move on from cable. With streaming options for every league, and television and movie services like Netflix and Hulu, the TV ratings for this age group is falling considerably. It is entirely possible that the MLS is just the latest major US sports league to fall victim to the cord-cutting millennials of today.
One other option is that the game of soccer itself is stalling development and viewership. In all major sports leagues, scoring is what brings the fans excitement. Very few people leave an MLB game after a 1-0 final score and describe the experience as "thrilling." Fans want action, lead changes, and points, and that's been evidenced by the rules changing to promote higher scoring offenses in leagues like the NFL, NBA, and MLB. The MLS would benefit from some high scoring games, rather than only one or two goals scored (or the dreaded 0-0 tie).
While there are many peculiar trends in television viewership, there is no doubt that the MLS is growing in popularity. Franchises are being created almost every year, global superstars are coming across the pond to play their twilight years in the United States, and attendance numbers are actually improving, contrary to other leagues. If the MLS can find steady growth on television, the league could become one of the fastest growing products in America.
About the Author
This blog post was written by Samford University student Luke Reagan Hill. You can learn more about Luke Reagan Hill at https://www.linkedin.com/in/luke-hill-b3bbaa10b/ .
Citations
Bondy, F. (2017, November 13). Major League Soccer May Be Growing Too Rapidly For Its Own Good. Retrieved from https://www.forbes.com/sites/filipbondy/2017/11/13/major-league-soccer-may-be-growing-too-rapidly-for-its-own-good/ 
Chad, N. (2018, May 6). The problem with the rapid expansion of professional soccer in America. Retrieved from https://www.washingtonpost.com/sports/the-problem-with-the-rapid-expansion-of-professional-soccer-in-america/2018/05/06/f690dfe0-50d2-11e8-84a0-458a1aa9ac0a_story.html?utm_term=.7f3630b2aaae 
Soccer-MLS TV Viewing: % by Frequency of Viewing. Retrieved from http://sportsmarketanalytics.com.ezproxy.samford.edu/research.aspx?subrid=563