Published on May 18, 2018 by Patrick Schilling  
The NBA playoffs are in full swing this week featuring two heated matchups, the Cleveland Cavaliers vs. Boston Celtics in the East, as well as the Golden State Warriors vs. Houston Rockets in the West. These two matchups have been talked about and predicted since the beginning of the season, but it's exactly what NBA fans wanted. Game 1 of the Western Conference Finals turned into TNT's most watched Western Conference Finals Game 1 of all time and the most-watched on any network since the Lakers vs. Kings matchup in 2002. Along with that, last week's semi-finals games owned the top-5 spots in ratings and viewers (in the 18-49 age range) for single shows. For comparison, the highest rated NHL Playoff Game was fourteenth, behind two Inside the NBA Playoffs episodes as well as three WWE Monday Night Raw events. The NBA dominates the late spring – early summer in the sports world, but has it begun to dominate yearlong much like the NFL does?
The Value of TV
This season, games aired on TNT averaged 1.7 million viewers, which tallies the most average viewers since 2013-2014, a 14-15% increase. The NBA on ABC also rose, up 17% in the 18-34 and 18-49 demographic (the most coveted among advertisers). On the flip side, the NFL had its lowest rated season since 2000 and its least viewed season since 2008. The NFL's primetime package (SNF, MNF and TNF) also averaged their lowest viewership since 2008. Similarly, the NHL average viewership in 2017-2018 dropped by 12% from a season ago. Of their three networks (NBC, NBCSN, NBC's digital streaming), only NBC boasted an increase (4%) but only had a twelve-game schedule. Based strictly on volume, no league can compete with the NFL's total viewers but ratings and percent-changes in viewership give a good breakdown of their trends.
For the NBA, this is great news. As sponsors crunch these number, more opportunities will move to the NBA for companies to advertise and promote on their networks. This season for example, the NBA launched a new sponsorship by allowing teams to broker deals with companies to put a patch on their jerseys. Although these patches are hardly noticed by the casual fan, sports media valuation company GumGum Sports estimated that these patches will generate over $350 million in value to the companies over the term of the deal. NBA teams can sign deals up to three years, the deals averaging $9.3 million annually and peaking at $20 million (Golden State).
Social Media Power
As our world becomes more digital every day, it's important for professional sports leagues to do the same. The NBA does a fantastic job of not only promoting itself on social media, but also by encouraging its teams and players to express themselves how they want to. Take Twitter for example, the NBA has 27.7 million followers. Comparing it to the other three major sports, the NFL has 24.7 million, the MLB has 8.38 million and the NHL comes in at only 6.28 million.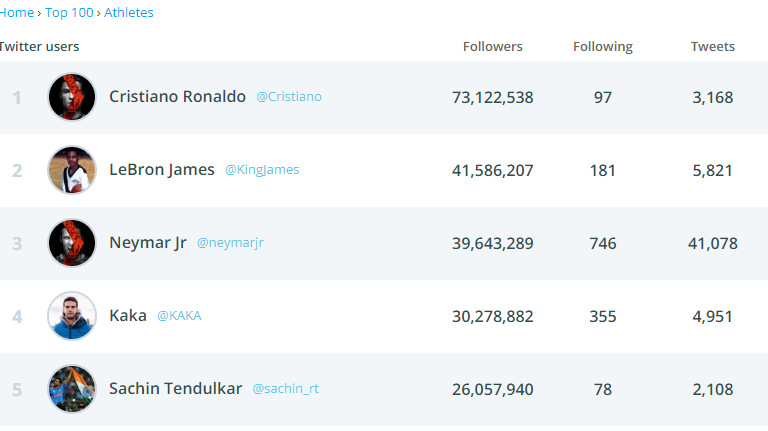 Of the top five most followed athletes on Twitter, Lebron James is the lone American athlete. Of the top-100, the NBA has sixteen representatives (retired and current). Of the other three major American sports, there are two representing athletes (J.J. Watt and Tim Tebow).
In 2016, the NFL cracked down on its teams with a new rule that prohibits them from posting unapproved videos/GIFS to their social media accounts during the game. Any deviance and teams could face a fine of $100,000 or "loss of rights to post League-Controlled Content (including game footage)." This was devised to help drive viewers towards the TV, not social media. In an age where fans want stats and videos as soon as possible, it's a big opportunity for the NFL to not jump on.
Team Values
On cue with the rest of its organization, NBA team values are trending up. According to Forbes, the average team is worth $1.65 billion, a record high and up 22% from last season. For the first time ever, every team is now also worth at least $1 billion. Over the past five years, the value of NBA franchises has tripled, and those values show no signs of stopping. The NBA in my opinion, also has the greatest international potential. With huge followings in Europe and China as well, the NBA has taken steps to spread even further by scheduling an annual NBA Africa Game and establishing academies in Africa as well.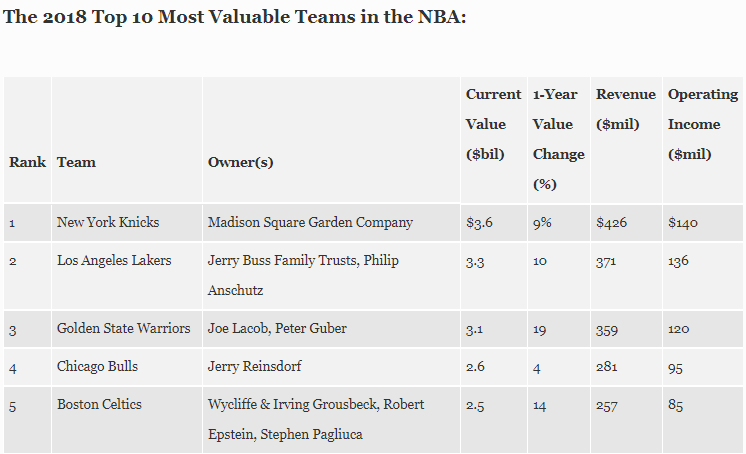 Investors also believe that these international successes could lead to NBA teams one day becoming more valuable than NFL teams. The NFL has struggled to go international with attempts like NFL Europe and annual games played in London and more recently, Mexico City are widely criticized with many fans wanting them to stop altogether.
Overview
The NBA is the hottest league in major American sports. No other league can compete with the way they use social media but more importantly, they've done the best job of reaching the youth audience in America. Over the next few years, expect all these numbers to grow. The NBA is here to stay and is pushing to dominate sports both inside and outside of the U.S.
Work Cited
https://www.cbssports.com/nfl/news/report-nfl-to-fine-teams-for-posting-unapproved-videos-to-facebook-twitter/
https://www.forbes.com/sites/darrenheitner/2018/02/15/sponsors-may-be-pleasantly-surprised-with-nba-jersey-patch-roi/#5b22581247ee
https://www.forbes.com/sites/kurtbadenhausen/2018/02/07/nba-team-values-2018-every-club-now-worth-at-least-1-billion/#38b3fc057155
https://www.forbes.com/sites/forbespr/2018/02/07/forbes-releases-20th-annual-nba-team-valuations/#28609d2234e6
http://www.nba.com/article/2018/05/15/warriors-rockets-most-watched-west-finals-game-1-ever
http://www.sportsmediawatch.com/2018/02/nfl-ratings-decline-2017-analysis/
https://www.si.com/tech-media/2018/01/03/nfl-ratings-decline-espn-fox-nbc-network-tv
http://www.sportsmediawatch.com/2018/04/nhl-viewership-nbc-nbcsn-regular-season/
http://www.sportsmediawatch.com/2018/05/nba-playoff-ratings-cavaliers-raptors-tnt/
https://www.sportsbusinessdaily.com/Journal/Issues/2017/10/16/In-Depth/Jersey-patches.aspx
http://tvbythenumbers.zap2it.com/weekly-ratings/cable-top-25-for-may-7-13-2018/
https://twittercounter.com/pages/100/sports-athlete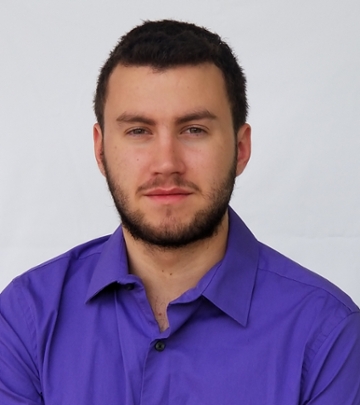 About the Author
Patrick is a rising senior attending Western Carolina University with a double major in sports management and computer information systems. He loves to study data trends related to the business of sports as well as in athlete performance. He hopes to one day work in the sports industry after graduation.