Published on July 16, 2018 by Nicholas Tice  
One of the best ways for an NBA prospect to increase their chances of landing a contract is to have more eyes watching them, whether that be through film or in person. The Las Vegas and Sacramento Summer Leagues do just this by congregating young NBA talent in one location for all NBA, G League and foreign teams to scout. The summer league was developed in 2002 to serve as a bridge between the NBA Draft and preseason. It assimilates young draftees with their new team's culture and aids in the transition to professional basketball. For second year players or those overseas, it gives them a chance to demonstrate how they have developed and that they belong. Additionally, all teams are coached by the assistant coaches of the real teams. This provides these coaches some head coaching experience, and in some ways a tryout, in calling plays, managing minutes in the game, and teaching in practice and on the sideline. For the first time ever, all 30 NBA teams are represented at Las Vegas. The summer league has never been bigger and it's beginning to have a significant impact on areas other than player development.
Player Development
The goal of the summer league will always be, first and foremost, to improve the abilities of the young first and second year draftees on each roster. These players may not get a lot of playing time with their teams during the regular season, but the games provide them with the opportunity to be a lead playmaker in a low stress situation without having to be in the G League. How players perform in these extremely small sample sizes of 3-6 games against inferior competition often elicit wild overreactions from fans and media. Because of the small sample, it is difficult to predict NBA performance from summer league statistics. Below is a table of the MVPs from the Vegas and Orlando summer leagues and their career stats. Besides Griffin, Wall, and Lillard, there isn't a whole lot of clear stars. It's too soon to tell with Ball and Gordon, but there doesn't appear to be any huge connection between summer league MVP and NBA success.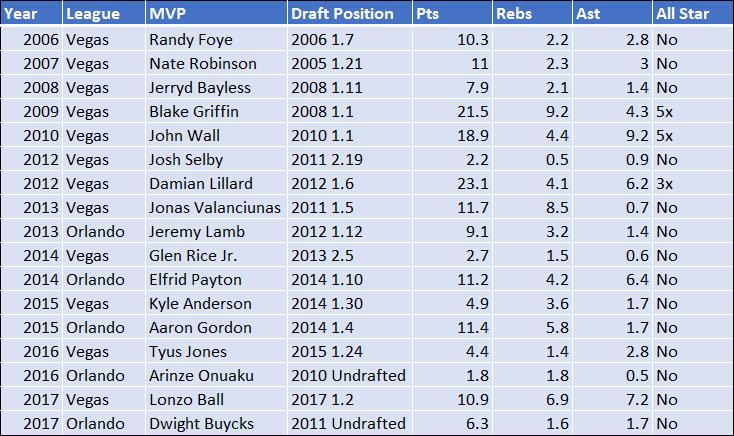 Draftexpress tried to find the correlation between different summer league and NBA statistics and found that assists per game had the strongest correlation coefficient at 0.64, followed by rebounds per game (0.55), and points per game (0.3). Scoring does not have much predictive power, but good passers and rebounders in summer league will likely continue this trend in the NBA.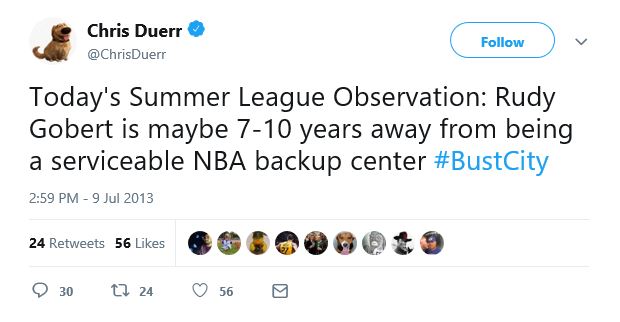 Although most people know to take summer league performances less seriously, some people still jump to decisive conclusions about prospects after one quarter of play and wish to fire off their thoughts in the form of a tweet to their followers. Luckily, there is a man to hold these people accountable. Fred Segal, the man behind the Freezing Cold Takes (@OldTakesExposed) twitter account that exposes bad takes years later, recently wrote this article on Outkick the Coverage about the summer league: https://www.outkickthecoverage.com/forgotten-rookie-summer-league-performances-reactions/. The whole article is a fun read, but one of my favorite tweets from Segal's article is pictured about Utah Jazz player Rudy Gobert. In his 5th season, Gobert has been named the Defensive Player of the Year (2018), a two time All-Defense First Team (2017, 2018), and one time All-NBA Second Team player (2017). He has been far from the #BustCity that Duerr predicted.
Finances
Besides player performance, the summer leagues have also turned into profitable business ventures, especially at the Vegas venue. Attendance has increased from a few thousand at the old 2,500 capacity stadium to more than 120,000 (over multiple days) at the new 17,923 capacity stadium, with all-day nine hour viewing passes costing a cheap $30 (Draper). Additionally, all games are broadcasted on ESPN or NBA TV and the ratings continue to rise. Because Las Vegas does not have an NBA team, although they did just add a WNBA franchise, this is one of the only opportunities people living there have to see NBA talent live.
Summer league also has a financial impact on the players. Prospects are coming to Las Vegas from all over the globe, oftentimes finishing up seasons in Europe and Asia. While they are provided a roundtrip flight, the flight times are often less than ideal since they are chosen by the team, and many have their departures planned for the night of the final game. Players are also not paid at all for their time, outside of the plane ticket, hotel, and food. They are usually given a "per diem" between $100 and $150 per day for their three meals. For the players not on contract by the official teams, they'll often buy fast food meals to save some of their food allowance as a form of payment (Schlosser). Established NBA players and executives often visit to watch the younger players on their team, and it can be a source of interaction between players, agents and team executives. During this summer league, restricted free agent Marcus Smart and his agent were seen talking with the general manager of the Brooklyn Nets in the bleachers of one of the games. The Nets are expected to make an offer for him which shows how business can be discussed in any kind of venue.
Works Cited
Danforth, N. (2016, July 07). Summer League Statistics: Something or Nothing? Retrieved July 10, 2018, from http://www.draftexpress.com/article/Summer-League-Statistics-Something-or-Nothing--5628/
Draper, K. (2017, July 12). The Two Men Who Make Money From the N.B.A. in Summer. Retrieved July 10, 2018, from https://www.nytimes.com/2017/07/12/sports/basketball/the-two-men-who-make-money-from-the-nba-in-summer.html
Edwards, B. (2013, October 27). NBA Summer League. Retrieved July 12, 2018, from https://www.flickr.com/photos/bryce_edwards/10509474476/in/photolist-h1FNBN-byDV5-2eX3cP/
OKTC, F. S. (2018, July 08). Forgotten Rookie Summer League Performances and Reactions. Retrieved July 11, 2018, from https://www.outkickthecoverage.com/forgotten-rookie-summer-league-performances-reactions/
Schlosser, K. (2018, July 06). Understanding the Financial Burden of NBA Summer League Free Agents. Retrieved July 11, 2018, from https://www.ridiculousupside.com/2018/7/6/17539408/financial-burden-no-pay-salary-nba-summer-league-g-league
Von Tobel, J. (2018, July 06). Why this summer league betting scene will be craziest yet. Retrieved July 10, 2018, from https://nypost.com/2018/07/05/why-this-summer-league-betting-scene-will-be-craziest-yet/
About the Author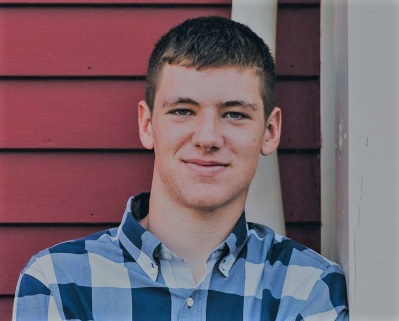 Nick Tice is a rising junior at the University of South Carolina double majoring in Statistics and Sports Management. He is looking to pursue a career in NBA analytics after graduation.