Published on September 18, 2018 by Patrick Schilling  
On Thursday August 23rd, all three of the top contenders for the National League Cy Young Award were on display and much like they've done the whole season, they put on an excellent performance. Jacob deGrom faced off against Madison Bumgarner. deGrom had what for him was an off performance but for anyone else a quality game: 6.0 IP, 1 ER, 10 K and 4 BB but picked up the loss none the less. Max Scherzer and the Nationals faced off against Aaron Nola and the Phillies as well, both posting excellent games. Scherzer went 7.0 IP, 2 ER, 10 K and 4 BB picking up the loss. Nola on the other hand, looked dominant against the 3-time Cy Young winner posting the impressive line of 8.0 IP, 0 ER, 9 K and just 1 BB.
Going into this year, Max Scherzer was the obvious favorite to take his fourth Cy Young. After deGrom's strong start at the beginning of the season, he looked like the second player from the NL East that would challenge Scherzer for that title. Nola on the other hand flew under the radar until the halfway point of the season when he was named an All Star. His coming out party was winning the duel against Mad Max Scherzer and, like he has all season, carried the Phillies to a win. It's become a clear three-horse race in the NL and any of these three winners will be a good winner for the 2018 season.
Jacob deGrom
Jacob deGrom has most certainly had the most peculiar season. He's on a team that's almost twenty games behind their division leader, he's posted an 8-8 record but at the same time recorded a 1.71 ERA. If the season were to end with deGrom's 1.71 ERA, that would be the lowest in history by .1 points. While posting these numbers, deGrom is also tied for fifth in lowest run support per game (3.65).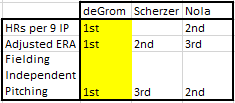 Even being on such a poor team, deGrom continues to shine. He leads the NL in homeruns per nine innings (.4), adjusted ERA which adjust a pitcher's ERA to all the ballparks (216), and fielding independent pitching which shows a pitcher's ability to avoid hitting and walking batters as well as giving up homeruns (2.07).
Aaron Nola
Unlike the other two pitchers in contention, Aaron Nola is pitching meaningful games that could ultimately lead to his first postseason appearance. It's also safe to say that a lot of the reason the Phillies are where they're at right now is because of the efforts from Nola. He's started twenty-six games for Philadelphia this season and along with recording his fifteen wins, he's only lost three games. He carries a league best .833 win/loss percentage into the end of August.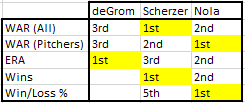 Along with win/loss percentage, he also leads the league in WAR (Wins Above Replacement) for all pitchers (8.9). There's a clear argument to be made that Nola may do the most for his team than any other pitcher in all of Major League Baseball. For Nola and the Phillies, the future is bright. In just his fourth year, he's established himself as one of the best pitchers in the game, setting career highs this year in wins, ERA and innings pitched. He's also on pace to set career highs for strikeouts, games started and career lows in walks, homeruns and earned runs.
Max Scherzer
There's not much else to say about Mad Max Scherzer. He came into this season as the overwhelming favorite to win the Cy Young and at this point, may still be the favorite. He currently leads the NL in overall WAR (8.8), wins (16), walks and hits per 9 IP (.886), hits per 9 IP (5.747), strikeouts per 9 IP (12.088), innings pitched (181.2) and strikeouts (244). Stat wise, no one this season has been better than Mad Max, unfortunately his efforts have not been enough for the Nationals.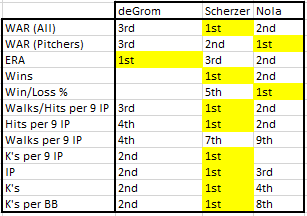 Above, is a summary of Scherzer's numbers against the best in the NL. Just looking at this, it's hard to reason why either Nola or deGrom should beat out Scherzer for the award. Although stats don't tell the whole story, it's clear why up and coming pitchers are compared to him.
Overview
As stated before, no matter which of these three takes home the trophy they will be a quality winner. Any other year, maybe one of them is a runaway winner but as it stands, it'll be a three-horse race to the finish. It's hard to tell who has the edge right now, but it'll be a great story either way. Can deGrom win as an underdog with a poor record and steal the Cy Young? Can Aaron Nola continue his dominance and not only win it in his fourth year, but lead the Phillies to the playoffs? Or will the reigning king, Mad Max Scherzer hold on to take his fourth trophy? We'll just have to wait and see.
Works  Cited
https://www.baseball-reference.com/
http://www.espn.com/