Published on August 15, 2018 by Nicholas Tice  
Coming off an ACL injury suffered in the 2014-2015 college football season, Georgia running back Todd Gurley became the tenth overall pick in the 2015 NFL Draft by the St. Louis Rams. Gurley missed the first three games of his rookie season, but still became the AP Offensive Rookie of the Year over Jameis Winston and Amari Cooper, was a second-team All-Pro, and was named the 22nd best overall player by his peers in the NFL Top 100 Players of 2016 list. Before his second season, the Rams moved from St. Louis to Los Angeles and traded up fourteen spots to the first overall pick to draft Jared Goff out of UCLA. The move to LA did not benefit Gurley and his numbers tanked in his second season. In his third season, Gurley returned to his rookie form with the emergence of Goff as one of the top quarterbacks in the NFL and the coaching change from Jeff Fisher to Sean McVay.
Yearly Difference

This table shows Gurley's year-by-year splits over the course of his career. While the total yards were similar in his first two years, one can see that his efficiency drops severely based on the yards per rushing attempt (4.8 to 3.2) and yards per receiving attempt (9 to 7.6). In his second year, he finished 17th in the league in both rushing yards and total yards from scrimmage. His stats improved in every way in year three, and he led the league in yards from scrimmage, rushing touchdowns and total touchdowns. With the switch to McVay as head coach and Goff as the full-time quarterback, the offense flourished in the 2017 season and opened much more space for Gurley to run.
Offensive Philosophy
Jeff Fisher was often maligned for his anemic offense, and it did not help the case of any supporters he may have had when Sean McVay came in and transformed them from the worst offense in the league by forty yards (262.7 yards/game in 2016) to the tenth best (361.5 in 2017). They were 31st in both pass and run offense but jumped to tenth in passing and eighth in rushing. A notable change was in the quality of the quarterback play and the level of aggressiveness in the passes that were being attempted, a stat tracked by NFL.com's Next Gen Stats. The stat "tracks the amount of passing attempts a quarterback makes that are into tight coverage, where there is a defender within 1 yard or less of the receiver at the time of completion or incompletion" (Next Gen Stats).
The Rams split time at quarterback in 2016, and both Goff (1) and Case Keenum (4) ranked in the top five in aggressiveness. When each of them escaped the influence of Jeff Fisher, they became among the least aggressive quarterbacks in the league (Goff 4th and Keenum 14th least aggressive) and the rest of their offensive numbers skyrocketed. McVay implemented a safer game plan that made the passing game more effective than it ever was under Fisher.
Benefits to Gurley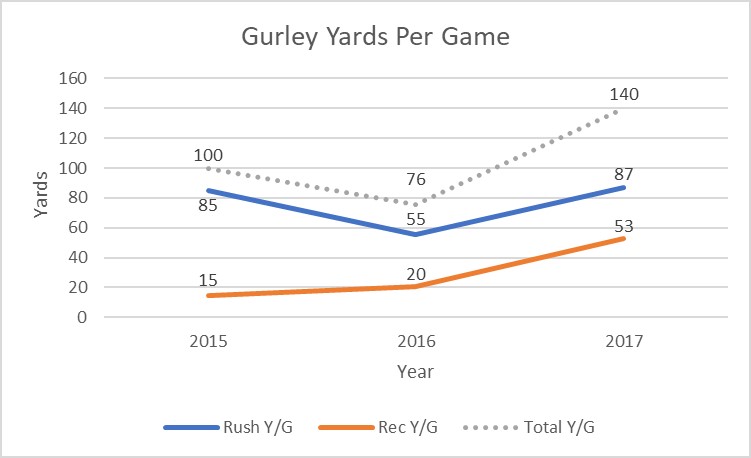 This new passing game was very beneficial for Gurley because it caused the defense to be less focused on stopping the run and made his game more multidimensional by incorporating him into the offense as more of a receiving threat. A significant change Gurley faced from 2016 to 2017, was the number of times he faced 8 or more defenders in the box against him on defense. Most teams play a 4-3 (4 lineman, 3 linebackers) or 3-4 defense and have 7 defenders in the box (the area as wide as the offensive line and as deep as the linebackers). However, the defense can drop a corner or safety into this box to have an added defender near the line of scrimmage to help against the run and bump it up to 8 in the box.
In 2017, Gurley's percentage of 8 or more defenders faced dropped from 25.9% in 2016 to 16.9%. This was third lowest in the league behind the Bengal's Giovani Bernard (12.38%) and the Saint's Alvin Kamara (16.7%), two players primarily known for their receiving ability which would make defenses play more pass personnel. This lack of defenders near the line of scrimmage could help explain how Gurley's yards per carry average increased from 3.2 to 4.7 yards.
Efficiency
Additionally, his efficiency rushing increased from 4.78 to 3.86, the second-best improvement in the league from 2016 to 2017. Rushing efficiency is a Next Gen Stat calculated by "taking the total distance a player traveled on rushing plays as a ball carrier according to Next Gen Stats (measured in yards) divided by the rushing yards gained. The lower the number, the more of a North/South runner" (Next Gen Stats). Gurley reduced the amount of distance he moved laterally and improved his ability at getting downhill to maximize his yards per carry.
Receiving Ability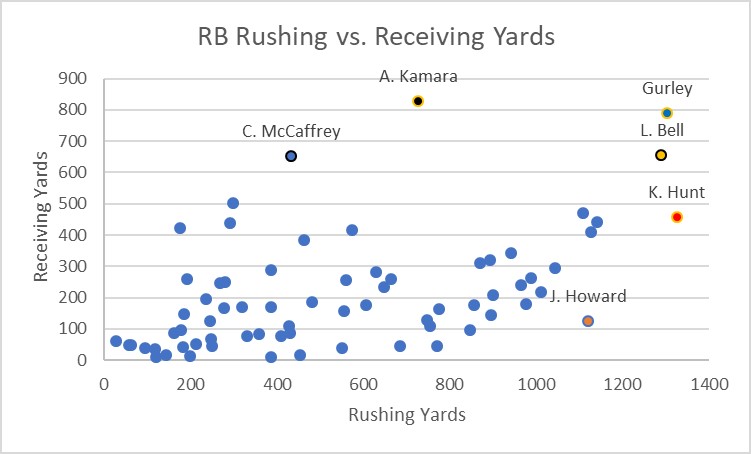 Gurley's involvement as a receiver out of the backfield led him to be the leader in total yards from scrimmage this season. He finished only 22 yards off Kareem Hunt for the rushing title and 38 off Kamara for the running back receiving lead. This was a result of the offense increasing his targets from 58 (3.6/game) in 2016 to 87 (5.8/game) in 2017 and his yards per reception by 4.7 yards. Gurley received more targets, had more receptions, and the receptions went for more yards. He improved in every facet as a receiver in 2017 and this was best on display in week 16 against the Tennessee Titans. He combined for 276 total yards and two touchdowns on 15.8 yds/rec and 5.4 yds/rush and was named NFC Offensive Player of the week. These two charts from Next Gen Stats show his carry and route chart for the game. Most of his yards come after the catch, and the Rams focused on simply getting the ball in his hands as much as possible.
[photos of Todd Gurley's Rec and Carry Charts]
Conclusion
After losing 42-14 to the Atlanta Falcons in week 14 of the 2016 season, Gurley remarked that they "looked like a middle-school offense out there" (Middlehurst-Schwartz). With the emergence of Goff and the coaching of McVay, there isn't any reason to think that Gurley would regress again, especially with the addition of Bandin Cooks to make the offense even more explosive. Gurley still figures to be the focal point of the offense and should be among the lead leaders in yards from scrimmage once again in 2018.
Works Cited
2016 & 2017 NFL Rushing & Receiving. (n.d.). Retrieved June 19, 2018, from https://www.pro-football-reference.com/years/2017/rushing.htm
Charts | NFL Next Gen Stats. (n.d.). Retrieved June 21, 2018, from https://nextgenstats.nfl.com/charts/player/todd-gurley/GUR000000/season
Glossary | NFL Next Gen Stats. (n.d.). Retrieved June 19, 2018, from https://nextgenstats.nfl.com/glossary
Herholz, D. (2010, November 01). Rams-4. Retrieved June 21, 2018, from https://www.flickr.com/photos/dherholz/5134051329/in/photolist-8PFmAn-7u6oM-8PFmet-7u6oR-7u6pf-oAZbff-pojX3C-oAZFMP-7u6pM-dqxxev-48DhjW-poi6Wy-9wTqoa-7BBt3x-oAZego-oTrNbh-oAZ3sG-bVyYMa-oTcZqt-jrtGcb-oAZwL2-oAZEmn-oTrRNC-oTtBnc-oAZDJF-nYRZ6E-oTtzrt-oTcNN6-oAZ7ZN-oTd1uH-oAZeFG-oTcY6V-8Au3KH-oAZM8D-oAZbv3-oAYAwH-8Au2rV-oAYB2v-oTtDzD-oTcV7i-oRrK1f-oTcU4g-oAZku5-oAZGsr-oAZ8XY-oAZ2hL-oAYDW8-oTtCec-oAZgTN-oAYuS6/
Middlehurst-Schwartz, M. (2016, December 12). Todd Gurley calls out Rams' 'middle-school offense'. Retrieved June 21, 2018, from https://www.usatoday.com/story/sports/nfl/rams/2016/12/11/todd-gurley-los-angeles-offense-jeff-fisher/95319274/
Rushing Stats | NFL Next Gen Stats. (n.d.). Retrieved June 19, 2018, from https://nextgenstats.nfl.com/stats/rushing#yards
Sharma, P. (2016, August 01). Jared Goff. Retrieved June 21, 2018, from https://www.flickr.com/photos/7799314@N02/28659044886/
Statistics. (n.d.). Retrieved June 19, 2018, from http://www.nfl.com/stats/team
About the Author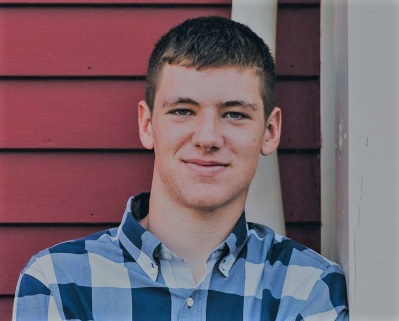 Nick Tice is a rising junior at the University of South Carolina double majoring in Statistics and Sports Management. He is looking to pursue a career in NBA analytics after graduation.