Published on November 15, 2018 by Patrick Schilling  
Now that Acuña has officially been named the NL Rookie of the Year, deservedly so, we can fully reflect on his spectacular season and what might be coming for the young star. He finished the season hitting .293 with an on base percentage of .366 and a slugging percentage of .552. These numbers would be great for any player, even a veteran.
Rookie Year
Since 2000, there have been fourteen position players that have won NL ROY. Just based on BA, OBP and SLG, Acuña ranks seventh in BA, sixth in OBP and fifth in SLG.  Throughout the entire league, he ranked fourth in overall hits out of rookies, despite playing at a minimum, thirty games less than any other rookie in the top five.
A few accolades to list for him as well, when the Braves needed him the most in the ladder half of the season to extend their lead in the NL East, Acuña came through. He won the Rookie of the Month award in August as well as an NL Player of the Week award for the week of August 19th. He also topped out at eighth in the NL in slugging percentage for all players. He also committed the second-least errors in left field in the National League (2) and finished seventh in Power-Speed which is a mean between homeruns and stolen bases.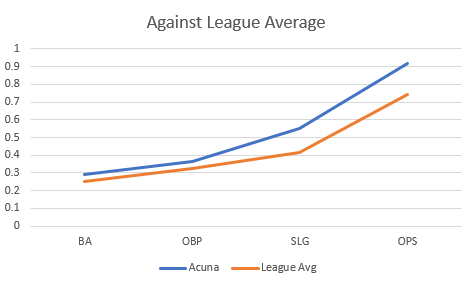 Acuña wasn't just the best rookie in the NL this year, he was measurably better than the league average in multiple major hitting categories. Along with his BA almost being .05 better than the average, he rung up an impressive .917 OPS (on base percentage plus slugging percentage) versus the league average of .744.
One of the biggest reasons he improved down the stretch was his ability to hit any kind of pitch that was thrown.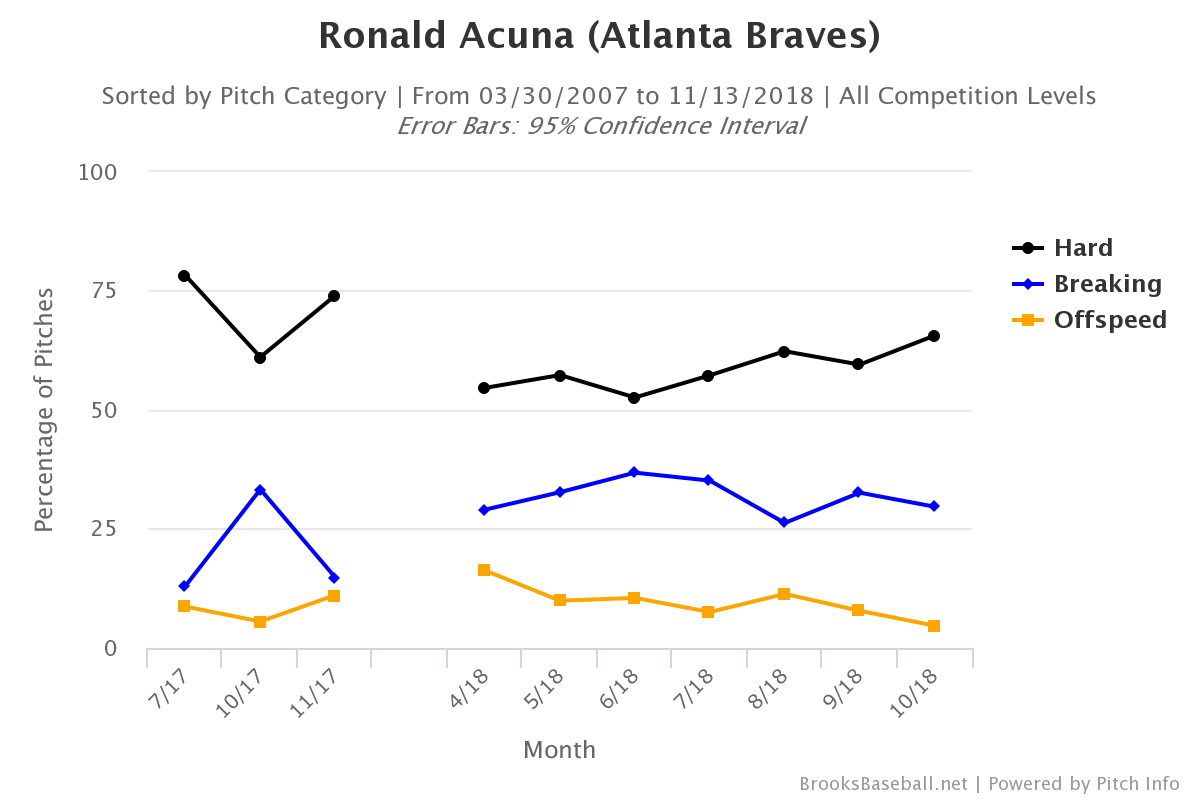 Looking at the data collected by BrooksBaseball.net, at the beginning of the year Acuña was seeing mostly hard thrown pitches. As the season went on however, pitchers couldn't take advantage of fastballs as much and Acuña was able to see a much more balanced set of pitches.
Compared to Past Winners
Clearly Acuña has great things in store as he continues his career in Major League Baseball after the show he put on in Atlanta this season, but how did his rookie year stack up to recent young stars and what do we have to look forward to in watching him.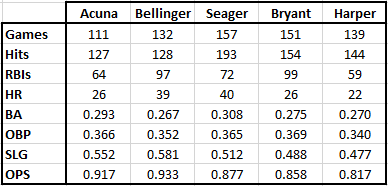 Above, are current and young stars and their stats when they won ROY in the NL.  Although Acuña didn't necessarily top the charts, his numbers (with much fewer games) hold their own among other stars. His BA, OBP, SLG and OPS are all in the top two of these five players.
One of the most prominent past ROY was Bryce Harper. Set to make what some think could be $400 million on his upcoming contract, Harper started out in 2012 as another incredibly young talent at just 19. Although he's caught some criticism this past season with his down stats, most likely equated to the amount of shifting in baseball last season, he's had a spectacular career and any young player being compared to him is in a good spot.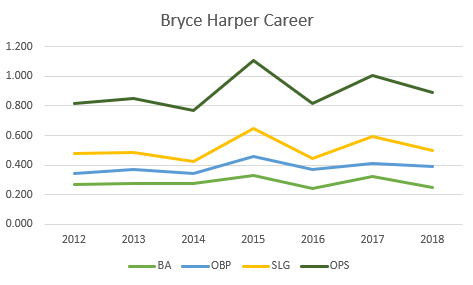 Above are Harper's batting average, on base percentage, slugging percentage and OPS. Although his BA and OBP took a hit in 2016 and again in 2018, these numbers are what I think Acuña's could resemble in the next five to seven years.
Works Cited
http://www.brooksbaseball.net/
https://www.baseball-reference.com/