Published on March 1, 2018 by Stephen Ellison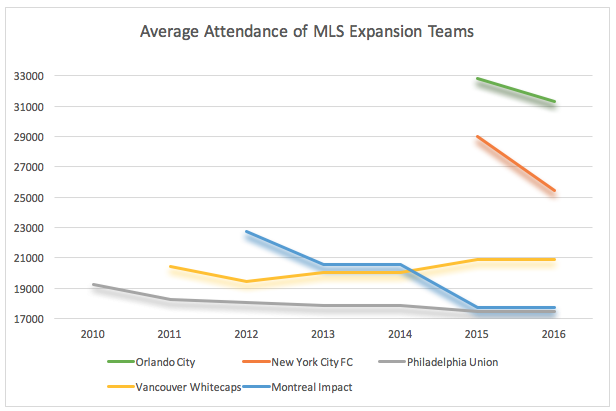 The Question
With the new MLS season starting today, one of the big questions on the business side of soccer is...... Can Atlanta United sustain the phenomenal support of their first season? 
Atlanta United wrapped up their first season in the MLS back in October, and what a season it was. Finishing with a playoff spot, the new MLS attendance record (a couple of times) and a city that seems to have a fiery passion for their team. And the world has noticed.
On their opening weekend, Atlanta United had one of the highest attendances in the world. Twitter was ablaze. When they reached the 70,000 mark in attendance, talk of it was all over the sports networks. Even after their playoff loss, videos of thousands of cell phone lights beaming through the stands as fans sang with authority caught the eye of masses.
There's no doubt this season was a historic one for the club in their debut season. Few expected to witness something like this in the United States, and especially not in the South. Now articles are being published dubbing Atlanta the new soccer capital of the nation. In all of this excitement, one daunting question remains: can it last?
Attendance Woes
Atlanta is far from the first MLS expansion club. Every few years, the league plants franchises in cities across the map. Most of these cities have been supportive of their clubs and excited for their arrival. But what happens after that "new club smell" wears off? To try to get an idea of what might happen to Atlanta United in their sophomore season, we looked at five of the MLS's more recent expansion teams and the trends of their attendance and favorability rankings among fans after that debut year.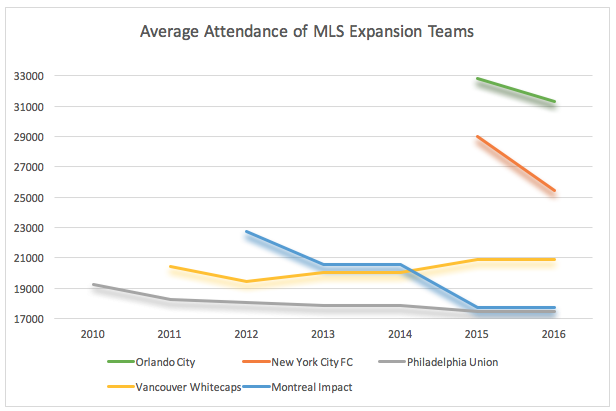 Orlando City and NYCFC are the league's most recent expansion teams besides Atlanta and Minnesota. As you can see, both had a considerable amount of attendance drop off in their second year. In the case of the Philadelphia Union and the Montreal Impact, their attendance decline continued on that downward trend almost every year after, as well. Only in the case of the Vancouver Whitecaps did attendance ever see a positive trend, but even they decreased from their first to second season.
Are Atlanta Vulnerable?
It would be hard to believe that Atlanta would break this cycle when it seems so universal. Those who would argue against this might point out that United is a whole different animal from clubs like the Union or Impact, saying that Atlanta's attendance has been much higher and the hype more obvious. It is a valid point. But I believe that Atlanta's unbelievable attendance makes the likelihood of growth even less likely. How many of those fans were actually drawn by the soccer instead of just the excitement of having a new team? What happens if Atlanta doesn't finish as high in the table or is excluded from the playoffs altogether? It would be difficult keep the excitement at the same level as it has been. But just because attendance goes down doesn't mean that fan support is necessarily gone.
What Happens to the Fans?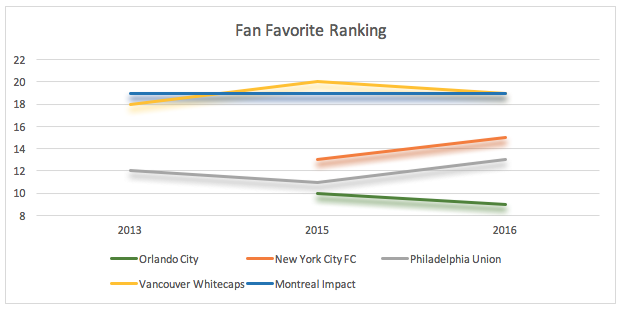 When looking at how fans rank each team on a scale to most favorite to least favorite, we see a little bit of everything from the crew of newbies. Over the last two to four seasons (not including the current season) NYCFC's favorability fell while Orlando City's grew, the Union's favorability grew then fell while the Whitecap's fell then grew, and Montreal has stayed basically the same. You couldn't have a more diverse range of scenarios.
Take Aways
Historically for expansion clubs, attendance drops off in the second year. A sophomore slump settles in and dampens the fire of an active fan base. But that doesn't mean those fans necessarily disconnect or lose interest altogether. In some cases, fans dig in more, in some cases, fans move on. Based on this history, there are a few educated guesses we can make about the future in Atlanta. Next season, we may not see many days where an army 70,000 strong gathers under the banner. In fact, it's very possible we don't see any of those days. But based on how they took the city by storm, I would be shocked if that passion took too big of a hit. Atlanta is primed to be the example of exceptional soccer fandom to the entire league, an ambassador of passion to show the world. The future is still the future, and who knows what it will bring. But next summer, US soccer will feel it has something to prove to the world while everyone else competes for the World Cup. Don't be surprised if that pride and grit starts in Atlanta. Who knows? They may just be the ones to break the trend.
This blog post was written by Samford University Student Stephen Ellison.
Soccer - Major League Soccer Attendance (Games in parentheses). (2016). Retrieved August 26, 2017, from http://sportsmarketanalytics.com.ezproxy.samford.edu/research.aspx?subrid=389
Soccer (MLS): % of All Fans Ranking Team As Favorite/Overall Rank. (2016). Retrieved October 26, 2017, from http://sportsmarketanalytics.com.ezproxy.samford.edu/research.aspx?subrid=881