Published on September 5, 2018 by Patrick Schilling  
As we roll into the last month of the season in Major League Baseball, some of the closest pennant races in recent memory are starting to take shape. A few of them may be decided in the last week or even in the last series of the season. Along with divisions, both leagues have tight MVP races that seem to shift everyday with different players stepping up. Finally, Cy Young races are not disappointing either. The NL features three division rivals in a neck and neck race whereas the AL is being dominated by two powerhouses.
In a year that has been so exciting around the league, is it enough to help steer the attendance issue in the right direction?
The 2018 Season vs The 2017 Season
So far this season, MLB has seen 58,221,063 total fans. An impressive number itself, but less so compared to the 2017 season which totaled 61,147,899 at the same point in the season. A 4.7% drop is not what Major League Baseball needed this season, but it also has had to contend with some of the toughest weather of any MLB season, potentially ever.
At the individual level, things look even more bleak. Only eleven teams have managed to increase their per game attendance rates.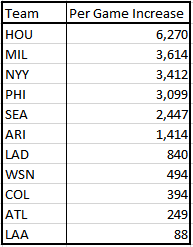 Of these eleven teams, only two of them, the Angels and Nationals, are not involved in a tight pennant race. The biggest jump, Houston, is unsurprising given the team's recent string of success as well as stadium renovations that have been done. Although Atlanta has improved attendance, it is a bit concerning being in a two-year old stadium and not increasing your attendance by a dramatic amount.
The real telling number however, is just how much attendance some teams have lost in a year. Nineteen teams have fallen since last year, twelve of them by over 1,000 fans per game. Those nineteen drops include the best team in baseball (BOS), three division leaders (BOS, CHC and CLE) as well as St. Louis, a team that looks all but certain to be playing into the postseason.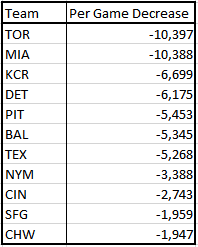 Shown left are the biggest dips teams have taken in filled seats per game this season. Toronto, a problem that MLB has specifically stated, has had two down seasons in attendance but was previously one of the most highly attended teams. The management has stated that it will turn it around. Miami is another team with poor attendance over the past couple years but has a good track record of attendance.
MLB teams have historically received more attendance when winning and less when losing and when 81 games are played in your home stadium, the number will be inflated even more.
Overview
Overall, MLB attendance is an issue but, in my opinion, not as big of an issue as some may think. The big problems in a league start when winning teams can't fill seats, that's not the case here. Winning teams are filling seats as well as some strong fan bases. Four of the teams that have fallen in attendance per game, have done so by less than 400 fans. A number that could easily go the other way by the end of the season.
What could be done to help this issue? Is it more on the league itself or on individual team management to improve their attendance? I believe it's a combination of both. The NFL has started to draw more attendance, one way is by cheap concessions, pioneered by the Atlanta Falcons, a change like that could soon come to Major League Baseball. A future expansion and potential division realignment also seem certain for baseball. This could be a great way to rejuvenate interest and excitement for the casual fan.
Work  Cited: https://www.baseball-reference.com/