Published on July 2, 2018 by Patrick Schilling  
With the World Cup in full swing, it's hard to think about anything besides the amazing matches taking place every day, world-class superstars going head to head and the passion that every country is bringing to the World Cup. The honor of being the host country is only obtained once every four years. The eyes of the world media are on your city as well as all the FIFA officials who will reside there. Every country wants to do everything they can to be a first-class sports and tourist destination, unfortunately that can sometimes come at a cost to a country and its people.
2010 FIFA World Cup in South Africa
When South Africa was awarded the World Cup, their plan was lavish.  With a budget of around $4 billion, the South African government planned to construct and renovate ten stadiums including a waterfront stadium in Cape Town. Overall, these stadiums ended up costing around $5 billion along with $1 billion from the host cities. The waterfront stadium was insisted upon by FIFA, to make it more appealing on television. A FIFA delegate was quoted saying, "A billion television viewers don't want to see shacks and poverty."
The Cape Town stadium alone cost almost R4.4 billion (South African Currency) and was brilliant for the World Cup, but in the time following, seemed like a complete waste. In 2015, there were only eighteen event days in the whole year, with almost no hope to attract more. Along with not hosting many events, in 2015 the estimated annual cost to continue to run the stadium were R39 million, at the cost of the tax payers.
2014 FIFA World Cup in Brazil
The 2014 FIFA World Cup is one of the most infamous World Cups in recent memory in terms of lasting effects on the host country. Before the World Cup, a study was done in Brazil by Ernst & Young Consultants, they optimistically predicted the World Cup to inject BRL 142b (USD 73.95b) into the Brazilian economy between 2010 and 2014. Instead, the World Cup only injected BRL 25.6b, and astoundingly poor number in comparison to the prediction.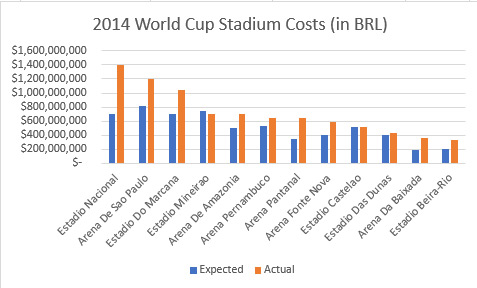 Stadium.db.com
From the chart above, it's easy to see where Brazil went wrong. The predicted cost of the stadiums was overall 41% less than what the actual cost ended up being. Only two stadiums, Estadio Castelao and Estadio Mineirao, came out even or less than expected (0% and -7% changes). In the case of Estadio Nacional, the actual price ended up being 101% more than the anticipated. Although this was a beautiful stadium in the nation's capital for the World Cup, the overall cost may not have been worth it.
In 2015, Brasilia was reportedly using Estadio Nacional as a parking lot for around 400 buses during times where no matches were being played to recoup some of the lost money. Even when it is being used for club soccer, the stadium normally only houses about 5,000 fans (capacity around 72,000). It's not just in the capital city however, Arena da Amazonia was built in the rainforest city of Manaus to spread the World Cup all over the country. A project that cost almost 700m BRL now goes unused by the local team because if they were to try to rent it out, they would lose money.
Although twelve stadiums were built or renovated for this world cup, job creation wasn't what you'd expect. Forbes reported that in 2014 from January to May, the total net jobs were less than they were in the same period in 2010. In Rio de Janeiro, 4,828 jobs were created in that time as opposed to the 17,490 jobs created in the year before. Both of those numbers are down from the 40,325 that were created in 2010. A lot of this is due to how the companies went about building the stadiums. Most jobs were temporary, that were cut off as soon as stadium construction was complete. Most jobs also were not new hires, companies preferred to use their own workers which not only slowed down construction time but failed to put new jobs in the economy.
2018 FIFA World Cup in Russia
Although there are no full reports of costs that Russia will endure from this World Cup there are some early concerns. The biggest concern is how the host cities will sustain these stadiums after the World Cup. Volgograd, Kaliningrad, Nizhny Novgorod and Samara are all cities that are hosting matches, but all these cities local clubs are only in Russia's second-tier drawing around 1,000 – 5,000 fans a match. Even top tier teams in Russia only draw 4,500 – 9,000 on average. The two cities that have come out even worse are Saransk, who plays in Russia's third division and Sochi, who don't even have a professional team. Those two stadiums will likely go unused and the city will feel the burden of it.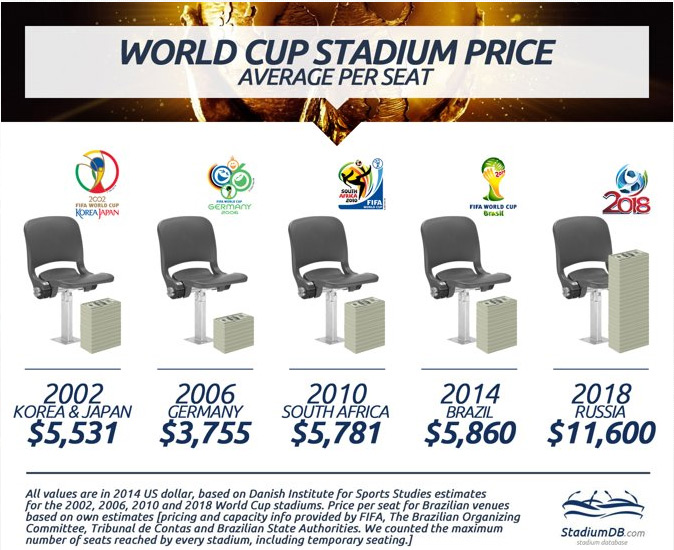 Overall
Hosting a World Cup is an extreme honor for a country, especially one with such prestige as Brazil. Unfortunately, if your country does not already have the proper infrastructure, it can become costly very quickly. With the 2022 World Cup in Qatar on the horizon, its hard not to see the toll it will take on such a small country. The 2026 World Cup that will be jointly hosted by the United States, Canada and Mexico should fare much better. Hopefully the new regime in FIFA can look to other developed places like this so that the World Cup is beneficial to a country, not detrimental.
Work Cited
DW.com
Forbes.com
Politicsweb.co.za
Popularmechanics.com
Solidar.ch
Sportindustry.co.za
Srsa.gov.za [Link broken as of 5/20/2019]
Stadiumdb.com