Published on May 1, 2018 by David Abee  
In Northern London, three people were camped on the edge of a field wearing USA Ultimate hoodies, notebooks open in front of them. These three individuals were coaches of the U.S.'s under-23 women's team. What were they doing? They were scouting two of their biggest Ultimate Frisbee rivals, Canada and Colombia, who were about to play in a group-stage match of the 2015 world championships. In today's age it is weird to see coaches go out and have to scout other teams in a world full of technology. It's easy to take sports data for granted when cameras track information of the movement of players and balls in baseball, basketball, tennis and soccer. The biggest challenges for analysts in those sports is how to wrangle and translate the data to get fans to look past traditional box-score numbers. Ultimate Frisbee is unique because it does not have the original box score. Usually the score is kept electronically during high school and collegiate events. At best, ultimate box scores contain just goals, assists and Ds (discs knocked down or intercepted). "That is Stone Age material to work with," said Sean Childers, an ultimate player and co-author of a study on ultimate presented last year at the MIT Sloan Sports Analytics Conference, in an email. "Imagine a baseball or basketball box score from 50 years ago, but worse."
There are a few examples of additions to the box score that can make it interesting and fun for the players and the fans to observe. For instance, the Hockey Assist, the pass that leads to the pass for the score. Surveys have stated that many of the players want a stat called "Pulls", which refers to the "kickoff" in ultimate, because of the importance it has on setting up defense and hang time of the disc. One of the four major sports that coaches look at is Basketball. I found surprising because it portrays football and soccer in many ways. From a coaches standpoint basketball is a great reference when discussing defense, moving without the ball, quickly changing from offense to defense. Many people wanted to have a player tracker to see how far the players move to get open and distance traveled to catch the long ball. To improve on the time-consuming, manual stat-keeping process that some coaches are forced to use, some ultimate players developed an app to track players moving around the field. The Ultiapps Stat Tracker can generate heat maps showing the best scoring spots.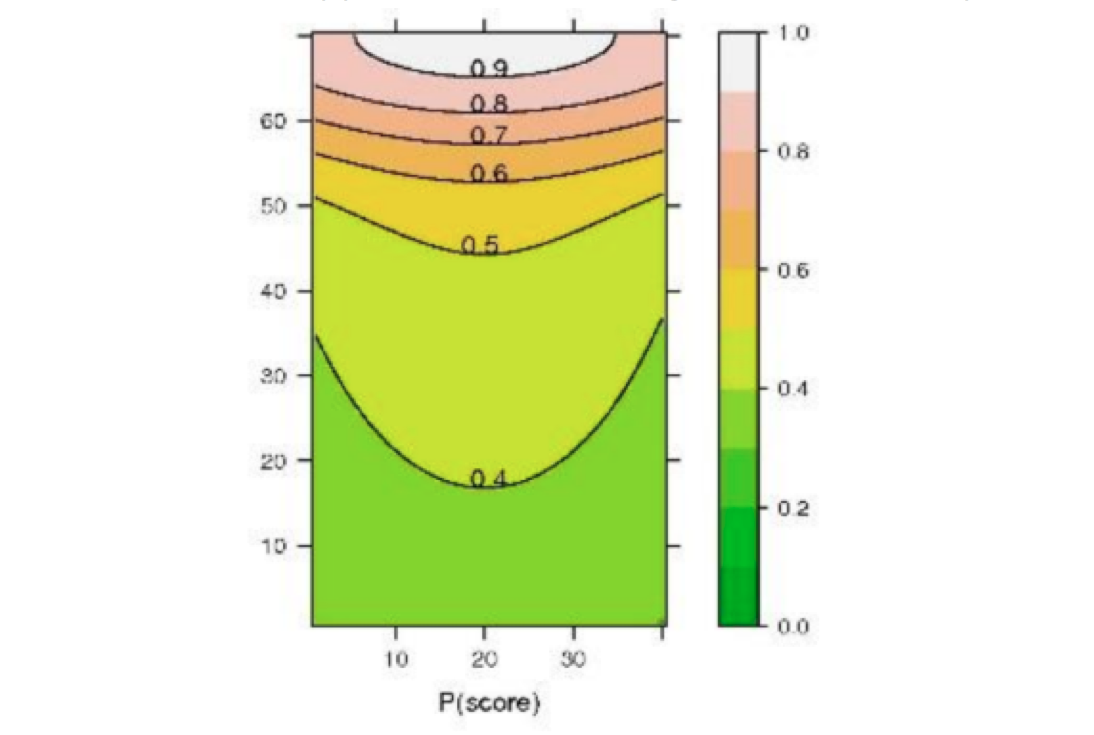 In the graph above shows the app and in what spots your team is most likely to score. "As a team moves closer to the endzone (at the top of the chart), its chances of scoring increase (the higher the number, the better). The large dip in the 40-percent zone shown as 0.4, suggests that a team is just as likely to score from about 50 yards outside the end zone (marked as 20 on the heat map) in the middle of the field as they are from 35 but stuck on the sideline". A flaw of the app was calculating the wind factor to the data. Teams then stopped using the app because of this flaw.
Ultimate Frisbee needs to be the next sport to have an Analytic Revolution. It is a goldmine for people who are interested in beginning their analytics journey and has the potential to boom in the sport industry. With the technology we have today, the problems in past can be fixed. I love to play the sport and would also enjoy seeing the growing sport have the unique feature of a one of a kind box score.
This blog post was written by Samford University student David Abee.
Work Cited:
Bialik , Carl. "Ultimate Frisbee Is In The Dark Ages Of Analytics — And It Wants To Escape." FiveThirtyEight, FiveThirtyEight, 16 Dec. 2015, fivethirtyeight.com/features/ultimate-frisbee-is- in-the-dark-ages-of-analytics-and-it-wants-to-escape