Published on March 7, 2018 by Grant Gardner  
There's an interesting stand-up comedy bit from Jerry Seinfeld where he argues the absurdity of sports fandom. Seinfeld says, "Loyalty to any one sports team is pretty hard to justify, because the players are always changing…the team could move to another city. You're actually rooting for the clothes when you get right down to it. You are standing and cheering and yelling for your clothes to beat the clothes from another city." Is Seinfeld, right? Maybe, but that does not stop millions upon millions of people from avidly supporting sports teams. Sports fandom is international and rich. Fans support everything from high school football teams in Texas to multi-billion dollar soccer franchises in Europe. In fact, the brand affinity in the sports industry is so high that many sports fans refer to their favorite team by the personal pronoun "we."
It is easy for sports teams to garner affinity when you are as old and successful as a team like Liverpool F.C. The Reds were founded in 1892 and have played in the same stadium, Anfield, since the club's inception. Without question, Liverpool has rich history and a strong international supporter base. But what if a team is only 7 years old and has changed names three times in that time span? Not only are the athletes switching teams and the team finding itself loosely tied to a geographic location, but the clothes are changing too! This may sound crazy, but I just described Michelton-Scott, an Australian professional cycling team that competes at the highest level of the sport.
Professional cycling is a sport with rich history associated with races like the Tour de France, started in 1903, and Ronde van Vlaanderen (Tour of Flanders), started in 1913, but there is not longevity in teams. Among the current 18 teams within the UCI WorldTour, the highest level of men's professional road cycling, the oldest team, Movistar, is 29 years old and the youngest, Bahrain-Merida, 2 years old.
The predominant issue is that professional cycling teams within the WorldTour, and at lower levels, are almost entirely financially backed by sponsors, in particular, naming rights sponsors. Why has a popular U.S. team had 11 different names in its 12-year existence and is now known as EF Education First - Drapac p/b Cannondale? Because its owners had no choice. When the purse strings got tight they had to hunt for a new name to put on the jersey in order to keep the dream alive. It is not the team's fault; it is part of a larger broken picture where teams are not unified under one umbrella and have to scrape by on their own. But that is another story for another day.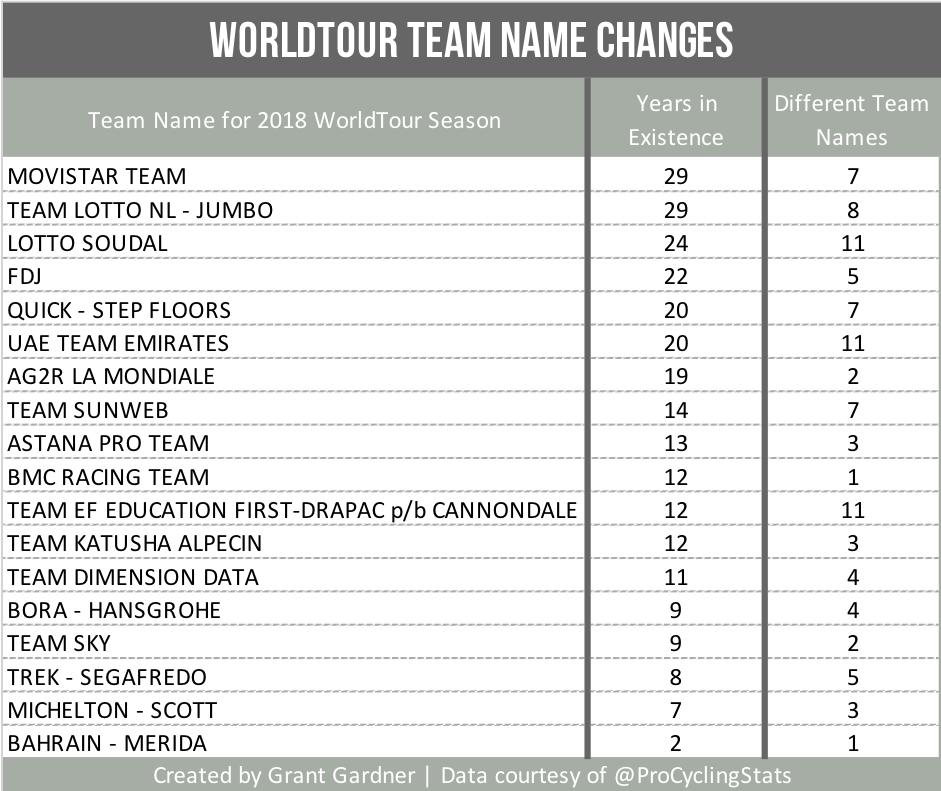 The point is it is hard for the sport of cycling to grow brand affinity when the product on the road, cycling teams, is constantly changing. Even for a relatively engaged fan it is difficult to keep track of the lineage of teams when they are changing names, merging into other teams and sometimes, folding. Michelton-Scott fans are going to have to catch themselves from saying Orica-Scott (last year's name) this season. That is assuming they have gotten over saying Orica GreenEDGE (the name from two years ago). Until someone fixes the current system and provides financial stability across the sport, teams will need to look for innovative and engaging ways to brand their teams. In cycling you can't just cheer for the clothes.
This blog post was written by Samford University student Grant Gardner. Grant is a marketing major with a concentration in sports marketing and minor in sports media. Learn more about Grant on LinkedIn and Twitter.
SOURCES
David, L., Seinfeld, J., Berg, A., Schaffer, J. (Writers), & Ackerman, A. (Director). (1995). The Label Maker [Television series episode]. In G. Shapiro & H. West (Producers), Seinfeld. Beverly Hills, CA: Shapiro/West Productions in association with Castle Rock Entertainment.
History. (n.d.). Retrieved from: http://www.rondevanvlaanderen.be/en/rvv/elite-men/history
Our Story: The story of LFC through the years. (n.d.). Retrieved from: http://www.liverpoolfc.com/history/timeline
Tour de France GC History. (n.d.). Retrieved from: https://www.procyclingstats.com/race/tour-de-france/2018/gc/history
WorldTour Teams 2018. (n.d.). Retrieved from: https://www.procyclingstats.com/teams