Published on September 12, 2018  
As of today, pennant chases are in full swing in Major League Baseball.
The Red Sox have been on cruise control for several weeks while the Phillies have been on a roller coaster, often trading first place with another young team in the Braves as they both have worked to hold off the Nationals for most of the season. Both the Red Sox and Phillies have first-year managers, as do three other teams this year, four of the five are in the playoff hunt. On the flip side, eight teams have managers with fifteen years or more of experience, five of those teams aren't even close to being in a pennant chase.
Gradual Decline of Age
Over the past decade or so, the overall age of managers has been in decline.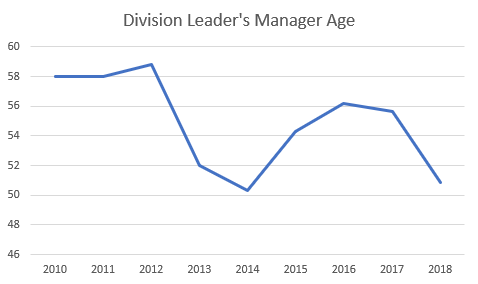 Graph 1 above depicts the average age of the manager for all division winners since 2010 (or current division leaders for 2018). From where the division leaders are now, there is a clear drop in average manager age in successful teams. As baseball itself is becoming more youthful, teams have begun to look towards younger managers as well.
2018 is also one of two seasons since 2010 where three of the six division leaders are in their 40s. Along with that, one of the other leaders is in their 60s, the final one in their 50s. Last year in 2017, only two division-leading managers were in their 40s with two in their 60s. The year before that, just one manager was still in his 40s. In 2010 however, things were a lot different. Of the six winning managers, not even one was in their 40s, two were in their 60s, and the rest were all in their 50s. The gradual decline over time does not look to be stopping in 2018 as there is a list of managers whose contracts are up this season.
Youth and Success
Not only have youthful managers begun to grow in the Majors, but their success cannot be overlooked. Currently, three of the six divisions are being led by teams with first or second-year managers (Phillies, Diamondbacks, and Red Sox). On the flip side, the caboose of three divisions are being led by managers with thirteen years or more of experience (Reds, Royals, and Orioles).


Charts 1 and 2 above show the youngest division in terms of managerial experience, and the oldest. Matching up first to first, second to second and so on, every team in the NL East trumps that of the AL Central. Between all of the NL East managers, there are fourteen years of experience, both Ned Yost and Terry Francona beat that themselves, but their teams are not overwhelmingly better and in the Royal's case, they are far worse.
To go even further, if you add up all the experience of the first and second place teams in each division versus the fourth and fifth places, the difference is overwhelming. For the fourth and fifth places in each division, the total years of experience is 137 years. For the first and second place teams, there are just 73 years of experience. Although there is a ton of youth and new managerial styles in the league, it is clearly working. In the next few years, look for more teams to be hiring young managers that do not necessarily have any managerial experience. In the age of data and analytics for managers, talent can come from almost anywhere.  
Works Cited
https://www.baseball-reference.com/
http://www.espn.com/mlb/standings