Published on November 9, 2018 by Kyle Stuart  
On September 23, 2018, Tiger Woods rejuvenated the game of golf. A mob of tens of thousands of people surrounded Tiger Woods and chanted his name as he walked the eighteenth fairway towards his first win since 2013. Tiger Woods moves the meter more for his sport than any other athlete. More than Roger Federer, more than LeBron James, and more than Tom Brady. Tiger Woods is golf's pulse, its lifeblood.
TV Ratings and Attendance 2013-2017
Tiger won five events in 2013, but was hindered and kept off the course after that season with injury and personal issues. As a result, the television ratings and attendance fell for the PGA Tour. The following table shows the year-over-year trend for total television viewers over this five-year period: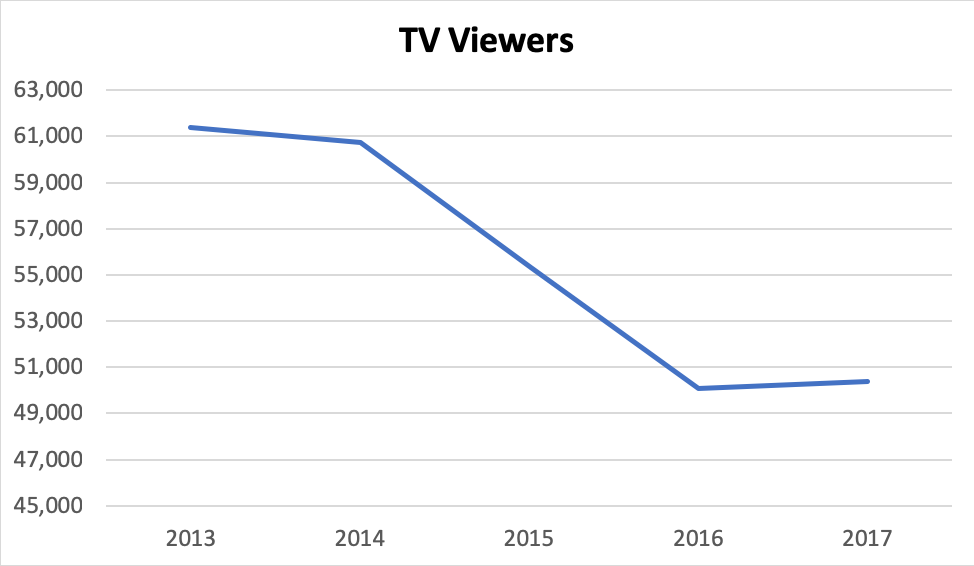 Numbers in thousands
Attendance at golf events was also down during this five-year period, as shown by the graph below: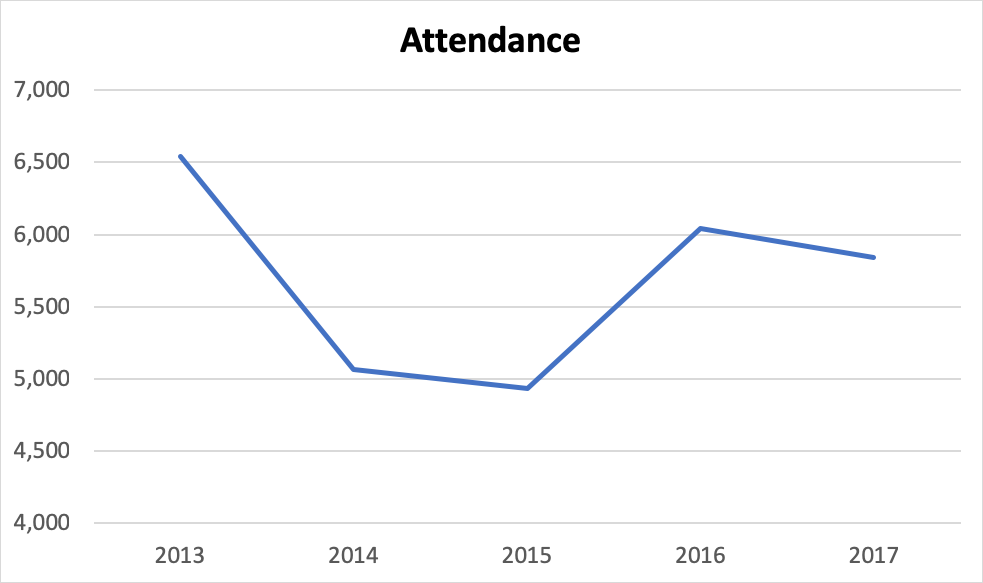 Numbers in thousands
Television viewership fell 18% over the five-year period. Attendance fell 11% over the same period. In this time, Tiger only made a handful of appearances from 2014 to 2017, battling injuries and other hardships. The most notable event in this drought for Tiger has to be the spinal surgery in 2017. Many opinion-leaders in golf were skeptical of his ability to recover from such a serious procedure, especially at his age. The combination of the criticism that Tiger received for his personal shortcomings, along with the physical obstacles that he was faced with led to arguably the greatest comeback in golf and must-watch television…
Tiger's Return
In 2018, Tiger Woods came roaring back onto the golf scene. Tiger made 19 appearances this past season including an appearance as a Captain's pick in the Ryder Cup. Tiger's most notable appearance came last month in Atlanta where he won the Tour Championship, marking his 80th all-time win. Thanks to Tiger's return, the television ratings skyrocketed, as evidenced by the following reports.
2018 British Open
            According to Golf Digest, the ratings for the British Open were up 38 percent from 2017 at a 5.0. That was the highest rating for a British Open since 2006 when Tiger won the event.
2018 PGA Championship
            According to Golf.com, ratings for the 2018 PGA Championship in Saint Louis were up 69% from 2017, and the highest final round rating since 2009 when Tiger Woods won.
2018 Tour Championship
            Tiger Woods won the Tour Championship in Atlanta, marking his 80th all-time win. The final round produced a 5.21 rating, the highest rating of the year for non-major tournaments. This was a 206% increase in ratings year-over-year.
Tiger Moves the Needle
            There was a common theme in the 2018 golf season: When Tiger played, the country watched. Furthermore, when Tiger was in contention or won, even more people watched. This is evidenced by the second-highest rating all-time for a British Open where Tiger possessed a final-round lead and the Tour Championship where Tiger won and ratings were up 206% from last year.
            No other athlete single-handedly moves the needle like Tiger. Tiger's return to golf was the best news of the year for sports networks. Tiger brings a different kind of energy and intensity to the game. Tiger is the oxygen for golf. While he is in supply, golf will survive. 
Works  Cited
Beall, J. (2018). British Open Earns Highest TV Rating Since Tiger Woods' Grand Slam Win at St. Andrews in 2000. https://www.golfdigest.com/story/british-open-earns-highest-tv-rating-since-tiger-woods-grand-slam-win-at-st-andrews-in-2000.
Berhow, J. (2018). Tiger Woods' Sunday Triumph at Tour Championship was Highest-Rated PGA Tour Telecast of 2018. https://www.golf.com/tour-and-news/2018/09/24/tiger-woods-tour-championship-tv-ratings-highest-pga-2018.
Cunningham, K. (2018). Tiger Bump: Sunday at Bellerive Earns Highest TV Rating since 2009, up 69% Over Last Year. https://www.golf.com/tour-and-news/2018/08/13/pga-championship-tv-ratings-massive/.
Chart data from: https://sportsmarketanalyticscom.ezproxy.samford.edu/research.aspx?subrid=540 [link broken as of 11/12/2018]