Published on July 27, 2018 by Victoria Kwak  
Welcome to A T L A N T A.
A city that offers so much, from shopping and dining, to Major League Baseball, National Basketball Association and National Football League teams. But it seemed to be missing just one more thing…Major League Soccer.
That recently changed though in March of 2017, when Atlanta got their very own MLS team, Atlanta United FC, and it didn't take long for them to start breaking records and starting new ones. Not only did Atlanta get an MLS team, but they also got a brand new $1.6 BILLION stadium to go along with it. Mercedes-Benz Stadium is home to not only Atlanta United FC, but also to the Atlanta Falcons and a number of concerts and performances. The support and popularity that surrounds this soccer team is incredible, in fact so incredible that an Atlanta-made hip-hop artist named Archie Eversole released a single called "United We Conquer." How many MLS teams, or any sports team for that matter, have a song written about them? I can honestly say that this is the first I have heard of! But it's those little things that set this team apart.
It took Atlanta a mere five months, yes ONLY five months, to have the highest average game attendance in Major League Soccer history, with 46,318 fans per game. This exceeds any other MLS, NBA, NHL, or MLB franchise in the country. Now it's a known fact that Professional Soccer has grown a tremendous amount on the popularity scale, seeing how a city like Atlanta can start a team and just like that, they hold the top five highest single-game attendance marks in MLS history. The chart below breaks down the five games, who they were against and how many people attended.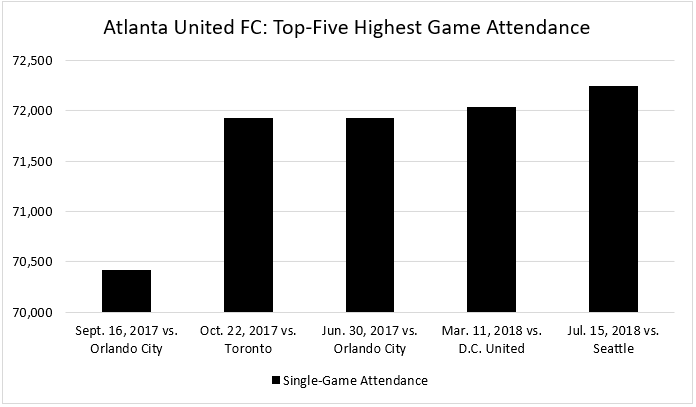 But Mercedes-Benz Stadium brings people together for more than just Atlanta United FC soccer games, it also served as a hot spot to watch the final game of World Cup, France vs. Croatia on Sunday July 15, 2018. FIFA fans got the chance to watch the big game on the world's largest video board, a whole 63,000 square feet of screen. The only catch, you had to have a ticket to the ATL United vs. Seattle game that followed the viewing of the World Cup. But that didn't serve as a restraint to anyone, seeing how that was the day that Atlanta United broke all attendance records. 72,243 tickets were sold and distributed for this game. Here is a crazy statistic though, the attendance of this ATL game was only 5,768 people shy of the 78,011 people that were present at the France vs. Croatia final World Cup match. The fact that the game attendance for these two games were so close is astounding, and it truly proves just how popular soccer is becoming around the world. Atlanta United President Darren Eales @DEalesATLUTD tweeted:

Along with this, Eales included a tweet from the official Atlanta United FC Twitter page that showed they absolutely destroyed the previous MLS single-game attendance record. It makes you ask yourself, what seems to make going to an Atlanta United FC game different than any other MLS game? The stadium, the fans, the atmosphere, etc. But Atlanta is a very diverse city and having people from around the United States to around the World, ATL United was bound to have a large following.
Comparing Atlanta United's total game attendance to the other MLS teams is when you can clearly see the difference in tickets sold. Here, I looked at the top 10 ranked teams: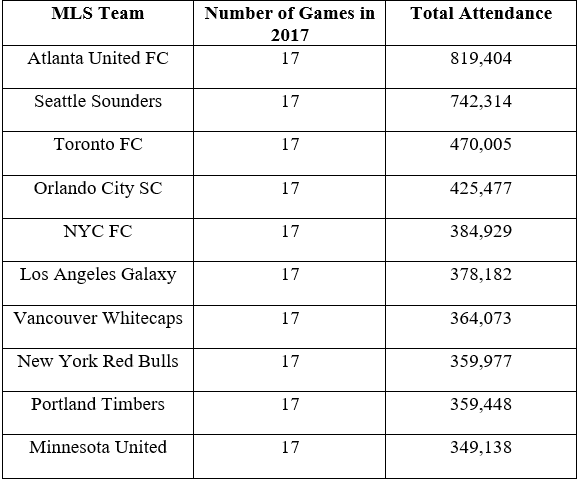 The Seattle Sounders have been around since 2009, Toronto FC since 2006, Orlando City SC since 2010, NYC FC since 2013, LA Galaxy since 1996…you get the picture. All of these teams have been around for a number of years, yet Atlanta had the power to swoop in and claim the top spot within their first year. But how and why are they so popular amongst MLS fans? If I had to guess, it is just the thought of bringing another professional sport into a booming city that caught everyone's attention. By December of 2015, a year and a half before the team's first kickoff, Atlanta United FC had already sold 29,000 season tickets. Now I could throw out statistics out left and right, but we'll save that for another time. All you need to do is remember these five words…
A T L A N T A  U N I T E D.
U N I T E  A N D  C O N Q U E R.
About the Author
This blog post was written by Samford University student Victoria Kwak. You can learn more about Victoria Kwak at https://www.linkedin.com/in/victoriajkwak/.
Works Cited
https://www.ajc.com/sports/atlanta-united-breaks-its-own-mls-attendance-record/L3wWxS2YgWMeIi1cZEf2JP/
https://www.theguardian.com/football/blog/2017/aug/21/atlanta-united-mls-soccer-popularity-average-attendance
http://sportsmarketanalytics.com.ezproxy.samford.edu/research.aspx?subrid=389
https://bleacherreport.com/articles/2741025-how-atlanta-united-fc-became-the-best-experience-in-us-soccer
https://www.atlutd.com/post/2018/07/17/atlanta-artist-archie-eversole-releases-atl-utd-themed-track-united-we-conquer