Published on September 19, 2018 by Christian Williams Stark  
Tiger Woods, the once undisputed best golfer in the world, has been making his way back in the Professional Golfers' Associations (PGA) recently. Woods first made his professional golfing debut in August of 1996 when he signed a $40-million endorsement deal with Nike and then a $20-million deal with Titleist. The next year, he won his first major at the Masters; after his win in Augusta in 1997, Woods became the most well-known golfer in the world.
Following his hot start into the golf world, Tiger unfortunately, faced many hardships, including numerous injuries and the loss of loved ones. Woods took a long break from the game of golf due to a recurring back injury, which required surgeries that kept him away from playing from the 2013 season until the 2017 season. Finally, Woods, injury free, is returning to the course for the 2018 season and is making his way back to the top. With skyrocketing TV ratings, it seems everyone is rooting for Tiger Woods to do well.
Ever since Tiger made his return in late 2017, golf TV ratings have risen a significant amount. This improvement is beneficial for both Tiger and the game of golf as a whole. Chart 1 below shows the TV ratings for the PGA Tour telecasts when Tiger Woods was playing.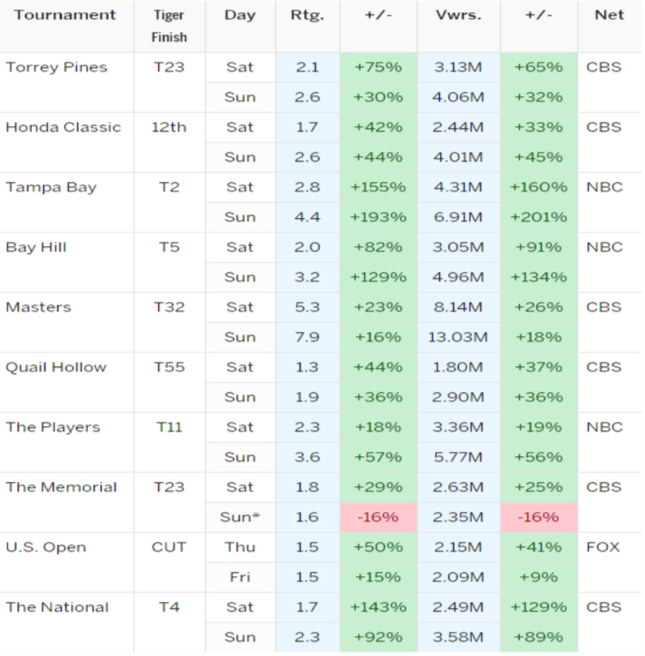 "'The Tiger Effect' has consistently boosted PGA Tour ratings all season. Woods has played 20 rounds on broadcast television this season and all-but-one posted an increase in ratings and viewership. The lone exception was the final round of the Memorial, which aired mostly on tape-delay." (Shamburger)
With the current ratings, there is no question as to whether Tiger Woods is good for the popularity of golf. Some of the top golfers in the world like Jordan Spieth and Ricky Fowler bring a sizable crowd when they are playing; Tiger, on the other hand, brings a sea of people. After his four back surgeries during his career, it is nothing short of a miracle that Woods is still able to play golf the way he is right now. To see Tiger making headway with each tournament he enters makes it all the more exciting to follow his journey.
At one point the world was not sure if it would ever see Tiger back out on the course; now that he has recovered from his injuries and returned to golf, he has made one of the biggest comebacks in sports history. This comeback has further enforced the positive impact he will continue to leave on the golf world for years to come.
This blog post was written by Samford University student Christian Williams Stark. Learn more about Christian Williams Stark.
Works Cited
Shamburger, M. (2018, July 05). Tiger Woods is Having a Profound Effect on TV Ratings.
Manfred, T. (2015, February 06). Tiger Woods gave a ludicrous explanation for why he had to quit a tournament, and it's sad to read