Published on September 17, 2018 by Ashlee Fincher  
The first weekend of September was the annual college football season kickoff, and many people were interested to see who Nick Saban would play as his starting QB. During spring training and fall camp, both Tua Tagovailoa and Jalen Hurts took reps with the first team offense. It came as no surprise that Saban hadn't yet named a starting quarterback going into the season opener. Saban rarely ever names a starter before the start of the season, especially when two quarterbacks as talented as Tua and versatile as Jalen are competing for the position. However, despite Saban's lack of verbal acknowledgement about who will be the starting quarterback for the season, the games against Louisville and Arkansas State left little room for people to speculate who Saban is going with. With the battle for the quarterback position between Tagovailoa and Hurts lasting since halftime of the national championship against Georgia back in January, it took little-to-no-time to realize which player has come out on top.
Week One
Tua's Talent
Tua was rated as one of the top passers coming out of high school and demonstrated this elite throwing ability in Saturday's game versus Louisville.

He completed 75% of his attempts for 227 yards total and threw 2 touchdown passes. This high completion percentage is a demonstration of Tua's growth during the offseason and a forecasting of the new era of Alabama, normally a "ground-and-pound" team. Many Alabama critics have questioned Tua's rushing capabilities in the past, but he averaged more yards per carry than his counterpart. Tua also scored one touchdown rushing, while Jalen failed to generate a score during the game.
What Hurt Hurts

There's no argument when it comes to Jalen's overall athletic ability. He was a driving force in the 2017 season. He led arguably the best SEC football team in the nation to win two bowl games and a national championship in the past two seasons. Saban has utilized Hurts rushing ability in the previous two seasons, however, Hurts fell short of expectations when he only had three rushing attempts with an average of three yards per attempt in this year's season opener.
Drive Charts Say It All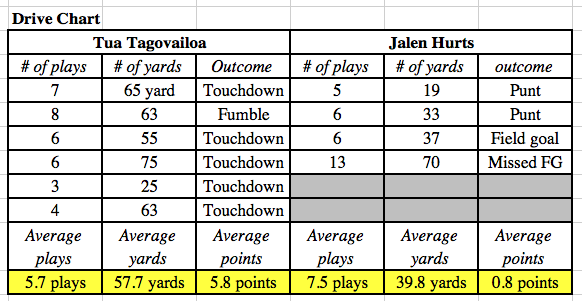 The above drive charts show the difference between these two quarterbacks during the Louisville game. Tua made more game-changing plays happen, covered more yards, and in fewer plays than Jalen did. The fact that Tua had 5 drives that resulted in touchdowns and only one fumble caused by another player while the only points that were scored with Jalen as QB was a field goal, proving that not only is Tua a superior quarterback, he is also better at getting his teammates to create plays and generate points.
Tua Takes the Spot
For many sports analysts, the fight for the position of starting QB is over. Ryan C. Fowler (@RyanCFowler), host of The Game on Tide 102.9 in Tuscaloosa, tweeted Sunday morning, "QB competition has been over, last night provided plenty of validity". Tua outperformed Hurts on both fronts: passing and rushing. The fact that Tua was more prolific in his rushing game is significant because Hurt's greatest advantage is his powerful running game. Tua's performance against The Cardinals eliminated the need for Hurt's at the QB position.
Week Two

Week Two looked much of the same for Tua and Jalen. Tua was 13 out of 19 on his pass attempts for 228 yards. Tua also threw three touchdowns in the first quarter. Jalen had a much better showing this week as he was 7 of 9 on pass attempts for 93 yards. However, Jalen did not throw his first touchdown until the second quarter when the game was obviously in hand for Alabama. What we saw from this weekend game proved even more how far ahead Tua is in the quarterback situation.
What is interesting is the stark contrast in both platers Quarter Back Ratings. Tua's has been significantly higher than Hurts in the past two weeks, demonstrating a higher efficiency. This is a scenario the Tide has yet to see before now. The dynasty of The Tide has been created from a suffocating defense, and a thumping running game. Alabama has never had a quarterback like Tua. The explosiveness of this offense with Tua at quarterback all but guarantees a chance for another National Championship for Alabama.
Arkansas State was overmatched before kickoff ever occurred. The real question to come will be, what will happen in an important conference game in the SEC. Will Jalen play? The more Tua succeeds, the less Jalen's past accomplishments and history with the team will matter. To the Alabama faithful, Jalen was a hero. But, heroes will be forgotten when past glory is overshadowed by new promise of a better hero.
Week Three
Week Three's Game against Ole Miss was supposed to be a battle between two Hawaiian quarterbacks, Tagovailoa and Ta'amu. However, Tua only played a quarter and a half, leaving the game once the Crimson Tide was up 35-7, allowing Jalen to come in until the start of the fourth quarter when Mac Jones played for the Tide in the fourth quarter. Tua completed 11 out of 15 attempts for 191 yards, averaging 12.7 yards per attempt. His average yards per attempt this season is 12.92 yards, which means every pass attempt he has he's averaging a first down conversion. Tua's performance during the first quarter was nothing short of incredible, and Connor O'Gara weighed in on Tua's first-quarter performances this season tweeting,
"Tua Tagovailoa in the first quarter this year: 424 passing yards, 6 passing TDs, 1 rushing TD, Alabama leads 59-7 - That's not fair."
And while it would be unfair to compare Tua and Jalen's first quarter performances, there is no doubt that Tua is the man who will carry the Tide to the national championship and be their Heisman trophy contender.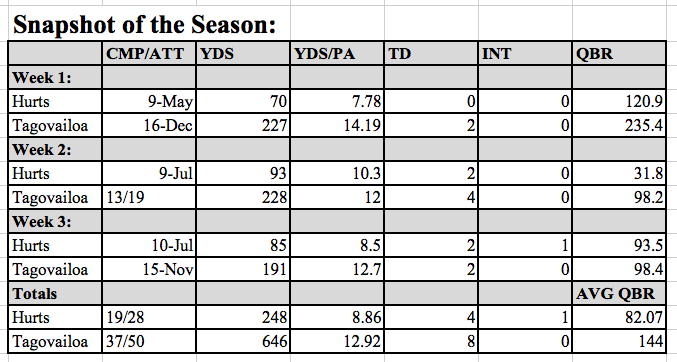 What Remains to Be Seen
In Week Two and Three, Tua was the named starter for Alabama, however, Saban will likely continue to keep both Tua and Jalen as a one-two punch for the Tide. That being said, it would be unfair to Jalen to say that Tua has played mistake-free football. In last year's National Championship Game against Georgia, we saw an overwhelmed freshman take a huge sack. At points in the National Championship Game, the stage looked too big for young Tua. Since the National Championship, Tua has yet to face teams with the same talent level as Alabama. What will happen when the SEC Championship is on the line and the Alabama offense isn't rolling? Will the team look to a veteran, whose battle-tested, or the shiny, "new", savior of the dynasty?
Works Cited:
http://www.espn.com/college-football/player/stats/_/id/4040715/jalen-hurts
http://www.espn.com/college-football/player/_/id/4241479/tua-tagovailoa
http://www.espn.com/college-football/boxscore?gameId=401012260
https://twitter.com/RyanCFowler/status/1036286398234591233
https://www.sbnation.com/college-football/2018/9/2/17810870/tua-tagovailoa-jalen-hurts-alabama
https://www.espn.com/college-football/boxscore?gameId=40101277
https://bleacherreport.com/articles/2795948-tua-tagovailoa-jalen-hurts-shine-in-alabamas-blowout-win-over-ole-miss