Published on September 11, 2018 by Victoria Kwak  
Take me out to the ball game, take me out with the crowd! Key word: C R O W D.
Something that was not always there when it came to Braves games at Turner Field. The stadium opened April 4, 1997, and could hold up to 49,586 people, with the total cost being about $209 million. There is a bunch of history tied to Turner Field which made it easier for the Braves to leave in 2017 when the Georgia State Panthers purchased the stadium for $30 million. This way the organization knew that the backbone of Turner Field would live on. The University purchased Turner Field just to transform it into their very own football stadium. Turner Field was formerly known as Centennial Olympic Park, an 80,000-seat venue that was home to the 1996 Olympic Games. After the games that venue was converted into Turner Field as a gift to Atlanta from the Olympics.
When SunTrust Park opened on March 31, 2017, it was like a whole new ball game for the Atlanta Braves. SunTrust Park can hold up to 41,500 people, approximately 8,000 less than Turner Field, but they know how to fill up the seats. In 2017, their first season at SunTrust Park, the game average was 30,929 people. The estimated cost of the new stadium, as well as the entertainment and dining area adjacent to it, called The Battery Atlanta, was about $1.1 billion. Due to this new stadium, the overall attendance has gone up, a common trend among MLB teams in their first season at a new stadium. But another advantage SunTrust Park has over Turner Field is the number of parking spots. SunTrust has 11,000 while Turner Field only had 8,000. It is little things like this that mean a lot to both the fans and the players. No one likes playing a game or performing a concert to an empty arena. Speaking of concerts, it seems like Turner Field focused more on post-game concerts, which SunTrust Park does as well. But SunTrust Park also holds concerts on their own, and they sell out the park just like the baseball games do.
Turner Field opened up in 1997, a whole 20 years before SunTrust Park took over the reins. This graph shows the average attendance during the opening year at Turner Field vs opening year average attendance at SunTrust Park: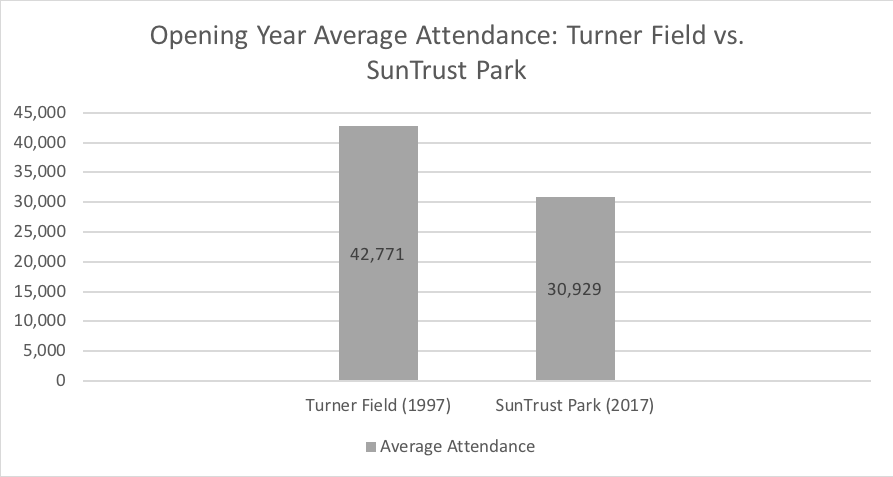 Now, graph 1 above does not show the increase in attendance that SunTrust Park has had, but below you can see that throughout the years, attendance at Turner Field was on the decline. After the first full season and part of the second, SunTrust Park attendance seems to be on the rise as seen in table 1 below: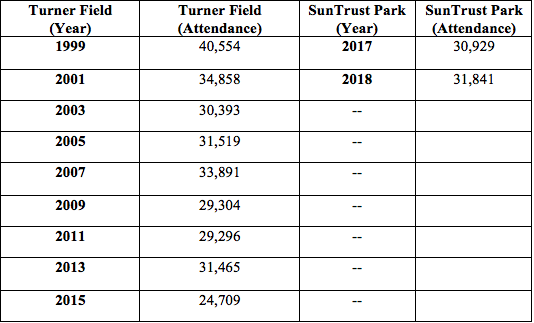 Regardless of all the advantages, SunTrust Park has brought, the Braves are in a season where they need to avoid another trend. That trend is steering clear of a potential falloff in attendance, which seems to occur in a new stadium's second season. So far, it seems like they are doing pretty well, as the average attendance continues to creep up as seen in Graph 2 below. If you compare the total attendance from 2016 at Turner Field to 2017 at SunTrust Park, that is where you can really see the difference: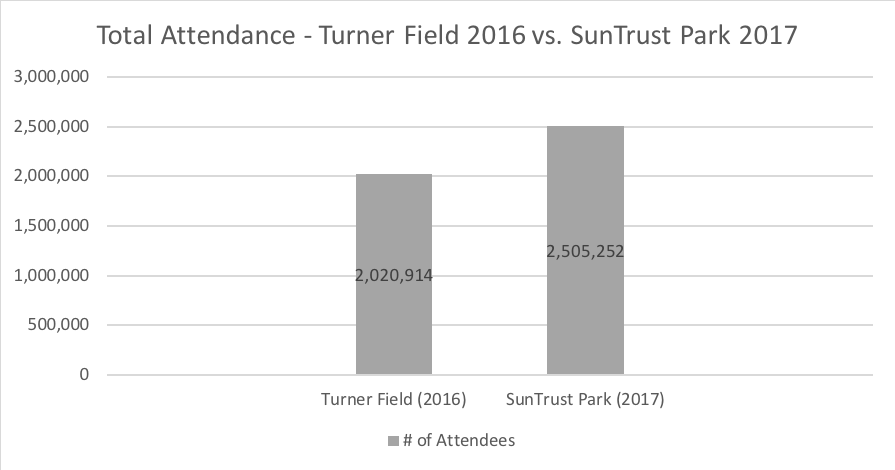 There are a number of things that set SunTrust Park apart from other MLB Stadiums, but one thing I found to be super neat was the fact they have sunscreen dispensers. Just like hand sanitizer dispensers but with sunscreen in it! On June 24th, 2018 @SunTrustPark tweeted:
"Enjoying some sunny afternoon baseball at SunTrust Park? Look for the sunscreen dispensers located around the ballpark! Free for fans!"
One other thing that makes SunTrust Park different than other MLB Stadiums is the fact that it faces south, the main reason being so the fans behind home plate can see the Atlanta skyline. Only four Major League Baseball Stadiums face south, as the rest of the face north, so the batters and fans don't have to look directly into the sun. The video below talks about some of the unique features of SunTrust park:
https://www.11alive.com/video/sports/mlb/atlanta-braves/comparing-suntrust-park-to-turner-field/85-2570681
But no matter if there are 4, 14,000 or 40,000 fans at a game, with all that SunTrust Park has to offer (especially being 30-50 feet closer to the action than at Turner Field), fans are bound to enjoy the best food while having the best time.
C H O P  O N!
This blog post was written by Samford University student Victoria Kwak. You can learn more about Victoria Kwak at https://www.linkedin.com/in/victoriajkwak/.
Works Cited
http://sportsmarketanalytics.com.ezproxy.samford.edu/research.aspx?subrid=649
http://sportsmarketanalytics.com.ezproxy.samford.edu/Article-Detail.aspx?id=254435
https://www.ajc.com/sports/baseball/braves-attendance-suntrust-park-just-above-last-year-average/BY0PRh4YtD5nl8lgUBmHGP/?icmp=np_inform_variation-test
https://www.ajc.com/sports/baseball/braves-averaging-fewer-fans-start-2018-season/XDp8wj8D8c4txymCYFsTqI/?icmp=np_inform_variation-test
http://www.baseball-almanac.com/teams/bravatte.shtml
http://specials.myajc.com/turner-field-legacy/