Published on July 9, 2018 by Jared Gray  
The FIFA World Cup is undoubtedly the world's most prestigious sporting event. Soccer can encompass the entire world's attention and affection in a way that no other global event could, and the raw emotion displayed by fans and players is unmatched; however, things just don't seem right without the U.S. Men's National Team there to represent 330 million Americans. If you ask an executive at 21st Century Fox, he or she would probably tell you the same thing. In 2011, Fox bid upwards of $400 million for the exclusive rights to broadcast the FIFA World Cup in the United States, but because of the USMNT's failure to qualify many Americans have seemingly lost interest in the tournament altogether as television ratings have reportedly dropped 44% from 2014: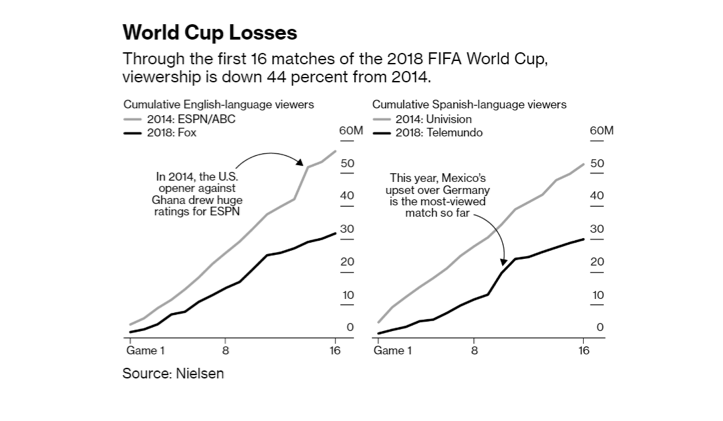 It was inevitable that Fox would face catastrophe this summer when Trinidad & Tobago dealt the U.S. a decisive blow back in October. Knowing they would struggle to find viewers, Rob Stone and company's strategy became leaning heavily on VAR as the talking point of this World Cup, and who could blame them? One direct result of VAR's influence has been a dramatic increase in the number of penalty kicks awarded at the World Cup.
So… What is VAR?
The Video Assistant Referee, better known as VAR, is a replay system being used at the FIFA World Cup this summer for the first time in the tournament's 88-year history. VAR is a network of cameras located strategically around stadiums meant to capture the action from every conceivable angle. With the assistance of four additional match officials, the head referee reviews footage captured by the cameras to resolve conflicts on the field; however, only four types of occurrences are reviewable: Goals, Penalties, Straight Red Cards, and Mistaken Identity.
How have spectators reacted?
Firstly, it is important to understand that VAR is not an exact science. Much like an experiment that a scientist would conduct, there is a hypothesis that is put to the test. This is the first World Cup that VAR has been used at. So far VAR has worked on multiple occasions although it hasn't been pretty, and it most certainly isn't perfect. Soccer purists will have you believe that controversy is an essential part of the game and that video replay software belongs nowhere near the sport, but common sense and logic will lead you to understand just how vital it is to get the call right so there aren't any "Hand of God" moments in the future:
"We are living in a VAR world, and it's here to stay. Either evolve or get left behind."@AlexiLalas praises VAR and its usage so far in the FIFA World Cup. pic.twitter.com/Px8SuRnqdC

— FOX Soccer (@FOXSoccer) June 28, 2018
Over time it will evolve as well as improve, so we just need to be patient. After all, VAR is getting the job done: it's helping clarify mistakes within the game, and it's getting people in the U.S. talking about a World Cup that the U.S. isn't participating in.
Works Cited
https://www.cnet.com/uk/news/world-cup-2018-var-better/
https://www.bloomberg.com/news/articles/2018-06-21/fox-telemundo-2018-world-cup-ratings-are-down-44-from-2014
http://money.cnn.com/2017/10/11/media/fox-world-cup-us-fail/index.html
http://www.beinsports.com/us/fifa-world-cup/news/var-leads-to-increase-in-awarded-penalties/910553