Published on April 11, 2018  
Los Angeles Angels pitcher and designated hitter, Shohei Ohtani, has been the talk of baseball since he was first rumored to seek a contract in the MLB. In the first two weeks of the 2018 MLB season, he made his major league debut and first two starts as a starting pitcher; He was nothing short of great. From the plate, he went 7-18 (.381) with 3 home runs, 7 RBIs and an OPS of 1.310. On the mound he was just as great; Between both of his starts, he pitched 13 innings giving up 3 runs, 2 walks and struck out 18. He picked up the win both times and even carried a perfect game into the 7th inning of his second start. After a shaky spring training, his hot start has certainly silenced the critics for now, but what makes him so good?
Hitting It Hard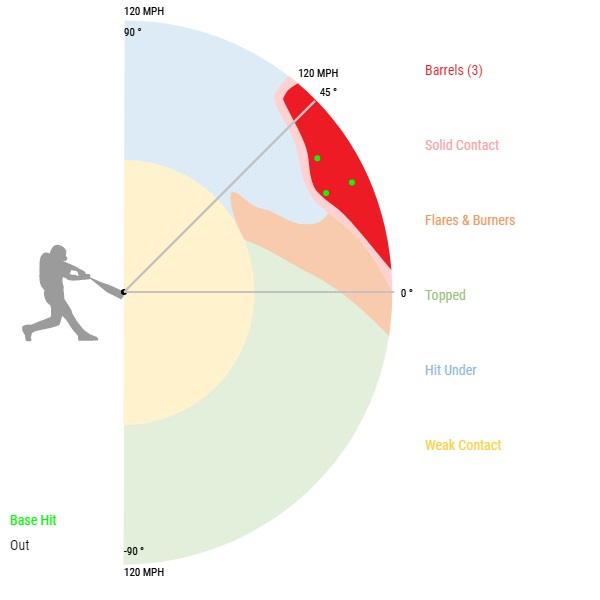 He has put the ball in play 14 times out of his 19 plate appearances with an average exit velocity of 97.3 which translates to 2nd in the MLB (minimum of 10 batted balls). As for his 3 home runs, his average exit velocity was 105.6. In comparison, one of the most prominent home run hitters in all of baseball, J.D. Martinez, had an average exit velocity of 105.9 mph on his 45 long balls in 2017. In his limited sample size, he's shown he can hit with anybody.
Analyzing Pitches
His fastball averaged 97.1 mph which is good for fourth in the MLB. Although this is very impressive, it is not nearly his best pitch. At 22 years old this natural velocity is great, but his spin rate is what's interesting. The average spin rate on 4 seam fastballs across the league last year was 2255 rpm and this year it is at 2261, but his is below average at 2199. He ranks 79th of 119 pitchers who have thrown at least 50 four-seam fastballs. Spin rate on a fastball is important because the higher spin rate, the more the ball seems to "rise" on its way to the plate. With the lower spin rates, the ball starts to drop on its way in and with higher spin rate it stays up which fools the hitter. By far his best pitch is his splitter and this where his spin rate excels. His average spin rate of the 58 splitters he threw was 1281 rpm. To put in perspective how much he differentiates from the rest of the league with this pitch, last year's league average spin rate was 1507 rpm and this year sits at 1465. With less spin, the drop off is more devastating and gives hitters almost no chance of making contact.
Swing and Misses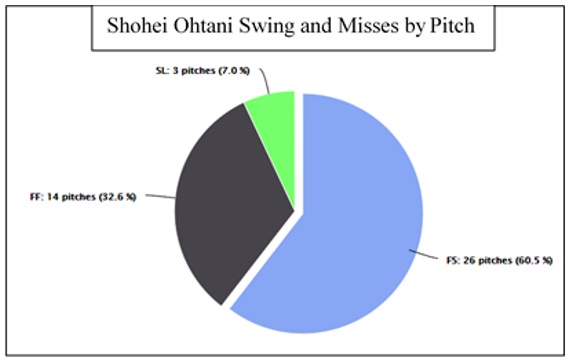 He has generated 91 swings over the first two games and 43 of them were swing and misses, good for a 47.25 swing and miss %. Of those 43 pitches, 26 were by way of his splitter making up 60% of his swing and misses. His splitter is obviously his wipe out pitch. Aside from the great spin rate on his splitter, what might benefit him just as much, if not more, is his change in speeds. His fastball topped out at 99, his splitter averaged ~89 and his slider was as slow as 68. A 30 mph change in speed makes it so incredibly hard for a hitter to stay on top of his pitches and that doesn't take into account the devastating movement on each pitch.
Is His Splitter the Best Pitch in Baseball?
The short answer to this is no. But, it is ONE of the best in the league at this moment. As of Sunday, April 8, Ohtani leads the MLB with a swing and miss rate of 47.25%. Also of note is that every single one of his 18 strikeouts were on swinging strikes and not a single batter has hit safely against his splitter. The verdict is that Shohei Ohtani is going to be a very good player for years to come and although he is often called "the next Babe Ruth", he is making a name for himself.
Rory Houston is a Junior at Saint Joseph's University double majoring in Business Intelligence and Analytics & Sports Marketing, looking to pursue a career in baseball.
Works Cited
Statcast Search. (2018). Retrieved April 10, 2018, from https://baseballsavant.mlb.com/statcast_search