Published on June 22, 2018 by Patrick Schilling  
Above all else, Minor League Baseball (MiLB) is the most successful minor/development league of any professional sport. With 176 teams across fourteen leagues, most of them affiliated with professional teams, any state you go to will most likely have a few teams. To back that statement up, MiLB hosted a total of 41,832,364 fans in 2017, the fifth highest total since 1901. That was a 1.1% total increase of fans and a 2.4% increase of average fans per game. MiLB also reported that fourteen teams set single-season attendance records and twenty-two teams set single-game attendance records. So why is it that while MLB attendance is falling, MiLB attendance is on the rise. For reasons both inside the actual game itself, and external variables, minor league baseball is becoming more appealing to baseball fans.
Concessions
One of the biggest problems facing sports leagues right now is how much money is spent not on tickets, but inside the stadium itself. CreditCards.com report in 2016 that it cost $502.84 to take a family of four to an NFL game (two adult and two children tickets, two small beers, four small soft drinks, four hot dogs, two programs, two adult-size ball caps and parking), $339.02 for an NBA game and $219.53 for an MLB game. Those are drastic increases from 1991, the NFL now 232% higher, the NBA has risen 139% and Major League Baseball jumped 176%. For your average family that sort of cost on top of tickets is too extreme to make a habit of going to games.
For MiLB however, this is where they thrive. In 2015, they reported that the average family of four can see a ball game for just $64. The chart below shows the average prices in each league in 2015.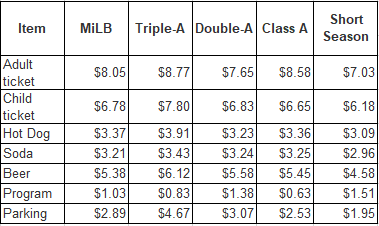 MiLB.com
Assuming you don't purchase all the items that add up to the $64, you can reasonably eat and drink at a Minor League game for less than $10 a person. I pulled a few teams at random of all available MiLB teams for specific concession prices, the results are below.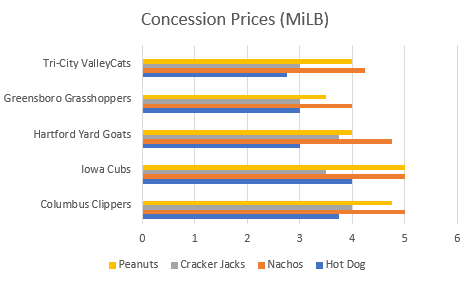 All these prices are as of the 2018 season except for the Iowa Cubs (2016). For the chance to go to your local minor league team's game instead of traveling to a big-time event, the fraction of the price to feed your kids or friends is a game changer for Minor League Baseball.
Ticket Prices
Across sports leagues, ticket prices are on the rise. In Major League Baseball, the average ticket price in the 2018 season was $76, up about 55% from 2011 when it was $49. Even on secondary markets, tickets for the 2018 season are up 8.57% from the previous season. In the same time frame, only two teams' ticket prices are down since 2011, the White Sox and the Blue Jays, down 31.88% and 30.48% respectively.
In MiLB however, ticket prices have remained incredibly affordable. In 2015 the average adult ticket was just over $8, that factors in lawn seats and suite seats alike. I've pulled ticket prices from the top five minor league teams (all Triple-A) in attendance in 2017. The two seats I've chosen are field box, which is general seating and reserved tickets which vary field to field. I tried to avoid suite tickets and lawn seating to find the middle ground.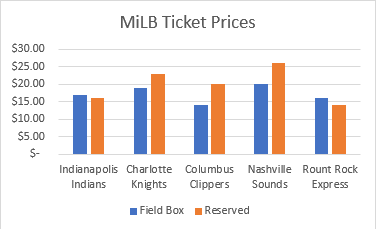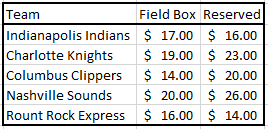 The tickets being bought at the highest rate for Triple-A teams are still a fraction of the cost of professional tickets. For casual fans of baseball, there's no question that minor league baseball is easier to access and much more affordable than that of MLB.
Works Cited
https://www.barrystickets.com/blog/mlb-ticket-prices/
https://www.creditcards.com/credit-card-news/sporting-event-spending-poll.php
https://www.milb.com/milb/news/family-of-four-can-see-ballgame-for-6418/c-130739074
http://www.milb.com/documents/6/6/8/270623668/2018_Concessions_Menu.pdf
https://www.milb.com/milb/news/minor-league-baseball-attendance-tops-418-million-in-2017/c-256032320 [link broken as of 7/30/18]
http://www.milb.com/content/page.jsp?ymd=20160415&content_id=172522342&sid=t451&vkey=team2
http://www.milb.com/content/page.jsp?ymd=20170720&content_id=243317322&sid=t538&vkey=team1
http://www.milb.com/content/page.jsp?sid=t477&ymd=20120502&content_id=30217420&vkey=team1
http://www.milb.com/content/page.jsp?ymd=20150521&content_id=125799988&fext=.jsp&sid=t577&vkey
About the Author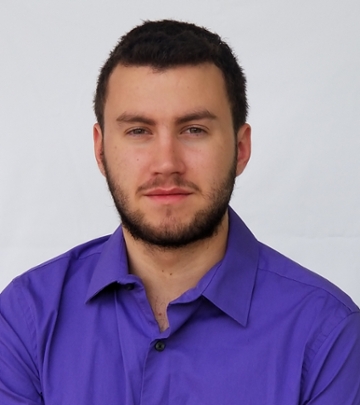 Patrick Schilling is a rising senior attending Western Carolina University with a double major in sports management and computer information systems. He loves to study data trends related to the business of sports as well as in athlete performance. He hopes to one day work in the sports industry after graduation.