Published on September 10, 2018 by Collin Burtch  
Formula 1 has a foothold with motorsport fans here in the U.S., but only a fraction as popular as it is in Europe. This could be because the U.S. has its own motorsports such as NASCAR and Sprint car that hold a distinct American identity. Plus, NASCAR is heavily supported by sponsors that are strong American brands such as Ford and Chevrolet while F1 has always had teams comprised of Ferrari, Mercedes, and McLaren. Recently however, NASCAR viewership and attendance has been dropping and there are many theories as to why this is.
Some fans have stated that the cost has gotten too high. "Fans said tickets are the smallest impact on their financial decision, because ticket prices are dwarfed by the cost of hotel rooms and transportation to events." (Gluck). There also seems to be a general change in attitude about the sport with younger people as viewership with this age demographic has fallen in the last two years.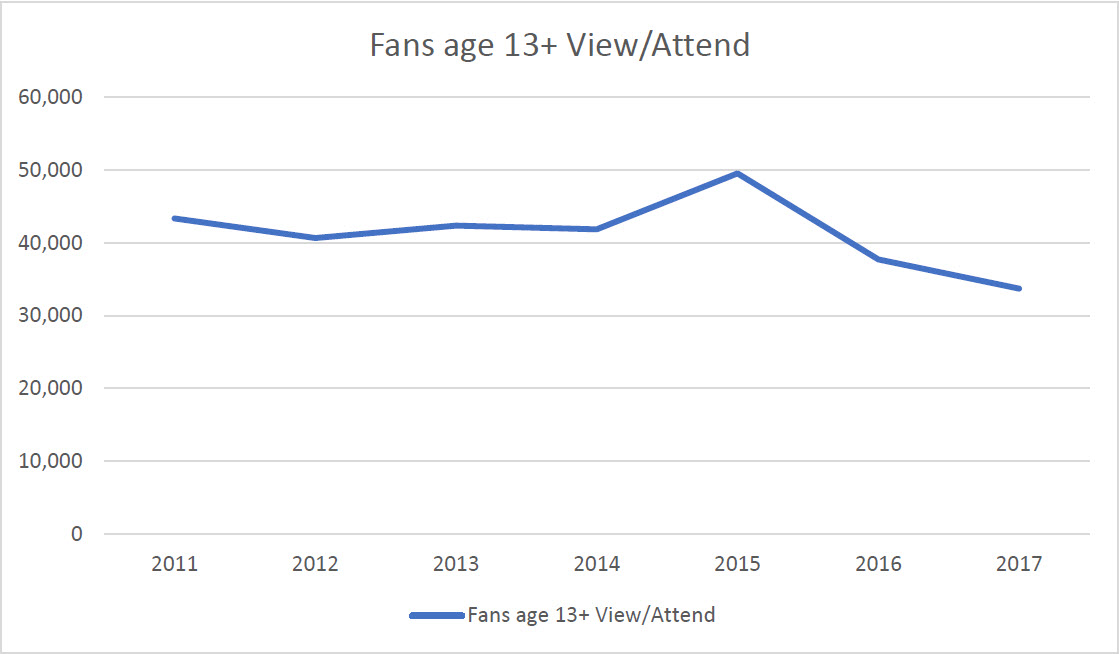 It is not just the younger generation that NASCAR has been losing, long time fans have been feeling out of touch and distant from the sport and many blame NASCAR for that. "Jim, 65, and Lanette, 63, said they were disgusted by some of NASCAR's decisions in a five-month period starting in September 2013. They did not agree with how officials handled the aftermath of the Chase for the Sprint Cup manipulation at Richmond International Raceway, which included NASCAR CEO Brian France putting Jeff Gordon into the playoff as an extra driver." (Gluck)
NASCAR has been slipping in the U.S. and other American motorsports have been stagnant, so how is F1 planning on expanding viewership and attendance here in the U.S.? For starters many races on the F1 ticket are up for renewal this year and many have been already renewed such as Belgium GP. "Formula 1 has extended its contract with the Belgian Grand Prix until 2021. The move secures the immediate future on the calendar of one of the world's classic race tracks - Spa-Francorchamps in the Ardennes mountains." (Benson) Brand loyalty with many foreign car manufacturers that have grown in popularity in the U.S. like Mercedes, BMW and Porsche could help drive interest in F1 due to those companies participating heavily in the euro motorsport.
The biggest sign that F1 is going to expand its market in the U.S. is that F1 was recently acquired by Liberty Media which is an American company. More importantly a second race in the U.S. is being prepared for Miami in 2019. "F1 is close to securing a new race in Miami, Florida, which is expected to take place for the first time in 2019 and would make a second grand prix in the USA, in addition to the US Grand Prix in Austin, Texas." (Benson) This could help drive the viewership and attendance of F1 in the U.S. especially since it is now being headed by an American company.
Sources
http://sportsmarketanalytics.com.ezproxy.samford.edu/research.aspx?subrid=718 
Benson, Andrew. "Belgian GP: F1 Extends Contract of Spa-Francorchamps Track - BBC Sport." BBC News, BBC, www.bbc.com/sport/formula1/44550066.
https://www.usatoday.com/story/sports/nascar/2016/07/01/nascar-fans-attendance-cost/86587042/