Published on August 6, 2018 by Matt Pittarelli  
Football is a young man's game (Unless of course you go by the name of either Tom Brady or Drew Brees, aged 40 and 39 respectively). The same is beginning to become true for fantasy football, a game enjoyed by over 59 million people in 2017 alone (Fsta) . As Brady and Brees head towards the end of the careers, could we see the same for fantasy football as we have come to know it?
Fantasy football is much older than you might expect, with its inception credited to Oakland Businessman Wilfred Winkenbach in 1962 (Brown), slowly growing throughout the years until in 1997 it became widely available to the public online via CBS. Today? The game is a phenomenon endorsed by the NFL itself and as of 2017 has turned into a market worth $18.6 billion (Sports Management).
However, times may be changing for the industry as the younger generation has made it clear they have a preference with how they play: Daily Fantasy Games.
For the longest time, participants drafted a team and had to utilize that core roster they started with throughout the entire fantasy football season, which typically lines up with the NFL regular season. Daily fantasy sports have been around since the 90's but have since exploded onto the scene, and as of 2015, FanDuel and Draftkings, the two largest daily fantasy companies, were both valued at over $1 billion.
In 2017 there was a noticeable disparity with what the younger generation enjoyed with their fantasy sports compared to that of the older generation.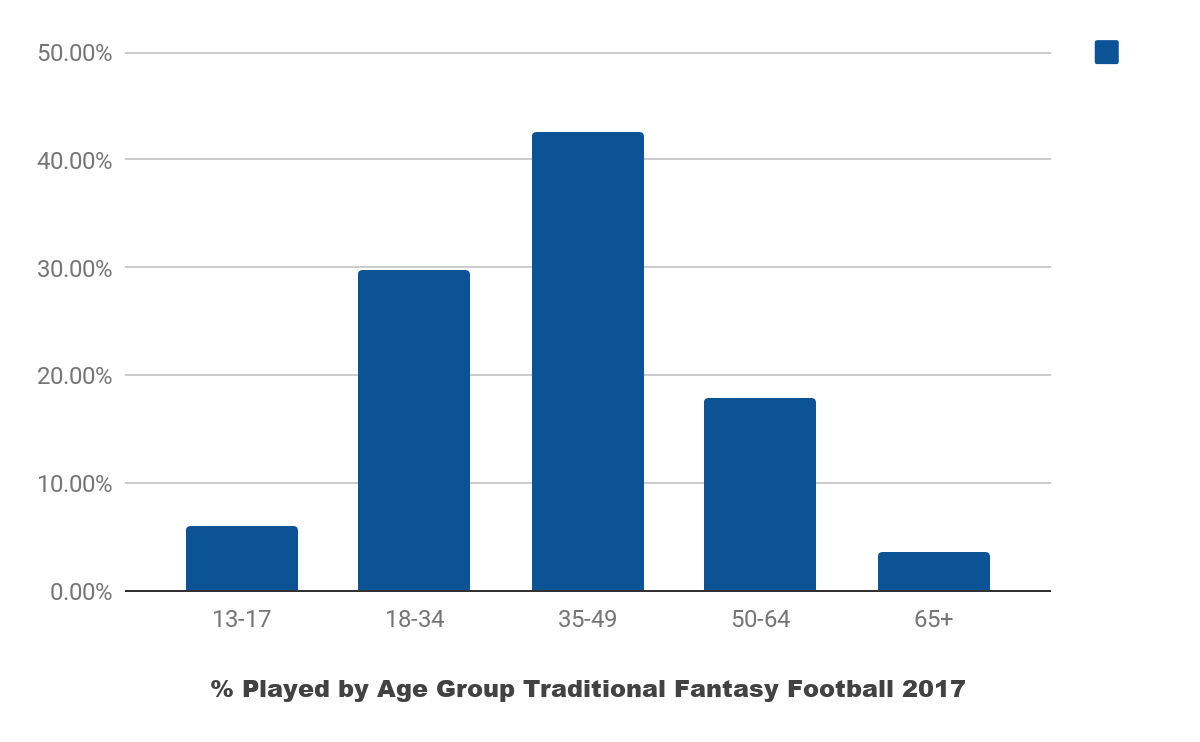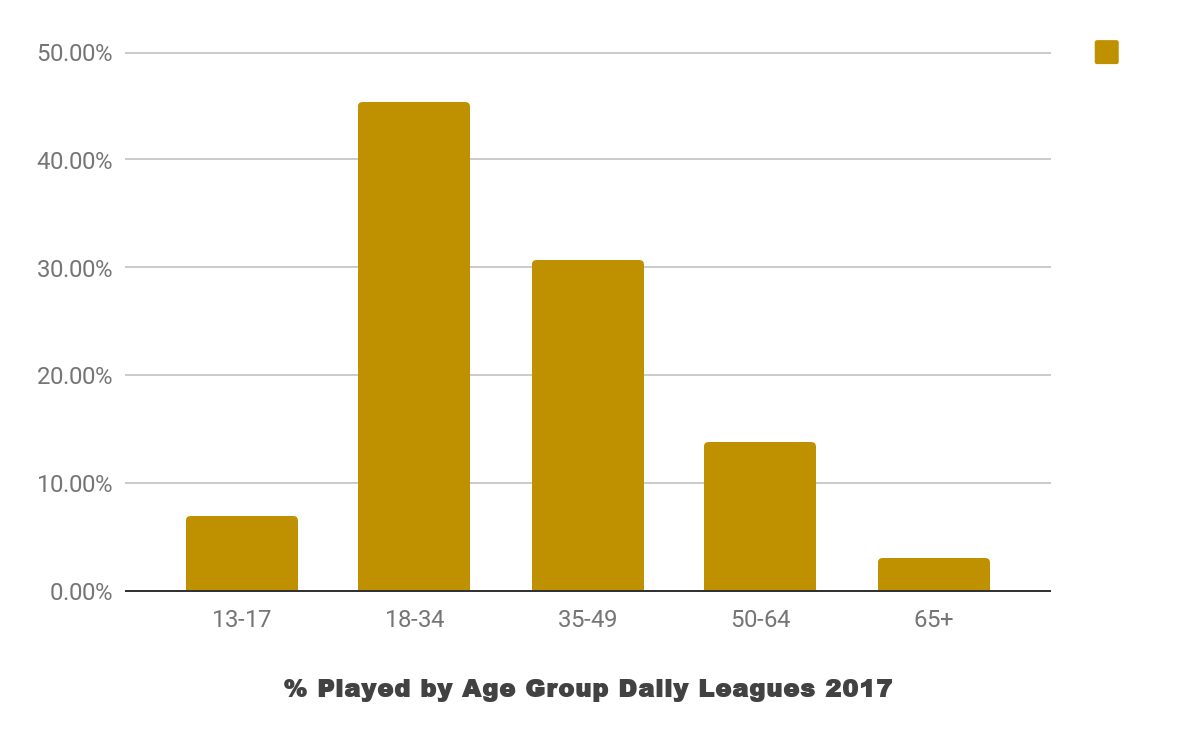 A much higher percentage of participants in daily fantasy games were of age 18-34 than was the case with traditional fantasy football. With less than 30% of the market falling in that same range for traditional fantasy football, it is evident that the older crowd is not wavering in the tradition often associated with the fantasy leagues they have probably been participating in for years.
The implications of the age groupings for the respective fantasy sport structures could be colossal.
 While the traditional season long leagues are still more popular overall with about twice the number of fans participating, there is certainly plenty of overlap and it is becoming clear where the preferences lie. The beauty of the daily leagues is that there is no direct competition with long term fantasy sports, it is just a matter of getting people hooked on the weekly thrill of daily fantasy games.
As sports betting gains traction due to recent changes in legislation, more and more people will shift their attention to daily sports leagues, which offers the quick satisfaction and turnaround that both millennials and gamblers crave. Daily leagues give fans an opportunity each and every game day to become invested all over again and almost always with money on the line. The 18-34-year-old market drives trends and as more and more capital gets invested into the daily leagues, more people of all different ages will surely follow suit.
About the Author
This blog post was written by Samford University student Matt Pittarelli. You can learn more about Matt Pittarelli at https://www.linkedin.com/in/matt-pittarelli-832840128/ .
References
Brown, E. (2016, September 06). The history of fantasy football. Retrieved from http://www.sandiegouniontribune.com/sports/chargers/sdut-the-history-of-fantasy-football-cure-2014jul28-story.html
The Lucrative and Growing Fantasy Football Industry. (n.d.). Retrieved from https://www.sportsmanagementdegreehub.com/fantasy-football-industry/
Industry Demographics. (n.d.). Retrieved from https://fsta.org/research/industry-demographics/ [Link broken as of 3/9/2020]
Market Research / Demographics. (n.d.). Retrieved from http://sportsmarketanalytics.com.ezproxy.samford.edu/research.aspx?subRID=995