Published on November 4, 2018 by Ross Harrison  
Ask a Major League Soccer fan who some of their favorite players in the league are. The answers you would expect to see are the big names, Zlatan Ibrahimovic, Josef Martinez, Sebastian Giovinco, and David Villa. All of these players have one of two common traits, they all played their trade in Europe and are winding down their career or couldn't quite make the cut on the European stage. That has been the American approach to overseas recruiting for a while, a "lower" league to succeed where one couldn't or often to retire with. Many players have come and gone through this system of being below European football. Now as the United States Men's National Soccer Team far too recently missed out on a World Cup spot many would think this further shows how this trend isn't leaving the states any time soon, and they couldn't be more wrong.
Major League Soccer has begun to blossom in the United States and it's for the reason many thought that it was faltering. Europe has begun to recognize the MLS as a league with a pool of untapped talent waiting to be tested on the European stage. Players in the MLS have started to catch the eyes of many European giants. This growth stems from two reasons: the emergence of a strong core of young American talent already overseas, and the rising popularity of the Major League Soccer.
The New Wave
An impressive number of young Americans have been making a name for themselves on the European stage for a few years now. Many in soccer attribute this recognition to the immense success of Christian Pulisic. Having signed with German giants Borussia Dortmund, Pulisic quickly rose through the ranks and after just under a year with the youth teams he was called up to Dortmund's first team. In just a year of being a Dortmund player he began to compete for a place in the starting eleven for the team and became the youngest player in German league history to score two league goals. Of course, with these performances came a huge jump in not only his reputation but his value and interest. Pulisic for multiple transfer windows has been linked with top level English teams, most notably Liverpool.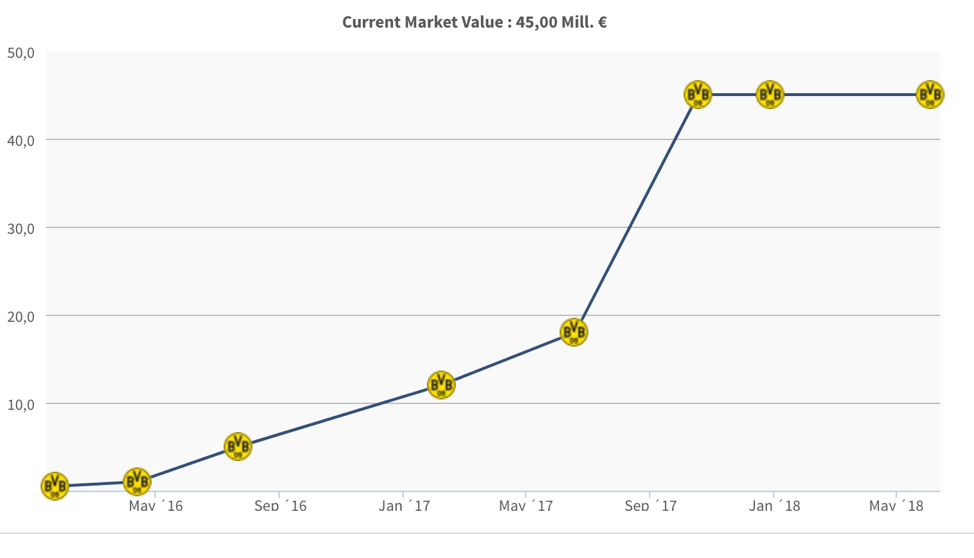 The chart above shows that in the matter of roughly a year his market value jumped 8900%. After Pulisic's reputation went through the roof, many American footballers have begun to be recognized and represent larger teams across Europe. Weston McKennie and DeAndre Yedlin are two other Americans who play for Schalke 04 in Germany, Newcastle United in England, and have shown that the United States has a growing core of talented youth. These players popping up around Europe are evidence of how much potential there is for the game to develop not only players but grow the sport in general. To further exemplify how well these young players have performed, Pulisic has made the list of ten nominees for the Kopa Trophy, "an award for the best player under 21 to be voted for by the previous 33 winners of the Ballon d'Or". Players like these have proven they have the ability to perform on the highest stages consistently and have drawn a crowd of suitors scouting around for American talent similar to them. As this trend continues, the reputation of Major League Soccer will continue to grow.
The Big Four No More
For the longest time America has recognized their four major sports, NFL, NBA, MLB, NHL without acknowledging Major League Soccer as a top sport. Though recently the MLS has started to grow significantly. Across twenty-three teams having three other expansion teams who did not survive over the years the MLS average attendance started on a downward slope but at the beginning of the 2000's began to grow at a steady rate.

Beginning with an average attendance of roughly seventeen thousand and currently recording an average attendance of twenty-two thousand, Major League Soccer has grown attendance by over 50% since the league's inaugural season. A perfect example of the growing popularity of the MLS is the expansion franchise Atlanta United. In only their second season they have recorded an unprecedented average attendance of 51,826 per game. This team has not only shown that the United States has a large population very passionate about the sport but that the market for MLS teams is a very lucrative one.
No Longer A One-Way Street
For the longest time it seemed as though many MLS players were bought at the twilight of their career or after they proved they couldn't handle the European stage. This mentality has begun to change very recently. Alphonso Davies, an eighteen-year-old representing Vancouver Whitecaps, has recently transferred from Vancouver to FC Bayern Munich. After showing his talent in the MLS for three seasons Bayern opted to purchase the player as a project for the future. Not only will he represent their youth teams, but Davies has the opportunity to play with many of Bayern's first team players during the American Champions Cup this past summer. During this time, he earned plaudits from many of his Bayern senior players. The transfer of Davies has shown that North America is a growing market of young talent who have the opportunity to play in an environment that helps further their growth while giving them top level competition as well. On the prior topic of Atlanta United, one of their star players Miguel Almiron has been attracting interest with some of the top teams in the English Premier League, namely Arsenal and Leicester City FC. This interest shows the changing climate in the MLS, proving it is a league that can not only handle but produce top-tier players capable of performing across the Atlantic. Having been linked with these teams for quite some time now the question of when more so than if lingers. This transfer has the possibility to begin the movement of talented players plying their trade in the United States until the major teams of Europe come calling for them. Hopefully in the future the development of American Football will reach a point as to where players may even consider staying in the United States instead of taking the leap overseas due to the growing prestige of Major League Soccer. As Major League Soccer continues to grow as a top league in world football and develop top talent one must wonder, how long until we get a Messi of our own?
This blog post was written by Samford University student Ross Harrison.
Works Cited
Standard.co.uk
SoccerStadiumDigest.com
90Min.com
TransferMarkt.com