Published on January 14, 2019 by Addison Hill  
Fitzmagic to Fitztragic
The Tampa Bay Buccaneers have been struggling on the field for quite a few years.  The team has not made the playoffs since 2008 and just fired its fourth coach since that time. The Bucs 2018 season started with many questions.  The 2015 number one draft pick and quarterback, Jameis Winston, in whom the Bucs invested heavily in, was suspended for three games due to allegations of sexual misconduct. As a result, many fans assumed the Buccaneers were doomed from the start.  However, out of nowhere, Ryan Fitzpatrick, the 36-year old backup quarterback, surprised all by impressively leading the Bucs to wins in their first two games. The fans were on fire! It was dubbed "Fitzmagic"! Attendance was not going to be a problem.
It was not to last. By the third game, Fitzmagic became Fitztragic and then Jameis Winston returned.  The season continued to deteriorate with inconsistencies, discontent, and coaching disturbances.  Attendance at Bucs home games began to drop rapidly.
The Tampa Bay Buccaneers have consistently had one of the lowest attendance averages in the NFL.  Attendance has seemed to slightly rise with a coach change or some high draft picks, but then has fallen due to the Bucs persistent losing records. Unfortunately, nothing ever seems to go their way. After seeing one of the worst single-game attendances on record in November against the 49ers, the Buccaneers decided to give away two free tickets to each season pass holder – first come, first serve.  Shocking many in the industry, tweets were aplenty. "After the smallest crowd in more than eight years witnessed Tampa Bay beat the 49ers at Raymond James Stadium, the Bucs are offering season pass members two complimentary tickets against the Carolina Panthers" Rick Stroud @NFLSTROUD (Dator 2019).
The Buccaneers looked at the free ticket offer as an opportunity to give back. "We have always looked for ways to add to the fan experience, and the offer is just another example of our desire to bring added value to our season pass members. We have made similar offers over the years, and the holiday seemed like a great opportunity to thank our loyal season pass members with a special opportunity like this," said Bucs Chief Operating Officer Brian Ford (After worst attendance at a game in more than eight years, Bucs offer free tickets to season pass holders 2018). Bottom line: this tactic helped the Bucs get more in the stadium.
Rising Up in Atlanta!
The Atlanta Falcons do "rise up". In addition to this being the team's marketing tagline, it also reflects the organization's goal for attendance. Since 2017, attendance at Falcons home games has risen up. Perhaps the Buccaneers can follow suit? The Falcons had a losing record from 2012 to 2015.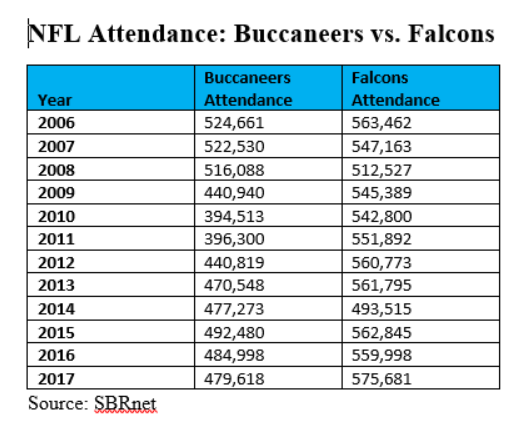 As attendance began to drop, typical incentives were not attracting fans. So, after 25 years, the Georgia Dome in Atlanta was torn down and replaced by one of the most exquisite stadiums ever built. The two-year-old, state-of-the-art Mercedes-Benz Stadium is now a huge attraction for Falcons fans. As a result, home attendance has increased. In the sports industry, we know the performance of a team is of utmost importance, but a close second is the atmosphere for the fan experience at games. The Falcons just ended a pretty terrible season and need to make some changes; however, attendance was strong, and fans continue to enjoy the game experience at this incredible stadium. Even though the Buccaneers have made constant upgrades to Raymond James Stadium, it may be time to turn up the discussions on a new stadium.
Young, Broke, but Not Dumb
What does all of this mean? The Buccaneers are not the only team seeing a decrease in attendance. NFL attendance overall has dropped. The 2018 NFL regular-season attendance had its lowest average since 2011 at 67,100. "Redskins down league-worst 19%; Bucs -9%; Bengals -5%" Austin Karp @AustinKarp (Brown 2019). The statistics speak pretty clearly and need to be analyzed. Of great concern is that younger fans are choosing not to attend games, a trend which has continued for several years. Indeed, while attendance by fans 35 and older has increased, attendance of those younger than 35 has plummeted. In 2011, 46.1% of attendees were under 35. Remarkably, that percentage has dropped each year since, reaching a new low of 27.3% in 2018. Obviously, this is a real problem for the NFL as young fans are critically important to the league's future success.

The NFL should focus on how to attract this younger demographic back into the stadiums. After all, they are the next generation of season ticket holders. Could it be that these younger football fans have been lured away by a preference for attending college football games and the attraction of the new College Football Playoff system? Many would agree that the college football atmosphere offers more affordable ticket prices, greater entertainment (with fight songs, marching bands, and cheerleaders), and deeper and more passionate rivalries.
2019 NFL Season, Where You At?
As the 2018 NFL season soon comes to a close, teams such as the Tampa Bay Buccaneers need to take quick action. Tampa Bay has already made a coaching change, letting go Dirk Koetter and hiring former Arizona Cardinals Head Coach Bruce Arians. This may be the exact new momentum the Bucs need to bolster attendance. Hopefully, the Bucs will not have to resort to giving away free tickets, dealing with a suspended quarterback, or planning for a new stadium for the foreseeable future. A winning product on the field is what is needed most in Tampa Bay. That, more than anything, should get the Bucs fans of all ages to games next year. Go Bucs!
About the Author
Addison Hill is currently a junior at Samford University, pursuing a degree with a major in Sports Administration and a minor in Sports Media. She is from Tampa, FL and has been a lifelong Tampa Bay Buccaneers fan. You can follow her on Twitter @Add_Hill or on Linkedin at https://www.linkedin.com/in/addison-hill-012391129/.
Sources
After worst attendance at a game in more than eight years, Bucs offer free tickets to season pass holders. (2018, November 29). Retrieved from https://www.tampabay.com/blogs/bucs/2018/11/28/after-worst-attendance-at-a-game-in-more-than-eight-years-bucs-offer-free-tickets-to-season-pass-holders/
Brown, M. (2019, January 07). How The NFL Gained Back Viewers, But Lost Attendance. Retrieved from https://www.forbes.com/sites/maurybrown/2019/01/07/how-the-nfl-gained-back-viewers-but-lost-attendance/
Dator, J. (2018, November 29). The Buccaneers are so bad the team is giving away free tickets to games. Retrieved from https://www.sbnation.com/2018/11/29/18117865/buccaneers-free-tickets-nfl
Stats retrieved from SBRnet, Sports Business Research Network. https://sportsmarketanalytics-com.ezproxy.samford.edu/