Published on May 6, 2019 by Courtney Williams  
In football, the quarterback is the offensive leader and sets the tone for his team, so the pressure to win games has always rested most heavily on his shoulders. However, the role and importance of the quarterback have been taken to even greater heights over the last few decades because of players like Peyton Manning, Drew Brees, and Tom Brady. They used their superb speed, accuracy, vision, and strength to shatter passing records left and right and, in doing so, showed coaches that they could put more faith in the pass offense. The increased presence of similarly talented QBs in the league has made passing the ball a more popular choice among offensive coordinators, but "a common belief still exists among NFL fans and experts alike that…a rush offense (is) more important when it comes to winning a championship" (National Football Post).
Given the NFL's current status as a "passing league," one might think that Super Bowl winners minimize the rush offense and, instead, capitalize on the talents of their quarterbacks through a larger number of pass attempts. An analysis of the last 10 Super Bowl champions' regular season performances contradicts this belief by revealing that championship teams usually run the ball more and pass the ball less than teams typically do in the league.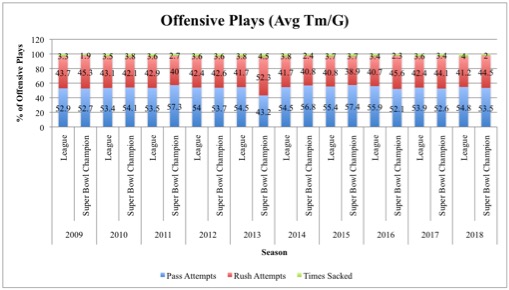 Specifically, in the past 10 years, about 54.3% of NFL teams' offensive plays have been pass attempts and 42.1% have been rush attempts. Super Bowl champions resemble other teams in the league in that they are also more likely to throw the ball than run it, but there is a smaller gap between their percentages of pass attempts and rush attempts (53.3% passing vs. 43.6% rushing). This means that Super Bowl champions rely on the rush offense more heavily than the average NFL team. Furthermore, the "Rushing Yards Gained" chart shows that 6 of the last 10 Super Bowl winners gained substantially more rushing yards than the league average, which supports the theory that a good rush offense is what sets most championship teams apart.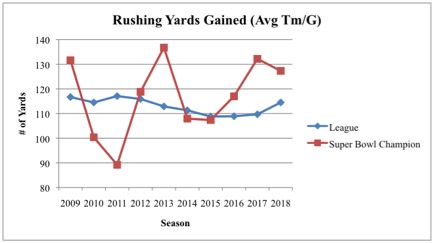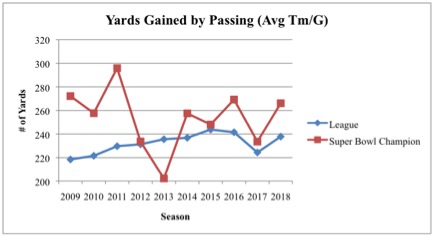 If you look at the two charts above more closely, you will notice that as of 2015 the difference between the Super Bowl champions' and the league's average number of passing yards is dwindling while the difference between the Super Bowl champions' and the league's average number of rushing yards is growing. One possible explanation is that play-callers are finally recognizing the fact that strong rush offenses help win championships and are adjusting their game plans accordingly. On the other hand, coaches may just feel more comfortable running the ball now that young, stellar running backs like Ezekiel Elliott, Le'Veon Bell, Devonta Freeman, and Saquon Barkley have entered the league. Regardless of what is causing them, these trends suggest that the running game is making a comeback in terms of its value and effectiveness.
Sources
https://nationalfootballpost.com/to-pass-or-run/
https://www.pro-football-reference.com
Jack Newton [CC BY-SA 2.0 (https://creativecommons.org/licenses/by-sa/2.0)]
About the Author
Courtney Williams graduated summa cum laude from Berry College (GA) in 2017. She earned a bachelor's degree in mathematics, and she wants to use her knowledge of statistics, probability, and more advanced mathematics to help sports organizations make good business- and player-related decisions.