Published on July 10, 2019 by Marshal Smith  
Is MLB's attendance slide something to be worried about, or is it just a phase in the league's progression? The MLB has seen highs and lows in its 116-year existence, but this time it seems like more of a problem than ever. With total and average attendance set to fall for five years straight, the MLB has to control the plummeting numbers before something truly bad happens to the league. 
The Overall Numbers (2014-2019)
In the past five years, total attendance has dropped by a staggering 4,089,886 (5.55%) which can be seen in the chart below.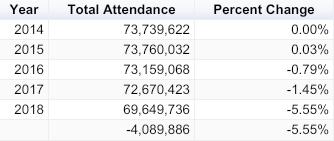 This year the MLB is on pace to have the worst attendance numbers in fifteen years. Through 89 games this year, parks are averaging 27,753 fans, which is down 8.82% from 30,437 in 2014.
Now, let's take a look at recent attendance numbers by team. 
Recent Attendance Numbers by Team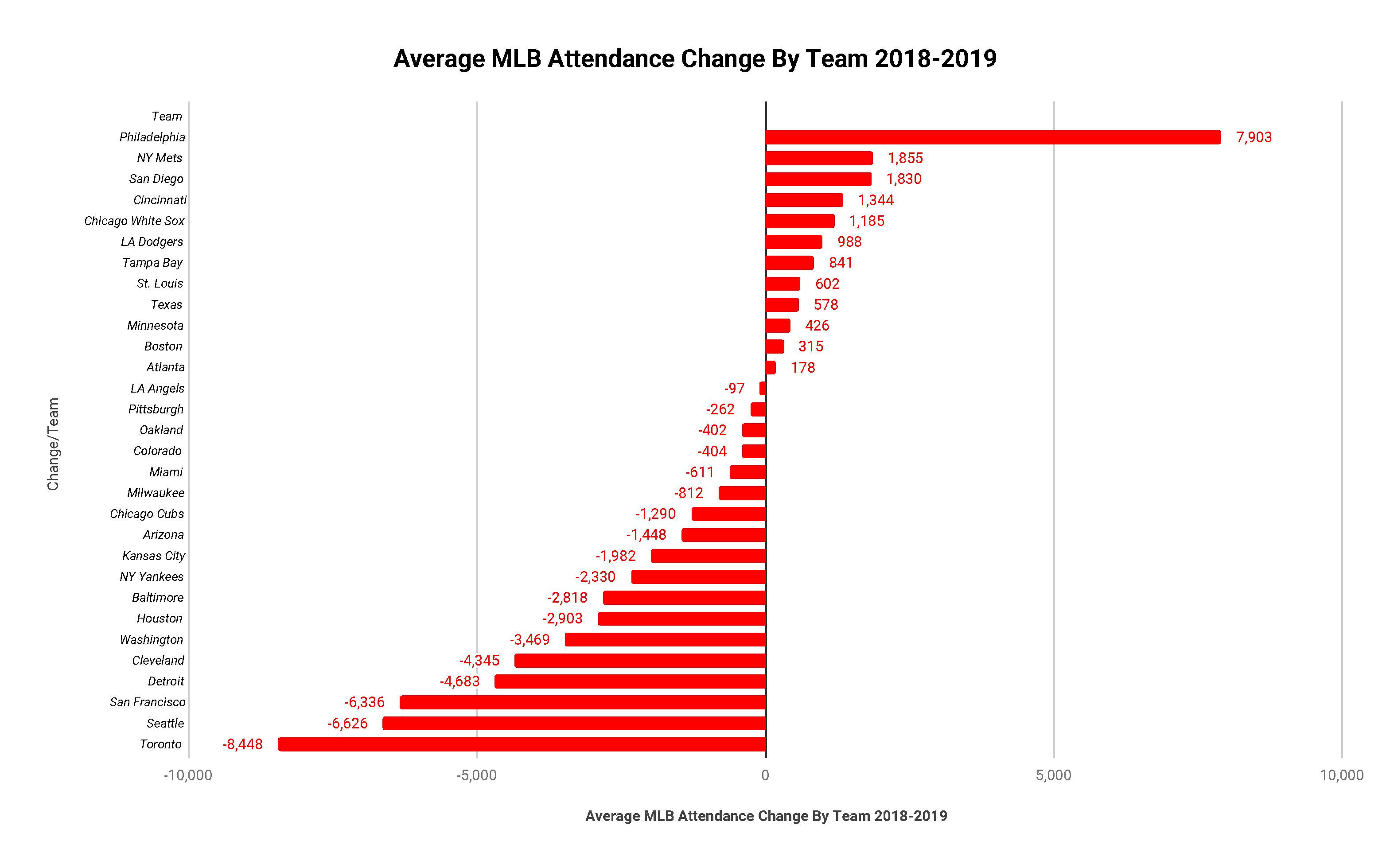 With the exception of the huge jump in Philadelphia (due to fans giving brotherly love to new signee Bryce Harper), this chart above shows that the majority of MLB teams' average attendance numbers have declined in the past year; even in large markets with teams doing well, such as the New York Yankees and Houston Astros. But why are numbers declining in cities that have good teams?
Why the decrease in attendance?
One reason attendance numbers are down is because of how much more it costs to go to a baseball game now. With tickets being priced higher than ever (an average of $33) plus parking, food and drink, the cost to attend a game can easily exceed $75 or $100 per person. Another reason for the decrease is because the MLB is becoming more accessible for fans through streaming apps such as MLB At Bat, ESPN+ and YouTube TV. Plus, there are so many games in a season which make games feel like they do not matter that much in the standings. This accessibility plus the convenience of an air-conditioned living room, sitting on your own couch, keeps many people from heading to Major League parks.
Another reason for the decrease in attendance is the lack of household names in the league which most Americans recognized, even if they were not baseball fans. The Jeter's, Ortiz's and A 'Rod's of the world graduated from the game in recent years and the MLB is having to combat star player awareness. The best player in baseball right now is Christian Yelich (what's that again? … Yell-itch). Unless you watch SportsCenter every night and hear his name repeatedly, player awareness isn't the first barrier for fans: pronunciation is.
What can MLB do about this? 
            First off, MLB should cut games that they know people are not going to attend, such as weekday day games. Even if the games cut is only from 162 to 140, this is a huge difference in the minds of spectators. This will give players more time to rest, make fans feel like the games are worth more in the standings and incentivize people to come cheer on their team to secure a playoff spot. Major League also needs to look into relocating teams with dwindling attendance and a disengaged community (ex. Tampa Bay Rays/Toronto Blue Jays). If fans do not want to embrace them, then it is time to go. The main key, however, is that the MLB needs to cut prices significantly in order to fill seats. Even if they only did this on weeknight games, it would make a big difference in overall attendance numbers. If the MLB intervenes and makes some of these changes, every Major League stadium can look like this.
[photo of full stadium]
Sources
http://www.espn.com/mlb/attendance
https://www.si.com/mlb/2019/05/07/mlb-attendance-mike-trout-mexico-series
https://www.statista.com/statistics/193426/average-ticket-price-in-the-mlb-since-2006/
https://twitter.com/EmptySeatsPics/media
Alexis Brudnicki. June 17. Rogers Centre, Toronto ON.
Link to data sheet created:
https://docs.google.com/spreadsheets/d/13qvb4p1CQ1bXylgwXID3xnYBau1nn1UdIHaDCX0xznY/edit?usp=sharing
About the Author
Marshal Smith is a Junior Entrepreneurship and Sports Marketing student here at Samford University. He plans to pursue a career with a professional sports team. Here is a link to his LinkedIn profile: www.linkedin.com/in/marshalwsmith