Published on November 19, 2019 by Eric Crocker  
What if there was a head coach that coached football at a top prestigious university for fifteen years? What if during that span, he brought that program two conference championships, two BCS bowl games victories, averaged a 10-win season, had 79 players drafted to the NFL, finished in the AP Top 10 seven times, racked up a total of 145 wins, and had a win percentage of .740? At most schools, a resume like that would be enough for the head coach to keep his job and the fans would rejoice about all the accolades accomplished. However, for Mark Richt and the University of Georgia, that was not the case.
The stats described above belong to Mark Richt during his time at Georgia. Mark Richt arrived at Georgia in 2001 and was relieved of his duties after the 2015 season. Many football programs would love to have the success Georgia had during Richt's fifteen years. With everything he accomplished and brought to the university, one thing alluded him his whole career and ultimately led to his demise at Georgia. What was it? A National Championship, something Georgia fans have been dying for since the 1980 season, the last time Georgia was on top of the college football mountain. The decision had split emotions among Dawg Nation and the college football world. Nonetheless, a new heir to the throne had to be found for Georgia. Enter Kirby Smart, the Alabama Defensive Coordinator who won four national championships coaching alongside Nick Saban, arguably the greatest college football coach of all time. Smart decided to leave Alabama to return home and become the next coach for the University of Georgia, his alma mater. Entering his fourth season, Kirby Smart has done a fantastic job of changing the culture at Georgia and returning them back to the National Championship picture every year. However, the stats are eerily similar between Richt's first three seasons and Smart's first three seasons. Let's take a look at Richt's first three years versus Smart's first three years.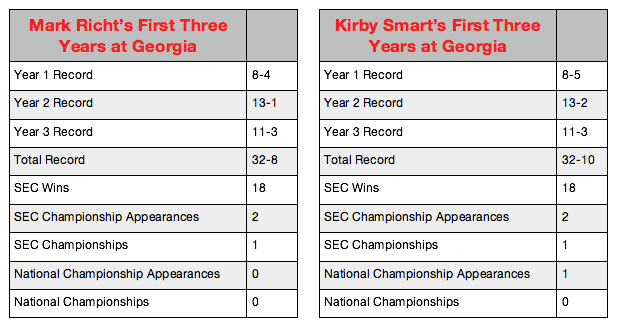 As the tables show, the similarities between the two head coaches are striking. For starters, both Richt and Smart won the same amount of games in each season, totaling the same amount of wins at 32. Furthermore, they each have 18 wins against SEC opponents, as well as two SEC championship appearances and one win each in the championship game. On a deeper level, Smart has gone 2-1 against one of Georgia's biggest rivals, the Florida Gators, while Richt went 0-3. On the other hand, Smart has still not been able to score a SEC West road win, something Richt did with ease. Finally, while Smart does have one National Championship appearance compared to the zero Richt had, both have still failed to bring the coveted National Championship to Athens. While the stats suggest there are no differences between Mark Richt and Kirby Smart, there are a few other outliers that have many believing firing Richt and hiring Smart was the right decision for Georgia's quest to a national title.
Recruiting
One major difference between Richt and Smart's three years at Georgia is the recruiting. The tables below compare the two's recruiting classes and the talent they were able to bring to Athens.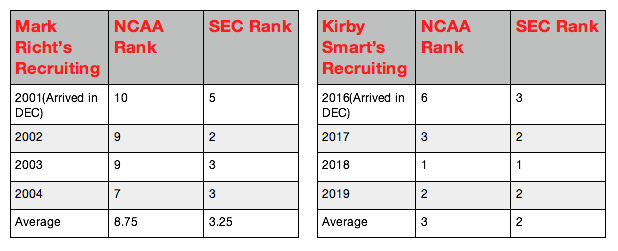 As the tables depict, there is a clear gap between Richt's classes and Smart's classes. For Richt, his best class was seventh in the nation, while he averaged around the ninth best class and third best in the SEC. Smart was able to land the best recruiting class in 2018, while averaging the third best class in the nation and second best in the SEC. This is a huge difference between the two coaches and many believe this stat alone separates Kirby Smart from Mark Richt. During any given season and off season, teams have to adjust and retool their rosters because of injuries and losing players to the NFL. For Richt, this was a constant obstacle because every year key players would go down due to injury or would leave early for the NFL Draft. These players would then have to be replaced by less-talented players, like three-stars or even walk-ons in some cases. More so, a lot of Richt's five star recruits would be at skill positions only, not in the trenches like offensive and defensive linemen. Lastly, Richt would only land three or four five-star players each off-season. Because of this, Georgia had a lot of rebuilding to do at various positions in the off season and during the season as well every year. Compare this to Smart, who has landed over double the amount of five stars Richt did each year, as well as getting them at all the positions, not just the skill positions. Landing a top three recruiting class year after year is huge because there is hardly a drop-off when a player goes down or leaves because that five star is getting replaced with another five or four star. So instead of rebuilding year after year like Richt, Smart has been able to reload at all positions, a huge reason why he has had so much success and the future looks so bright for Georgia.
Records Against Rivals
The last data set of similarities is how each coach performed against rivals and in bowl games. For research purposes, rivals were narrowed to Auburn, Georgia Tech, Florida, and Tennessee. The charts below show how Richt and Smart performed.

As the tables show, more similar stats are evident between the two Georgia coaches. The only difference is Smart has appeared in two major New Year's Six bowls, plus a national championship, compared to Richt's one New Year's Six bowl appearance and no national championship appearance.
Other Arguments
While the stats back up the argument that Richt and Smart are two of the same coach, there are some areas that cannot be backed by data, making these points harder to recognize and argue. Nonetheless, these points still have to be looked at and dissected at a deeper level when comparing and contrasting these Georgia coaches. Player development or player progression has been much better under Smart than it ever was for Richt. When Richt was at Georgia, players hardly improved and mainly performed the same throughout their time at Georgia. For Smart, it is obvious that the players leave Georgia much more improved compared to when they arrived as Freshmen in Athens. Another area is the sideline presence and adjustments made throughout the game. Kirby Smart's presence is known on the sideline, as he is much more animated than Richt was, constantly engaging with the players throughout the game after every play, good or bad. Richt struggled with halftime adjustments and adversity during games and because of this, a lot of games turned into lop-sided victories for the other team. While a team never wants to lose, losing by a touchdown or field goal is much better than getting blown out, something that happened a lot with Richt. Finally, player discipline is another big difference between Richt and Smart. Richt's players were constantly getting in trouble with crime during the off-season and Georgia was always ranked near the top of most penalty yards per game every year. Smart has been able lower the numbers for both of these categories, something Richt could never figure out. Lastly, Smart has been able to make better hires than Richt could. Whether it is the o-line coach, running backs coach, or offensive coordinator, it is clear Smart is able to identify coaches and make the rights hires for position coaches and coordinators, something Richt constantly struggled with.
Conclusion
Mark Richt's fifteen years at Georgia was filled with consistent ten win seasons, an occasional SEC Championship appearance, several bowl wins, and a top ten recruiting class year after year. Anywhere else, that would be plenty for the football coach to keep his job. However, the University of Georgia and Dawg Nation grew tired of never getting close to a national championship and the constant let downs year after year. Fifteen years was long enough for Richt to win a national championship, so Greg McGarity, the Athletic Director for Georgia, decided to let Richt go. The search for Georgia's new head coach was on and Kirby Smart was hired as the man to try to bring that prestigious national championship trophy to Georgia, something Bulldog fans have been anxiously waiting for since Vince Dooley did it back in 1980. After three successful seasons for Smart and coming one second-and-twenty-six play away from winning the national championship two years ago, expectations and excitement around the football program have never been higher in Athens. Yes, the stats suggest Richt and Smart are two of the same coaches. But if one looks at the whole picture, it is evident they are vastly different coaches and Georgia is headed in a direction Richt could never get them too. In closing, one thing is certain; Smart has to win a ring to put this debate to rest. Perhaps Kirby Smart will turn out to be just like his predecessor, a good and above average coach, but not a great championship winning coach. Or just maybe, he is the guy who will finally bring Georgia that national championship. Time will only tell if that is the case or if history will, in fact, repeat itself.
Eric is a senior marketing major with a concentration in sports marketing at Samford University. He shares a strong passion for sports and looks forward to one day working in the sports industry.
Sources
https://georgiadogs.com/coaches.aspx?rc=187
https://www.saturdaydownsouth.com/sec-football/a-statistical-breakdown-of-mark-richt-coaching-career-at-georgia/
https://www.dawgnation.com/football/team-news/georgia-football-kirby-smart-mark-richt-record
https://ugawire.usatoday.com/2019/01/02/kirby-smart-vs-mark-richt-why-the-first-three-seasons-debate-is-more-complicated-than-it-seems/