Published on May 9, 2019 by Connor Wolf  
For many basketball fans today, Lebron James is easily one of the best (if not the best) players to ever step foot on an NBA court.  He has played sixteen seasons in the NBA and is in the midst of completing one of the most illustrious careers of all time.  His incredible impact on the league and the greatness he displays on the court do not go unnoticed.  Scottie Pippen says, "I may go so far as saying LeBron James may be the greatest player to ever play the game."  Jeff Van Gundy also adds, "As far as LeBron James, to me, he's on his way to carving out the very best career that's ever happened in the NBA." 
For "King James" however, the 2018-2019 NBA season was not nearly what he expected.  During the offseason, Lebron packed his bags and moved from Cleveland to Los Angeles, becoming a part of the historic L.A. Lakers.  Many thought this was a smart move as his supporting cast in Cleveland was dwindling, and the future stars in L.A. looked ready to make a deep playoff run alongside the King.  Unfortunately, things didn't work out quite as planned.  Faced with injury, Lebron only played in 55 of the 82 regular season games (the lowest of his career) and the Lakers missed the playoffs entirely, the first time for Lebron since the 2004-2005 season.  This disappointing Lakers season has led many to question the King's greatness.  I would like to look at four categories to answer these questions: team success, individual success, team popularity, and individual popularity.  So let's take a look, is the King's reign over? 
Team Success
Lebron James has dominated the league for so long, we came to expect his team to reach the Finals every year.  He now has claim to one of the most impressive records of all time in the NBA: making the Finals eight straight years.  For some perspective, if every Eastern conference team entered the season with an even chance of making it to the Finals (1/15), then the chance of Lebron's team making it there for eight straight years is equal to .000000039%.  This statistic further proves James's dominance of the league over the past decade.  However, in his first season with the Lakers, he did not only miss the NBA Finals, but missed the playoffs entirely.  With the preseason odds of making the playoffs being -450 for the Lakers (Ben Fawkes, ESPN), missing them was certainly a disappointment.  From doing the unthinkable and making eight straight Finals, to missing the playoffs entirely, many see this as a sign of Lebron's reign ending.  And from a team success viewpoint, they may be right.
Individual Success
Although the Lakers as a team greatly underachieved this past season, how Lebron performed individually may give us more insight as to the current state of his greatness.  A simple look at his season statistics may give us the proof we're looking for.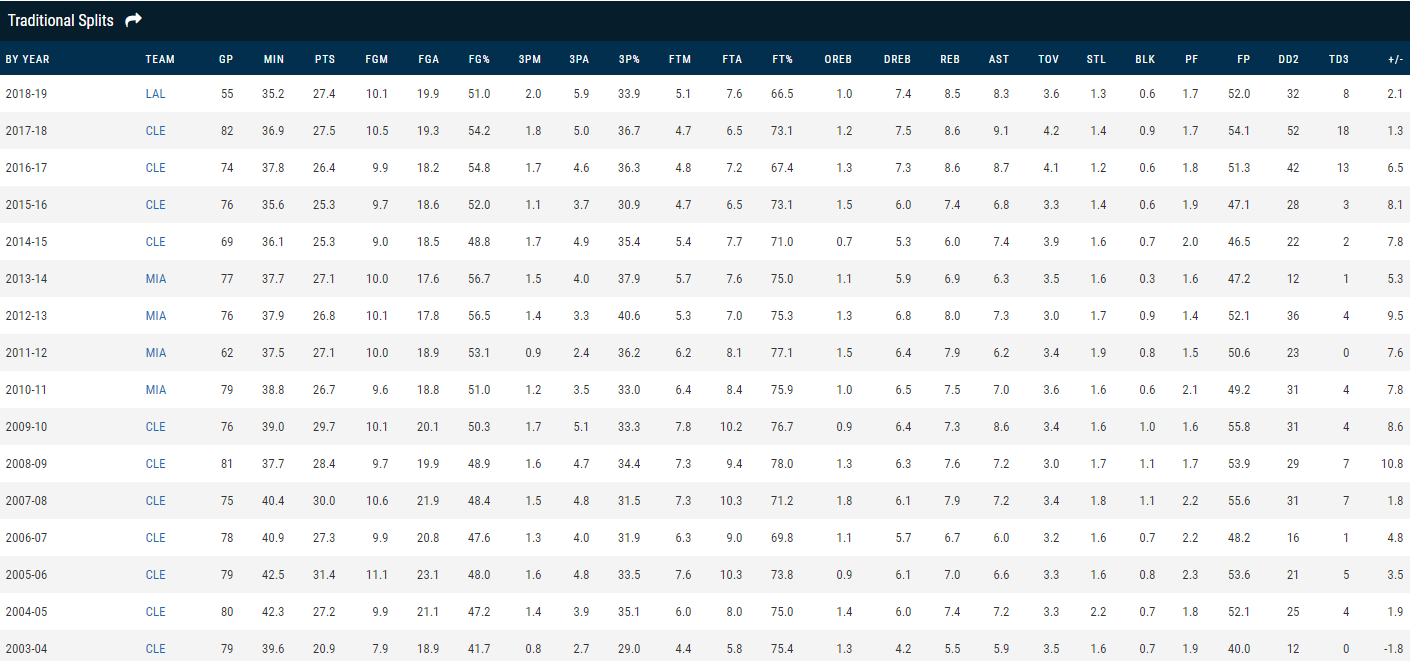 In the 2018-2019 season, Lebron averaged 27.4 points per game.  This is the second-highest average in the last nine seasons for James.  He also averaged 8.5 rebounds per game, the third highest average in his sixteen season career, and 8.3 assists per game, the fourth highest average for his career.  Additionally, Lebron shot over 50% from the field (51%) for the 9th time in his career (NBA Advanced Stats).  As the stats show, Lebron's individual game performance was nothing less than stellar this past season.  For the doubters who believe James is not what he once was, individual statistics are not the place to look.
Team Popularity
Another way to judge Lebron's greatness is the impact he is still having on the league sixteen seasons in.  It is extremely rare for an NBA player to play as long as Lebron has, and even more rare to do so while staying popular and relevant.  However, we saw James's huge impact on the entire Lakers franchise this season.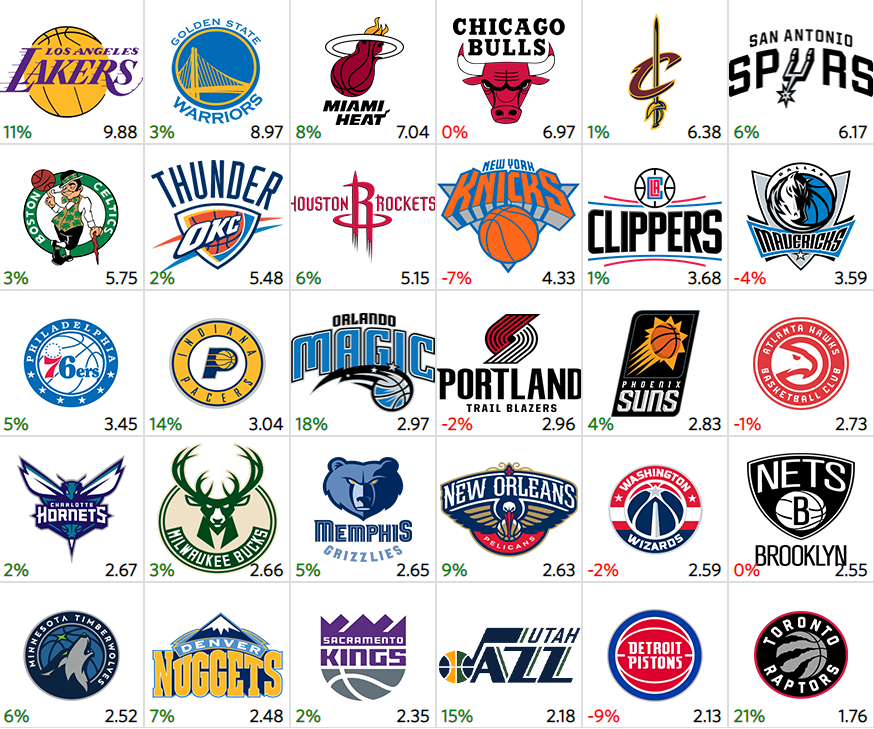 As seen above, the Lakers' relevance rose to be the highest in the league during the 2017-2018 season.  Their 11% jump was fifth highest in the league.  This jump brought them to a 9.88 relevance rating, which led all teams.  This was caused by the "Lebron James effect."  All the talk surrounding Lebron and his possible relocation to L.A. pushed the entire franchise to the #1 spot in relevance for the league (NBA Relevance Rankings).  This evidence proves Lebron's importance to the league, and the immense impact he can have on any team he joins.
Individual Popularity
I believe it is very important to also look at James's individual popularity here to avoid any bias from the team's history.  As basketball fans know, the Los Angeles Lakers are one of the most decorated franchises in any major sport ever.  This could lead many to believe the team's popularity now is based solely off of their history.  However, I believe there is strong evidence proving Lebron's importance to his team's relevance.  We can see this through jersey sales in the NBA this season.  The Lebron James Lakers jersey was the number one highest selling jersey for any NBA player this season, and it wasn't even close (NBA.com).  For as many doubters as Lebron has, evidence suggests he has just as many, and most likely even more, supporters.   For a player who was injured part of the year, and whose team missed the playoffs, leading the league in jersey sales should speak to the impact Lebron James brings to the NBA.
So, Is the King's Reign Over?
I don't believe so.  Although his team's success this year was not what was expected, and in fact, was very disappointing, Lebron still managed to have an amazingly efficient year statistically, made the Los Angeles Lakers relevant again, and maintained his place as the most popular man in basketball.  Lebron James still has the largest impact on the NBA of any player today, and it doesn't look like that's changing for a few years!
Sources
http://www.espn.com/chalk/story/_/id/24299677/nba-every-team-vegas-odds-make-miss-2018-playoffs
https://stats.nba.com/player/2544/
https://www.samford.edu/sports-analytics/fans/relevance-rankings/professional/NBA
https://www.nba.com/article/2019/04/25/top-merchandise-jersey-sales-2018-19-season-official-release
About the Author
Connor just completed his sophomore year at Purdue University, where he is pursuing a double major in actuarial sciences and applied statistics, with a minor in management.  He has had a passion for both sports and statistics since a very young age, and enjoys discovering all the new information statistics can give us about sports.  Here is a link to his LinkedIn profile: https://www.linkedin.com/in/connor-wolf-bb3775186/.