Published on July 16, 2019 by Hale Williamson  
The Nashville Predators, in 2017, were ranked by ESPN as the top franchise in all of sports. This accolade cannot be taken too lightly, because the Predators were able to beat out other storied franchises like the New York Yankees, the Chicago Bears, and the Los Angeles Lakers. In response to being awarded this honor, the CEO of the Predators Sean Henry remarked "What we're most proud of is the relationship with our fans, the environment in the building and affordability, because it's a balancing act and it's nice to be sitting here right now." The Predators have exceled from a marketing standpoint with a consistently growing fan base, a top-tier guest experience, and a world-class venue, Bridgestone Arena, that ranks fourth in Poll-star's Top-10 U.S. venues. All the franchise needs to do now is to make a run in the playoffs with an end result of lifting the Stanley Cup at center ice. The man who works to bring this fruition into reality is the Nashville Predators longtime General Manager David Poile. Poile is about to enter year number 38 in his illustrious career as an NHL general manager. He is the front man behind all trades and acquisitions within the organization. The offseason in all of sports is described as a time period when all of the players and coaches can return home to rest and relax for the upcoming season. For David Poile on the other hand, this period is when he is the most active trying to propose trades and deals to ultimately result in the Predators being successful. Already this offseason the Predators have traded away PK Subban, signed center Matt Duchene, and hired a new assistant coach in Dan Lambert.
This article will statistically break down the Nashville Predators offseason moves to prove if they will consequently lead to success. We will first look at the give-and-take situation between trading PK Subban and signing Matt Duchene in free agency. Then we will discuss the hiring of Dan Lambert as a new assistant coach, and how he can affect the Predators recent powerplay slump. As you read through this article the topics will be clarified in further detail.  
Locker Room Adjustments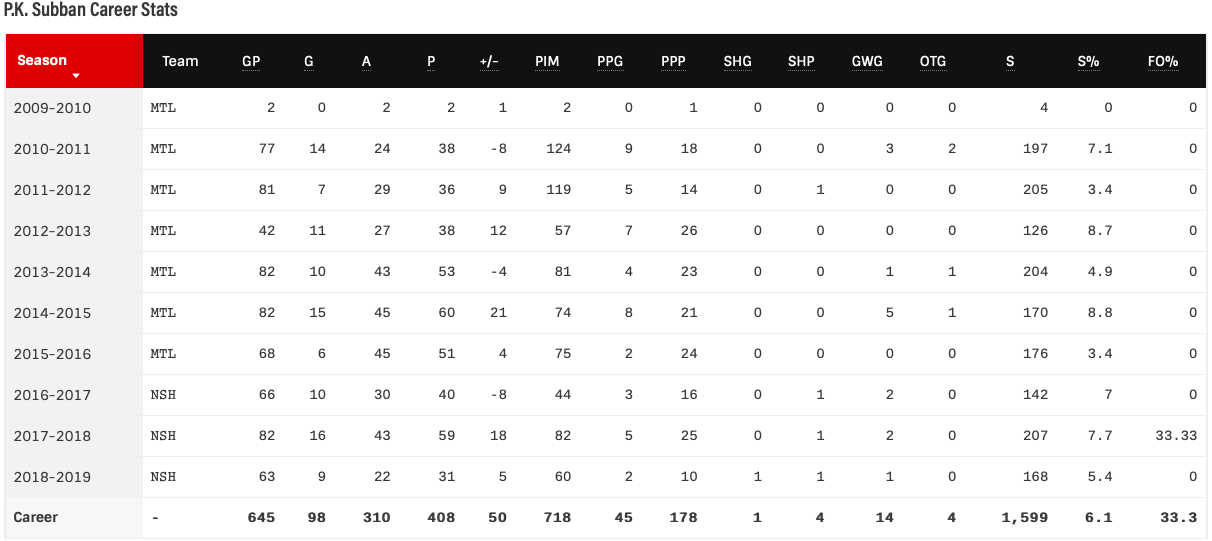 As revealed in the chart above, PK Subban's declining performance on the ice was reflected through twelve different categories. Three categories that saw a significant decrease from the previous season were his total number of goals, assists, and points. His total of number of assists and points nearly declined by half of what he had produced in the 2017-2018 season. His total number of points of 31 this past season was actually noted to be a career-low. As a result of PK's lackluster performance this past season, both the offensive and defensive performance were negatively impacted. This trend in the data proves that trading away PK, even though he had become such a spotlight for the franchise from a marketing outlook, might have been the right move by David Poile from a performance and statistical standpoint. In return for trading PK to the New Jersey Devils, the Predators freed up a large amount of cap space and received a defenseman in Steven Santini, a prospect in Jeremy Davies, the thirty-fourth pick in the 2019 NHL Draft, and a 2020 second round pick.

 With the recently opened-up cap space from the PK trade, David Poile and the Nashville Predators had their sights set upon signing a "big name" player once the Free Agency period began. One player, in particular, stuck out from the rest of the field which was Matt Duchene of the Columbus Blue Jackets. Duchene overall did not increase in any of his performance categories after he was traded from the Ottawa Senators to the Columbus Blue Jackets, during the regular season. However, as shown in the chart above, his playoff number of goals, assists, and points increased in comparison to his amount in the 2013-2014 post season. He also helped the Blue Jackets win their first ever playoff series in the organization's 19-year history. Poile was able to sign him to a deal for seven years and worth 56 million dollars. The long-term expectation for Duchene is to contribute to the Predators two biggest weaknesses this past season, the secondary line and powerplay goals scored.      
Coaching Staff Adjustment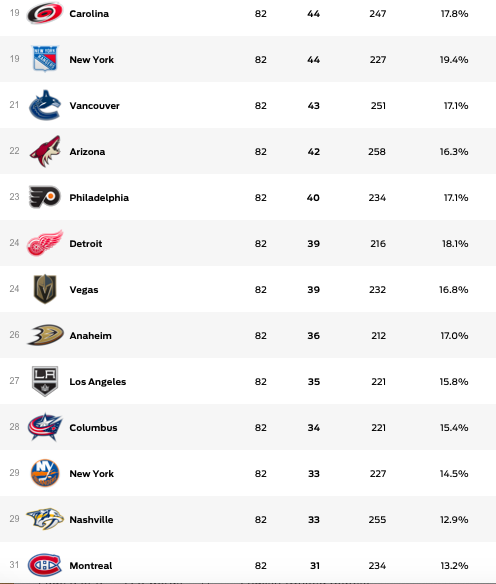 The chart above shows the bottom half of the NHL in power play performance during the 2018-2019 season. The categories shown above from right to left are games played, power play goals, power play opportunities, and power play percentage. As you can see the Predators ranked second to last in the entire league in the power play, only surpassing the Montreal Canadiens, with a shocking 12.9% success rate. Another move David Poile has made over this offseason was hiring Dan Lambert from the WHL's Spokane Chiefs for an assistant coaching position. Lambert led Spokane to a 29.1 power play percentage which proved to be the sixth highest value of the WHL in the past 10 seasons. Poile expects that Lambert as an addition to the coaching staff might be able to bring the Predators out of their power play slump from this past season.
As we can see through these statistics, the Predators, with these offseason moves, have the chance to become an even more successful franchise. All of the past Stanley Cup champions have had two pieces in common despite luck in some instances of games. These two pieces include a solid roster with talent-dispersed lines and strong special teams including the power play. The Predators are hoping that Matt Duchene can fill the "skates" of PK Subban regarding offensive production. He is the newest addition to an already fairly talented roster from the first to the third line on both offense and defense. As for Dan Lambert, the hope is that he can step right in to help the Predators be more aggressive in power play opportunities. It is unclear whether these moves will prove to be long-term solutions for the Predators, but I am excited to see the results.     
Sources
https://www.bridgestonearena.com/news/detail/bridgestone-arena-ranked-fourth-in-us-by-pollstar-magazine
https://www.foxsports.com/nhl/team-stats?season=2018&category=SPECIAL+TEAMS&group=1&time=0&pos=0&team=1&page=1
https://www.nhl.com/player/matt-duchene-8475168?stats=career-r-nhl&season=null
https://www.nhl.com/player/p-k-subban-8474056
https://www.nhl.com/predators/news/espn-ranks-nashville-predators-as-no-1-franchise-in-all-sports/c-292203746
https://www.nhl.com/news/pk-subban-traded-to-new-jersey-by-nashville/c-307989140
https://www.nhl.com/predators/news/nashville-predators-hire-dan-lambert-as-assistant-coach/c-307702230
https://www.tennessean.com/story/sports/nhl/predators/2019/07/01/predators-sign-matt-duchene-nhl-free-agency-contract/1615075001/
About the Author
Hale Williamson is a rising junior at Samford University, where he is double majoring in Marketing and Management with a concentration in Sports Marketing. He has enjoyed following and studying sports since a young age and looks forward to learning more about the industry every day.  
Linked In: https://www.linkedin.com/in/halewilliamson/