Published on April 3, 2019 by Ashlee Fincher  
The MLS commissioned the Boston Consulting Group to conduct a research study seeking to ascertain why North American soccer fans watch the sport, regardless of league, and what MLS clubs could do to build deeper fan relationships. It has evolved over the last 3 years into a mid-seven-figure investment in analytics, data and research, helping the MLS create a strategic framework to deepen fan engagement and increase revenue.
Key Findings
There are approximately 80 million soccer fans in North America which can be segmented into 8 unique groups (European soccer purists, fair-weathered fans, soccer enthusiasts, general sports fans, etc.).
Size of European soccer purists segment = 1 million / very hard to convert to MLS.
Research showed that among the 8 fan segments, two are most valuable to the MLS.

Soccer enthusiast, who is a fan of multiple teams across multiple leagues and enjoys supporting their local club on top of their favorite English, German or Spanish teams.
General sports fan, who loves a mix of teams from all different North American sports leagues, particularly those in their own city.

While these 2 groups make up a little less than 1/3 of MLS fans, they are consuming more than 2/3 of the MLS product (merchandise, tickets, etc.).
Research found that fans in these segments connect with clubs that have unique atmospheres and rituals. Young, homegrown players are important. It is also important for teams to build the middle of their roster, and not just have one "star" player.
What motivates these two segments?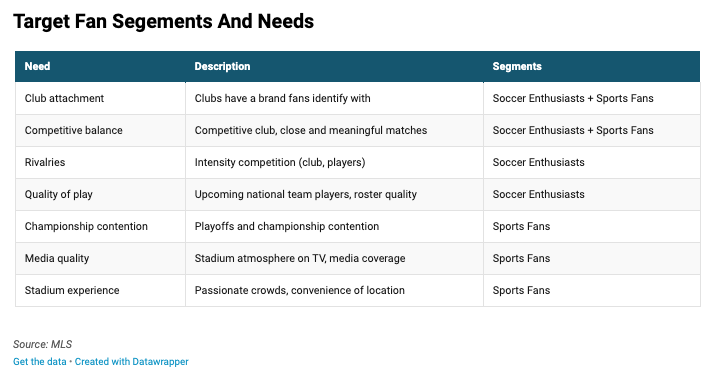 Source: "MLS Preview: What Fans Want", SBJ, March 2019, Ian Thomas