Published on January 16, 2019 by Harrison Spruiell  
Four teams remain in the NFL playoffs and they all have one thing in common; offense. If you are looking for hard-nosed, field-position driven, low scoring conference championships, turn away now. These offenses were put on display during the NFL divisional round weekend when all four home teams thumped their visitors. Yes, that includes a one score Eagles loss. The Saints were a better team who won by a smaller margin than anticipated due to their own mistakes early in the game. With that being said, the four best teams remain. I originally thought a divisional Bears vs. Saints matchup could be one of the more interesting playoff games, but we all know why that did not happen. Yes, I know the Patriots struggled for some of the year. Their game in Miami was an embarrassment. But look, they are headed to the AFC conference championship, playing better than they have all year. The Chiefs' and Rams' divisional performances need no justifying. They handled their business and look to clinch a Super Bowl LIII berth.
Like in years past, we have seen both upcoming matchups during the regular season. The Saints defeated the Rams 45-35 in New Orleans and the Patriots bested the Chiefs 43-40 in Foxboro. These could very well be similar outcomes and scores to what we see this Sunday. I will pose one outcome difference, but before I get into picks, I want to take a deep dive into each team's season. During my team-by-team analysis, I will heavily use two statistics called Expected Points (EP) and Expected Points Added (EPA). These two statistics were first created by Ronald Yurko, Samuel Ventura, and Maksim Horowitz and are further explained here . All the data I used in the figures below was accessed using the R package nflscrapR.
Kansas City Chiefs
The 2018 Kansas City Chiefs have yielded an offense that has been absolutely prolific. They have done this mostly behind the golden arm of Patrick Mahomes. He joins Peyton Manning as one of the only two to throw for 50 touchdowns and 5,000 yards. Patrick Mahomes' basic numbers speak for themselves, but what does EPA say about his performance? Very similar things. According to Sports Info Solutions, the Chiefs rank number one 1 in passing EPA. Mahomes added the most points per game in the league. He ranks number one in points added on dropbacks per game with 13.7. As a reference for comparison, the ranks of points added on dropbacks per game can be seen in figure 1.
Figure 1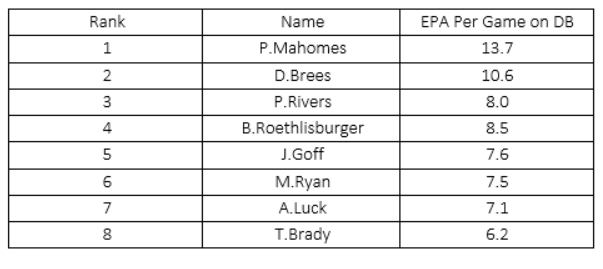 Just looking at this statistic, it is obvious how effective Patrick Mahomes has been this year. But how about the offense as a whole? Also, extremely elite. Sports Info Solutions reports that the Chiefs rank 5th in rushing EPA and 1st in receiving EPA.  
On the other side of the ball, however, the Chiefs defense has been suspect. Their defense ranks 25th in defensive EPA per game. The good news for the Chiefs is they play at Arrowhead. At home, the Chiefs jump up to 9th. Justin Houston and Dee Ford need to bring pressure and wreak havoc. They are the players to watch for the Chiefs on defense.
New England Patriots
The Patriots were the Patriots we know and hate in 2018. They started out slow, but are playing their best football when it counts, in January. The Patriots post a solid ranking in both total offensive EPA per game (8th) and total defensive EPA per game (6th).
Figure 2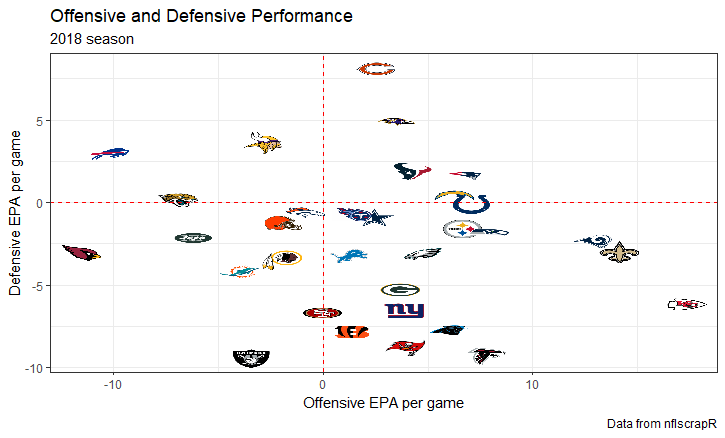 Figure 2 gives a great visualization of where the remaining teams sit in comparison. The AFC East champs might lack some offensive upside but make up for it with solid defensive play. Tom Brady continues to roll at 41 years of age. He was the 8th ranked quarterback in EPA per game on drop-backs. This same balance is seen in the rushing (9th) and passing (8th) EPA per game ranks.
The Patriots' man versus zone coverage percentage will be the most important defensive metric in their upcoming game against the Chiefs. Per Sports Info Solutions, the Patriots' run man coverage 58% (highest in the NFL) and zone coverage 30% (lowest in the league). In comparison, the Colts run man coverage 23% (lowest in the league) and zone coverage 59% (highest in the league). Stephon Gilmore will need to continue his pro bowl season this Sunday to slow down Mahomes and that prolific Kansas City offense.  
New Orleans Saints
Drew Brees and Michael Thomas had a historic 2018 season. Brees broke his own single season completion percentage record with 74.4%. With 125 receptions in 2018, Thomas ranks 5th in the history of the NFL. The Saints' offense is potent with weapons all over the field. Thomas, Kamara, Ingram, Smith, and Hill are the names to watch for the Saints. The two running backs, Kamara and Ingram, provide the Saints depth and a change of pace on the ground. Figure 3 demonstrates just how balanced the Saints' offense has been in 2018 ranking 2nd in pass EPA and 8th in rushing.
Run defense will be a key for the Saints on Sunday. Luckily for the Saints, according to Sports Info Solutions, they rank 5th in run defense EPA. They have stopped the run well all year. In other areas, however, holes arise. The Saints rank 26th in full season pass and pass rush defense EPA. Back to the good news. However, since week 10, the Saints rank 10th in pass defense EPA and 9th in pass rush EPA. This is a huge improvement in defensive efficiency that the Saints will work to continue.
Figure 3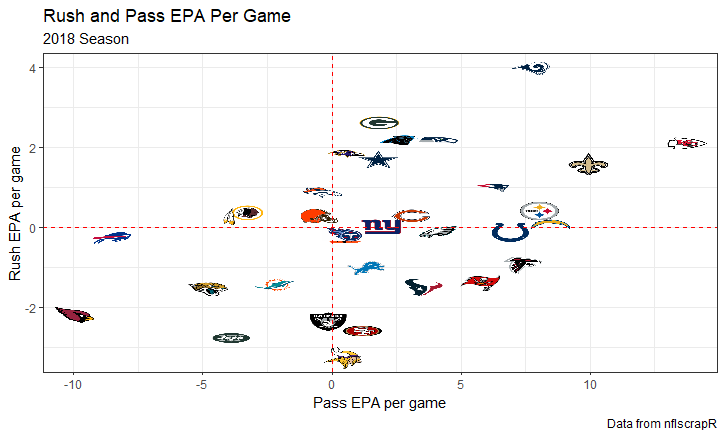 Los Angeles Rams
Jared Goff will control the destiny of the Los Angeles Rams in 2018. This might sound arbitrary based on how much attention I have given quarterbacks in this article, but some will say this responsibility lies with Todd Gurley. I see the Saints limiting big runs and forcing Goff to make plays, which is something he is no stranger to. He ranks 5th in EPA per game on drop-backs. The Rams rank just out of the top three in passing EPA per game while blowing out all competition in run EPA. Hats off to arguably the best offensive line in the game.
The Rams have received a big personnel boost this post season returning cornerback Aqib Talib. Marcus Peters and Aqib Talib will be the two players I will watch closely this Sunday (yes, I know Aaron Donald is on the field). Michael Thomas shredded the Rams secondary in week 9 for 12 catches, 211 yds and a touchdown which was an outlier for a team with the 9th ranked pass EPA per game according to Sports Info Solutions. Also, the Rams have Aaron Donald. He is the best defensive player in football by a sizeable margin. All the Saints can hope to do is limit the expected points Aaron Donald can add.
Picks
AFC
The matchup that I think will determine the outcome of this game is Patrick Mahomes versus the Patriots man coverage. I think Mahomes wins this battle and the Chiefs will head to Atlanta for Super Bowl LIII.
Score: 42-41
NFC
The Saints will win this game with their run defense. Drew Brees and Alvin Kamara will make more plays than Jared Goff and Todd Gurley. Saints win.
Score: 45-38
Sources
nflWAR: A Reproducible Method for Offensive Player Evaluation in Football (Extended Edition)
https://arxiv.org/pdf/1802.00998.pdf
Sports Info Solutions
https://twitter.com/SportsInfo_SIS/status/1084122949446184960
https://twitter.com/SportsInfo_SIS/status/1084123118959017984
https://twitter.com/KeeganAbdoo/status/1083140732108455936
All other statistics
https://www.pro-football-reference.com/players/T/ThomMi05.htm
https://www.pro-football-reference.com/players/B/BreeDr00.htm
https://www.pro-football-reference.com/players/G/GoffJa00.htm
https://www.pro-football-reference.com/players/M/MahoPa00.htm
About the Author
Harrison Spruiell is a Management Consultant Analyst in Accenture Federal Service's Analytics Practice, located in Washington, D.C. He graduated with a Master of Science in Business Analytics from The College of William and Mary in May of 2018. Harrison received a B.B.A. (Finance) from the University of South Alabama while also pitching for the Jaguars Baseball Team. He is interested in using his data analysis experience to locate opportunities where teams can gain an edge in on-field and business performance.