Published on October 31, 2019 by Isaac Emery  
As detailed in a recent CNN article by Alison Kosik, over 200 footwear companies sent a letter to the White House in late August. The purpose of this letter was to request that President Donald Trump end the deliberate increase of tariffs on Chinese imports. Though this action may certainly pose itself as a policy issue relating solely to international trade, its implications expand far beyond today's geopolitical climate and affect industries far beyond fashion—even so far as to have a major impact in sports. Why? Because Nike also signed that letter.
According to a study by Brand Finance, Nike—a company originating as Blue Ribbon Sports by Phil Knight and Bill Bowerman in 1964—is now valued as the leading apparel brand worldwide at approximately $32.4 billion in 2019. This brand, originally noted simply for its shoes, has now surpassed both function and fashion to become a universal cultural icon championing both activity and accomplishment. Nike, Inc. was the highest valued sports business brand in 2017, according to Forbes, and has only gone up since then. And if in doubt about the brand's status as the leading name in the apparel industry, take note of Brand Finance's study below. It ranks above Gucci and Louis Vuitton.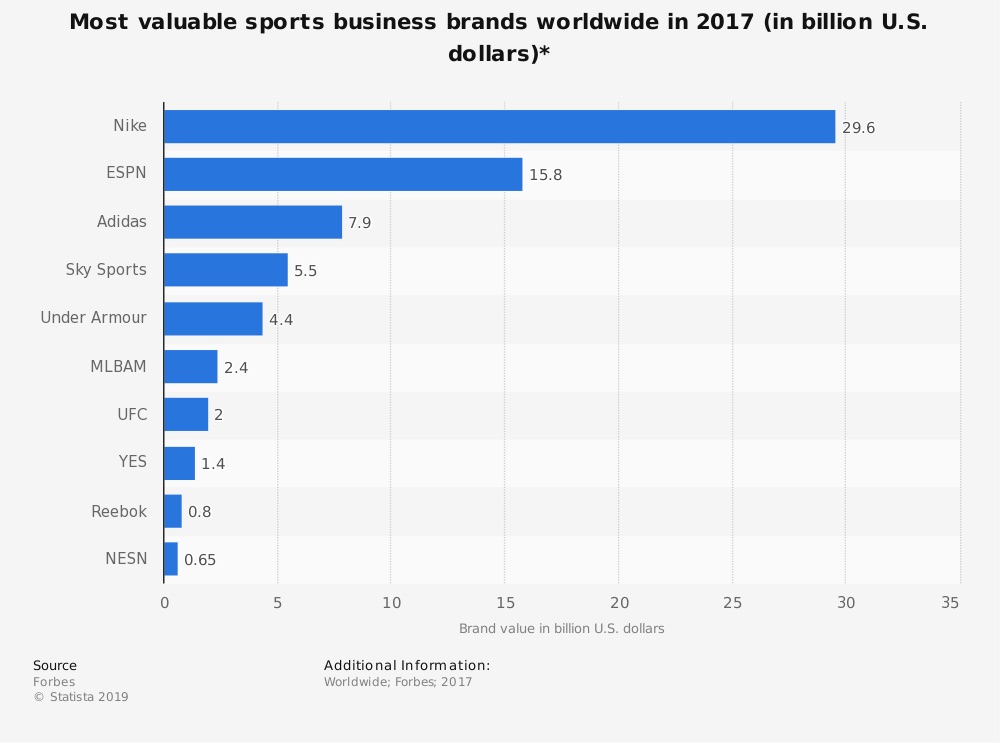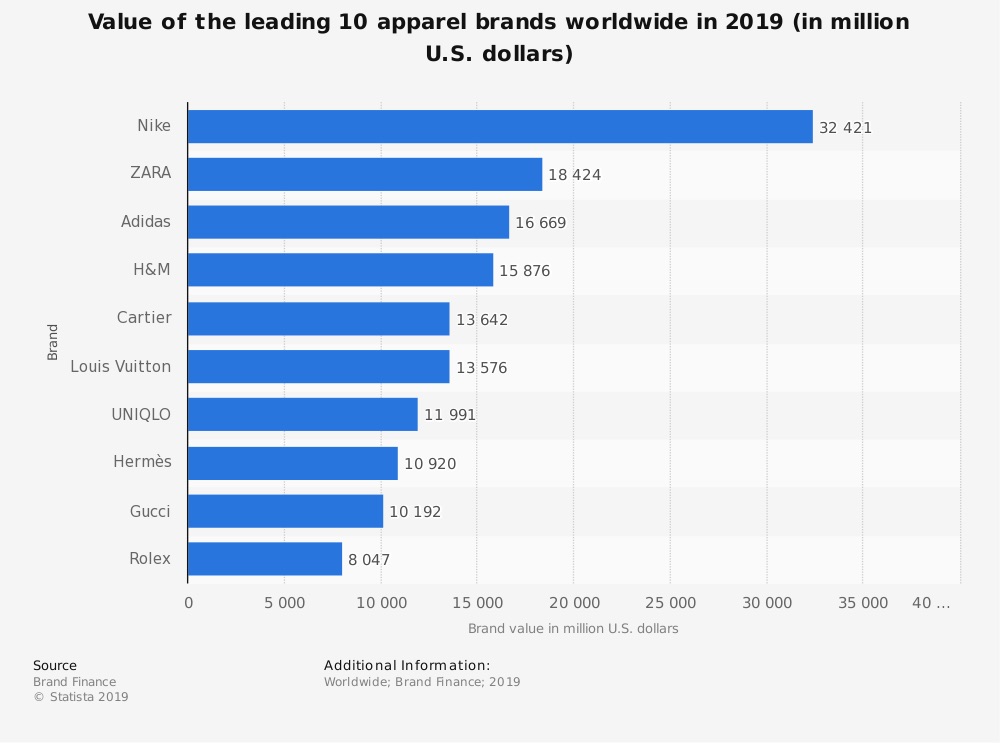 So, should we be worried for Nike? Probably not. Its projections for the future look immensely positive, and Nike fortunately had the foresight to move its primary country of origin from China to Vietnam beginning in 2009. In addition, the company has also not seen any major drops in stock value since the tariff increases took place in late August. However, China continues to be the leading source of United States footwear imports by more than double the value produced by the next highest country of origin, Vietnam, as pictured from a 2019 study by the U.S. Department of Commerce.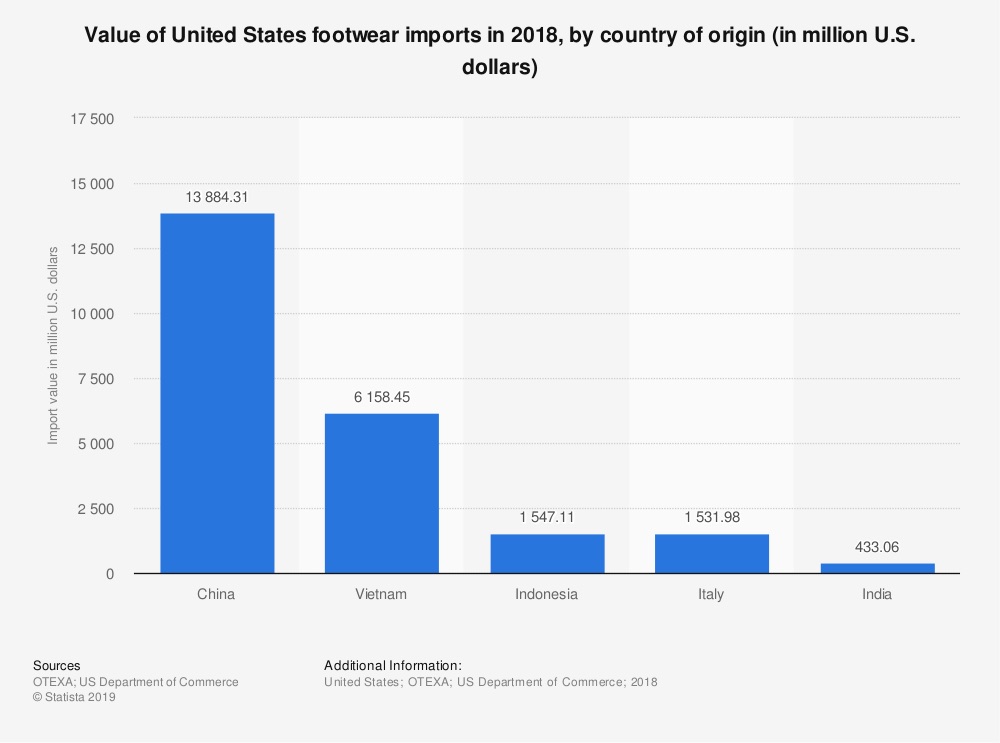 One does not have to be an economist to understand that tariffs discourage international trade, and often reduce both efficiency and cost-effectiveness by preferring domestic producers which don't have the comparative advantage in supplying certain goods. In other words, Nike's imports from China will become more expensive and it may quite possibly become more challenging for the company to put new products on the shelves—ultimately discouraging the corporation's future growth and development.
In summary, Nike continues to serve as one of the largest and most instantly recognizable sporting goods brands in the world. However, a huge part of its revenue comes from team contracts, athlete sponsorships, and partnerships. Will we see a downward shift of these deals in the longer-term future if it becomes pricier for Nike to operate? If Nike is worried, should we be too? Should Nike seek to redesign its supply chain, especially considering the ethical implications of child labor laws overseas? And theoretically—though this is a long-shot—if Nike suffered, how much of the sports industry would suffer in turn? Even if wildly speculative, it certainly doesn't hurt to ask these questions.
I don't believe that anyone should be genuinely surprised that Nike signed a letter to the White House. These tariffs are not only going to affect footwear imports—if they continue to rise, they may affect the entire U.S. sports industry. And the existence of this letter is simply a statement that not even Nike is invincible against politics.
About the Author 
Isaac Emery is a senior at Samford University studying marketing, management, and political science. He is a former intern at a think tank in Washington, D.C. and has an interest in pursuing a career in global communications and international relations. LinkedIn
Image Sources
Forbes. (October 24, 2017). Most valuable sports business brands worldwide in 2017 (in billion U.S. dollars)* [Graph]. In Statista. Retrieved September 27, 2019.
Brand Finance. (February 27, 2019). Value of the leading 10 apparel brands worldwide in 2019 (in million U.S. dollars) [Graph]. In Statista. Retrieved September 26, 2019.
OTEXA. (July 10, 2019). Value of United States footwear imports in 2018, by country of origin (in million U.S. dollars) [Graph]. In Statista. Retrieved September 24, 2019.