Published on January 15, 2019 by Addison Hill  
Welcome to Tampa!
 What a win! After trying to catch an MLB expansion team for years, St. Petersburg was finally successful. On March 9, 1995, MLB officially announced the 13th expansion in its history and awarded the Tampa Bay Devil Rays to the City of St. Petersburg. A 30-year lease was signed for the Rays to play at the then ThunderDome, now known as Tropicana Field. The stadium was completed in the early 1990's in anticipation that an MLB team would eventually land in the area. In 1997, MLB placed the Rays as the 15th franchise into the American League. Larry Rothschild, formerly of the Florida Marlins, was hired as the first manager. Beginning play in the 1998 season, the organization was successful within just a few years. From 2000-2007, the Rays developed depth and grew stronger. By 2008, they won the difficult American League East and advanced by taking out the White Sox and Red Sox in the playoffs to reach the World Series (Franchise Timeline 2019). However, since that time, the Rays have more or less floundered.  Attendance, team valuation, and the fan base all fell. So, in 2016, the Rays began to look for other options.
Take Me Home COUNTY Roads
Tampa? St. Petersburg? Over the last few years, the Rays have been searching for a potential location for a new stadium that could boost the franchise. Currently, statistics show the team has one of the lowest home attendance rankings in MLB. Below are the American League standings for home attendance.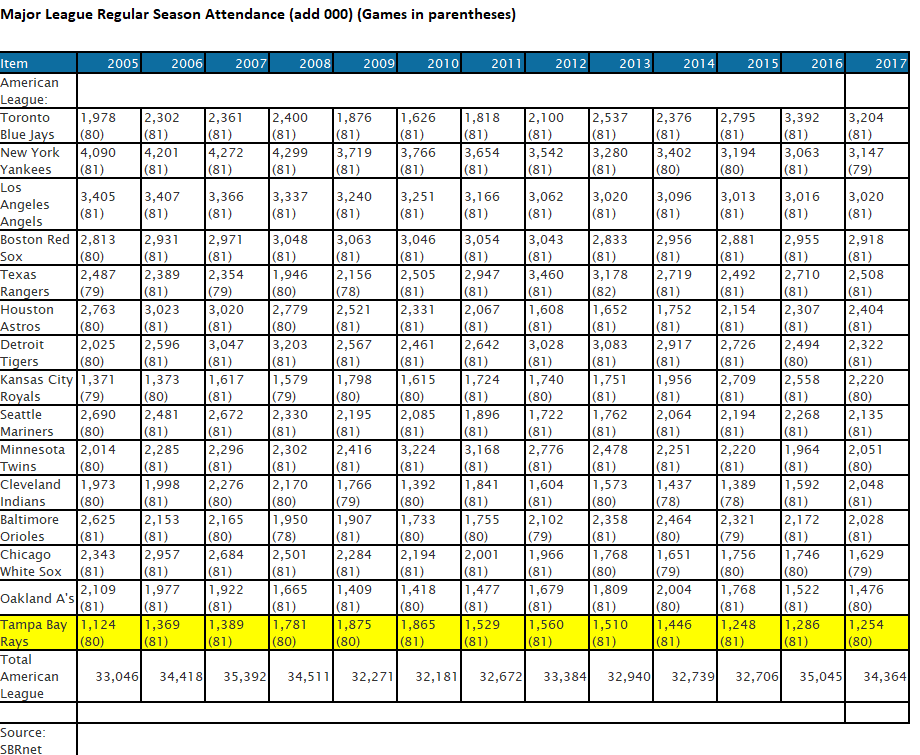 And, the organization struggles not only with attendance, but overall fan support as seen below.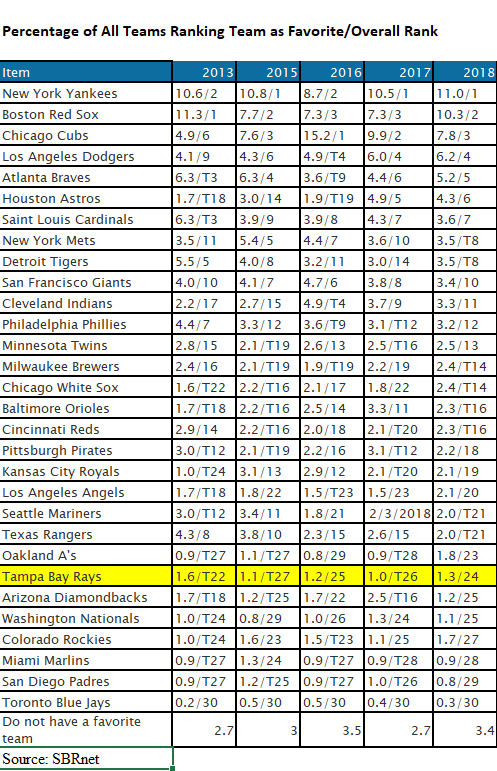 One of the options granted to the team by the City of St. Petersburg was to investigate a move across the Tampa Bay into Hillsborough County (Tampa). Once that permission was granted three years ago, Tampa has been busy trying to court the Rays to a new, but yet-to-be-built ballpark across the bay.  A task force was created, prime downtown land was identified in historic Ybor City (adjacent to downtown Tampa), and due diligence was performed by attorneys and potential business partners.  The deadline to submit a solid proposal to the Rays was set for December 31, 2018.  Unfortunately, the plans fell flat.  Last month at the MLB's Mid-Winter Meetings in Las Vegas, Stu Sternberg, the Rays owner, announced that any deal to relocate the Rays to Tampa was over. Support fell through to construct a $900 million domed stadium with a translucent roof that would have connected downtown Tampa to Channelside to Ybor City (It's official: Tampa Bay Rays tell St. Petersburg they are finished looking elsewhere, for now 2018). The future of the Rays was put back in the hands of St. Petersburg's City Council and Rays ownership. Marc Tompkins, of the Tampa Bay Times, tweeted, "Sternberg said they are wildly disappointed but not discouraged about finding a new home for team in the Tampa Bay market." Marc Tompkins @TBTimes-Rays, 11 Dec 2018.
At this point, the Rays have a contractual agreement with St. Petersburg to stay and play at Tropicana Field until 2027. There is still hope.  Tropicana Field is located in downtown St. Pete on a ripe 86 acres of publicly owned land.  Plans to develop the area into the Gas Plant District include high-end office space, retail, and entertainment.  There is still the possibility a new stadium can be built there.  The city has already set aside money allocated for a new stadium and bed taxes over the next three years are allocated for capital improvements.  After Tampa fell through with its plans, St. Petersburg City Council Chair, Charlie Gerdes stated, "I don't have relief. It's not a time to be relieved, it's time to make sure they stay here for a long time. I want them to find a place where they can wear 'TB' on their hats for a long time" (Show the Rays what public money is available for a stadium? One St. Petersburg council member thinks that's a good idea 2019). Let's see what can be done!
Attendance, Fans, Ownership Oh My!
Is it time for the Rays to depart the Tampa Bay area for greener pastures? Can the area support an MLB franchise along with its NFL team, NHL team, USF, the Rowdies, etc.? The Rays struggle with attendance and a strong fan base. Major renovations have occurred at Tropicana Field seemingly to no avail. And, just last week, the Rays announced it would eliminate all seating in the upper deck for 2019.  The goal is to create a more "intimate" experience for the fans by reaching capacity at 25,000 for a game (Rays eliminate upper-deck seating, reduce capacity to 25,000  2019).
For now, Rays ownership is keeping its mouth shut. Important decisions about the team's future needs to be carefully analyzed.  One can see that the Rays' valuation, compared to other MLB teams, is not great.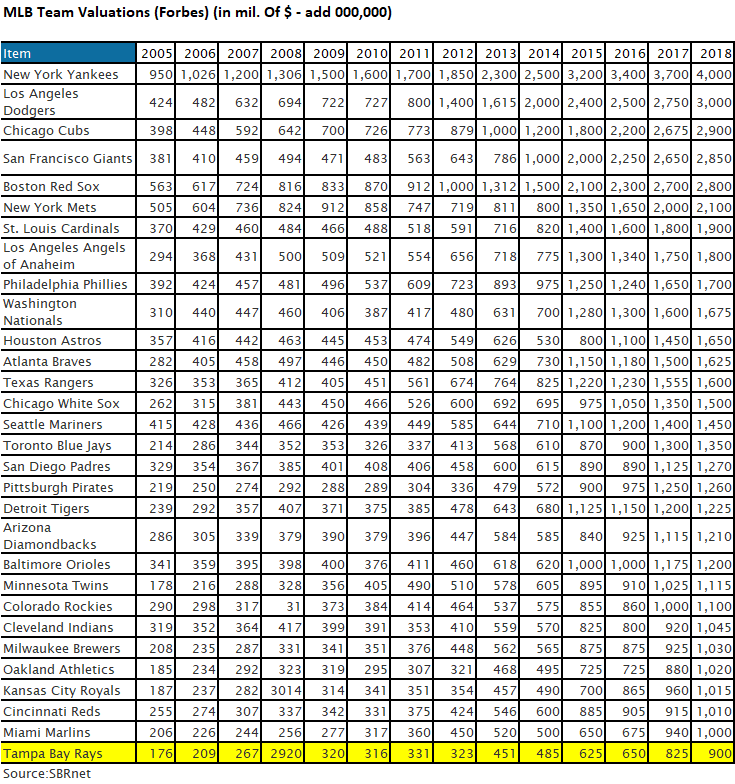 Who is going to persuade the Rays to stay - - Tampa or St. Petersburg? Rays ownership certainly understands the urgency to improve its numbers in every aspect of the business. Behind closed doors, the Rays are most likely beginning to seriously entertain the idea of moving to another urban setting.  A new stadium is an absolute must!  Hopefully, the Tampa Bay area can come up with an appealing plan!
About the Author
Addison Hill is currently a junior at Samford University, pursuing a degree with a major in Sports Administration and a minor in Sports Media. She is from Tampa, FL and has been a lifelong Tampa Bay Buccaneers fan. You can follow her on Twitter @Add_Hill or on LinkedIn.
Sources
It's official: Tampa Bay Rays tell St. Petersburg they are finished looking elsewhere, for now. (2018, December 18). Retrieved from https://www.tampabay.com/st-petersburg/its-official-rays-tell-st-petersburg-they-are-finished-looking-elsewhere-20181218/
Franchise Timeline. (n.d.). Retrieved from https://www.mlb.com/rays/history/timeline
Rays eliminate upper-deck seating, reduce capacity to 25,000. (2019, January 04). Retrieved from http://www.espn.com/mlb/story/_/id/25683771/tampa-bay-rays-eliminate-upper-deck-seating-reduce-capacity-25000
Show the Rays what public money is available for a stadium? One St. Petersburg council member thinks that's a good idea. (2019, January 12). Retrieved from https://www.tampabay.com/st-petersburg/show-the-rays-what-public-money-is-available-for-a-stadium-one-st-petersburg-council-member-thinks-thats-a-good-idea-20190112/
Stats retrieved from SBRnet, Sports Business Research Network. https://sportsmarketanalytics-com.ezproxy.samford.edu/