Published on August 14, 2019 by Andrew Johnson  
Social media has an enormous impact on our world due to the society that we are currently living in and this has had a significant impact on the sports industry. People love to follow their sports teams on Twitter, Instagram, and Facebook because it really gives fans all over the world a sense of identity and allows fans to feel like they are a small part of the team. Fans will post pictures from sporting events and social media gives fans the liberty to celebrate on a larger scale. Whether it's the World Cup, World Series, Super Bowl, or even a rugby game, sports are all over social media. European club football has seen a massive increase in social media following over the past few years and this has impacted ticket sales, merchandising, and much more for some of the biggest clubs in the world. This article will dive into the European football clubs that have the largest followings on Twitter and Instagram and what this means specifically for the clubs that will be mentioned.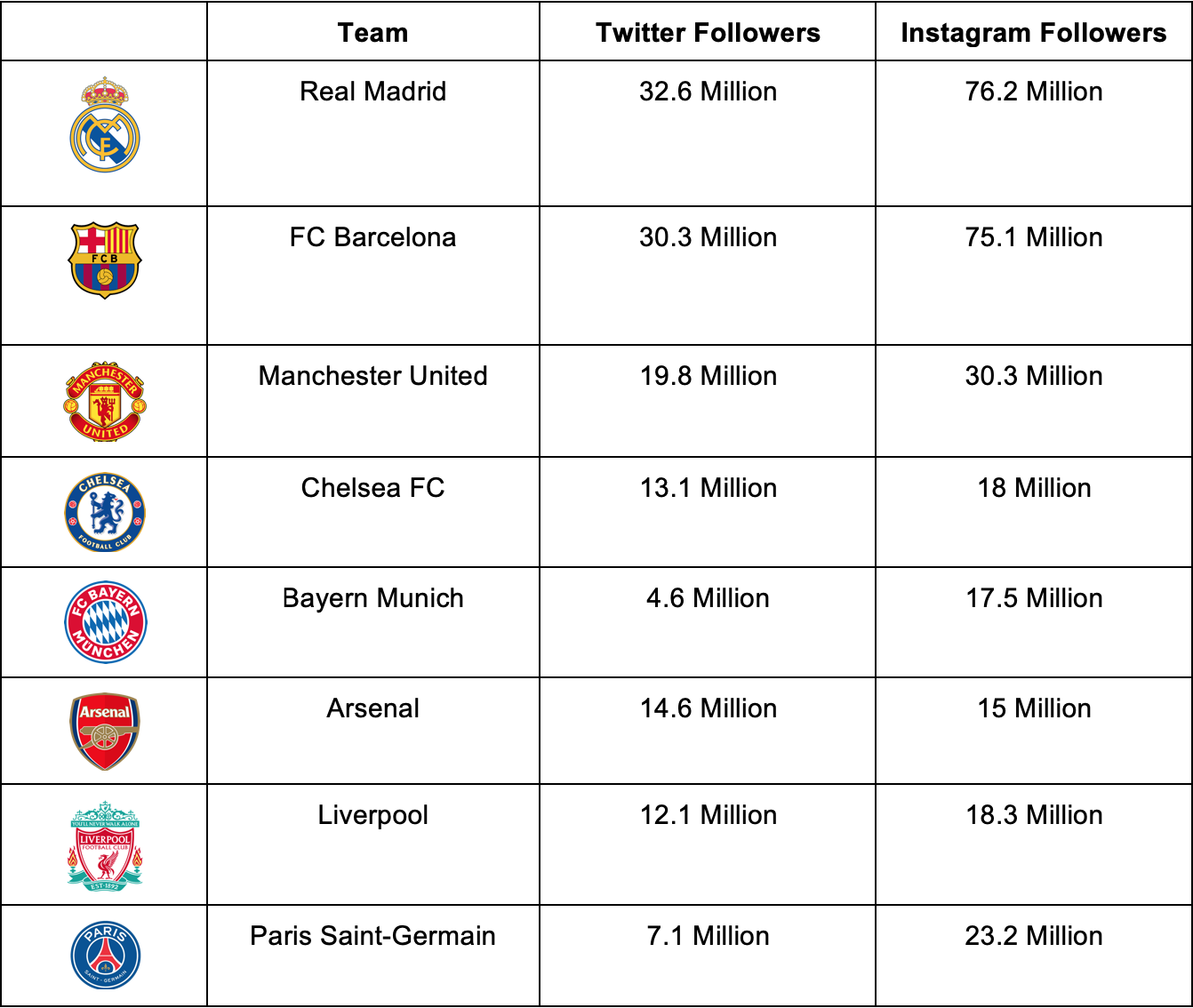 1. Real Madrid -- Spain -- La Liga
Real Madrid is on top of the football world when it comes to social media following even despite losing Cristiano Ronaldo to Juventus. Madrid has a following over all continents and a very large fanbase in the USA. Madrid gained over 40 Million followers on all platforms (including Facebook) in just 6 months last year. Real Madrid is also currently the only European club to have over 200 Million followers on Twitter, Instagram, and Facebook combined.
2. FC Barcelona -- Spain -- La Liga
FC Barcelona has currently the second largest following in the world, just behind their Spanish rivals Real Madrid. Barcelona has recently dominated Real Madrid in La Liga thanks to superstar Lionel Messi and his counterpart Luis Suarez. FC Barcelona has just below 200 Million followers on social media (including Facebook). Messi is the third most followed Football player on Instagram behind only Ronaldo and Neymar Jr.
3. Manchester United -- England -- Premier League
Manchester United has the biggest following of all Premier Leagues thanks to their significant amount of American supporters. Manchester United's Paul Pogba is currently the most followed player and definitely gained followers after France won the World Cup last year. Even though the Red Devils are on top of England in social media followers, they are nowhere close to the likeness of Real Madrid and FC Barcelona.
4. Chelsea FC -- England -- Premier League
The Blues of Chelsea FC have currently over 72 Million followers on social media (including Facebook). Chelsea has benefitted from superstar Eden Hazard over the past few years and their Europa League Championship last year definitely brought in some social media followers as well. The departure of Hazard over the summer to Real Madrid definitely was a big blow to Chelsea fans but another fan favorite, David Luiz, has over 19 Million followers currently on Instagram.
5. Bayern Munich -- Germany -- Bundesliga
Bayern Munich, the most successful German club, has a pretty significant following over the world thanks to world superstars James Rodriguez, Manuel Neuer, and Robert Lewandowski. Bayern has the smallest following on Twitter compared to the other Top 8 clubs because they run their Twitter account mainly in German. Bayern Munich recently passed Arsenal for global followers on social media in the past year.
6. Arsenal -- England -- Premier League
The Gunners are currently the third most followed club out of England and the sixth most followed club in the world. Arsenal recently just dropped out of the top five clubs due to their recent struggles on the field and missing the Champion's League this past season. Arsenal defender, Hector Bellerin, is currently a part time model and Arsenal is able to benefit from his large following on Instagram.
7. Liverpool -- England -- Premier League
Liverpool has had the biggest growth on all aspects of social media over the past year. The Reds gained over 10 Million followers on Instagram in one year and also gained over 6 Million followers on Twitter. Winning the Champions League and coming in second in the Premier League definitely has impacted Liverpool's global following. Superstar Mohamed Salah currently has over 19 Million followers on Instagram which has also helped Liverpool's rise.
8. Paris Saint-Germain -- France -- Ligue One
Rounding out the Top 8 is the stars of the French League, Paris Saint-Germain or otherwise known as just PSG. PSG currently has over 55 Million followers combined among Twitter, Instagram, and Facebook. Neymar Jr. and Kylian Mbappe are two of the biggest names in football and have definitely helped PSG rise to the top of social media followers among European clubs. Neymar has over 100 Million followers on Instagram currently and Mbappe has over 32 Million on Instagram.
Honorable Mentions: Juventus, Manchester City, Borussia Dortmund, Atletico Madrid, Tottenham Hotspur, Inter Milan, Napoli, and Leicester City
Sources
Instagram
Twitter
Facebook
https://www.businessinsider.com/the-20-most-popular-rich-list-football-teams-on-social-media-2018-8
https://www.espn.com/soccer/
About the Author
Andrew Johnson is a rising senior at Samford University, where he is majoring in Finance with a concentration in Sports Marketing. Andrew is from Nashville, TN and has held a passion for all types of sports since a young age. Here is a link to his LinkedIn profile.