Published on August 28, 2019 by Connor Wolf  
Novak Djokovic just defeated Roger Federer in the longest Wimbledon final ever to capture his 16th Grand Slam victory. This victory places Djokovic third all-time in Grand Slam wins behind only Rafael Nadal, with 18, and Roger Federer, with 20. What's truly remarkable is how these three tennis legends, who fill the top three spots in Grand Slam victories, have all dominated the sport in the same era. This Big 3 has won the last 11 Grand Slam tournaments, 4 going to Djokovic, 4 to Nadal, and 3 to Federer. They have also won 54 of the last 65 Grand Slam tournaments since Wimbledon in 2003.
Clearly, the Big 3 of Djokovic, Nadal, and Federer has owned the sport of tennis this entire era. However, this is not the first time the sport has seen a select few dominate the game. This raises the question: Is the current Big 3 in tennis the best the sport has ever seen?
Furthermore, this article will then attempt to answer which of the Big 3 is the greatest. It will do this through comparing their careers, statistics, and head-to-head performances.
Comparing Big 3's
There seems to be three main eras in tennis history where the sport was dominated by a group of three men. These eras would be the late 70s and 80s, consisting of Jimmy Connors, Bjorn Borg and John McEnroe, the 90s, consisting of Jim Courier, Pete Sampras and Andre Agassi, and the current era, consisting of Djokovic, Nadal and Federer.
ATP Masters

The table above shows the success of each Big 3 in ATP Tour Masters 1000 events during their given era. ATP Tour Masters 1000 tournaments are the third highest ranking tournaments in the sport behind the Grand Slam tournaments and the ATP Finals. As we can see from the graph above, each group of players found success in these events, but none more than the current Big 3. While the Courier-Sampras-Agassi group only won 25% of their ATP matches and the Connors-Borg-McEnroe group won an impressive 45.1%, the current Big 3 has been victorious a whopping 63.8% of the time.
Grand Slams

To further compare the success of the Big 3's, I produced this table to compare their Grand Slam victories during their respective eras. As we can tell from the table above, each group was dominant in the main events for their time, as each group won a majority of their Grand Slam tournaments. Once again, the current era is winning at the most impressive pace, at a jaw-dropping 83.1%. The Courier-Sampras-Agassi group won 52% of their Grand Slam opportunities, while the Connors-Borg-McEnroe group won 59.1%.
Who is the GOAT?
Career Stats
First, to compare the Big 3, I will look at their career statistics.

As we can see here, all three men have very impressive winning percentages for their careers. Nadal has the best at 83.0%, barely edging out Djokovic's 82.7% and Federer's 82.2%. However, Federer has the most titles in his career at 102, while Nadal and Djokovic only have 82 and 75, respectively. In terms of championship success, Federer takes the cake. In terms of winning consistency, Nadal is best. However, Djokovic is the youngest and seems to be on pace to overthrow both of these men.
Career Head-to-Head
Next, I will look at how these players have performed against one another in their careers. This will show who has had the most success against one another during this era.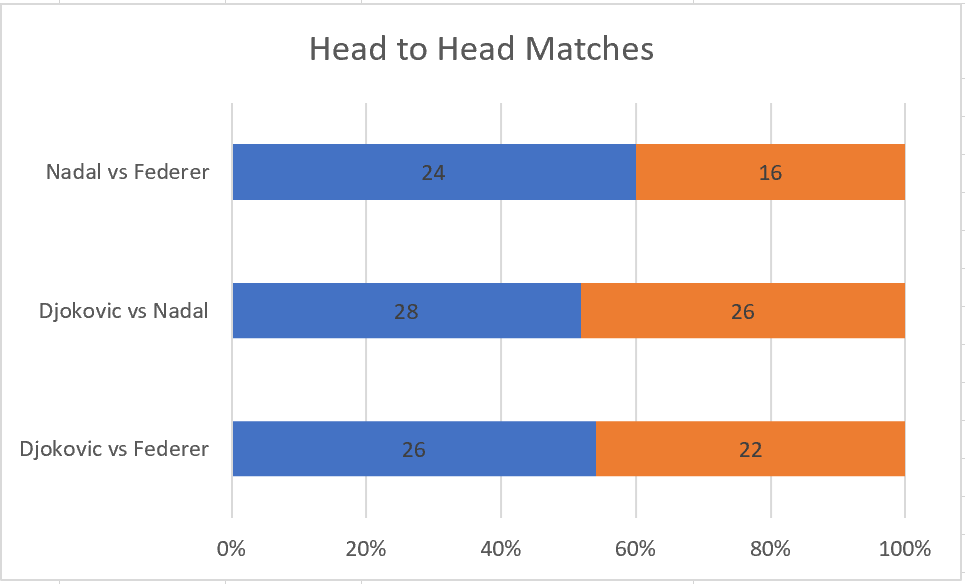 In 40 matches, Nadal has bested Federer 24 times. This means that Nadal has beaten Federer in 60% of their matches. In 54 matches, Djokovic has bested Nadal 28 times. This means that Djokovic has beaten Nadal 51.9% of the time. Lastly, Djokovic has beaten Federer in 26 of their 48 matches. This means Djokovic has been victorious in 54.2% of his matches against Federer. In terms of head-to-head performance, Novak Djokovic is statistically the best of the three. He has won a majority of his matches against both Rafael Nadal and Roger Federer.
Grand Slams
Next, the table below presents the breakdown of each player's success in the Grand Slam events since Wimbledon of 2003.

This group has won 14 of the last 16 Australian Opens, 14 of the last 16 French Opens, 15 of the last 17 Wimbledon's, and 11 of the last 16 US Opens. Djokovic has had the most success at the Australian Open, winning it seven times. Nadal has completely dominated the French Open, winning it 12 times. And Federer has found the most success at Wimbledon and the US Open, winning them 8 and 5 times, respectively. Federer remains king as of now at 20 Grand Slam victories. However, Nadal and Djokovic are both younger and aiming to top him.
Grand Slams Head-to-Head
Lastly, this graph shows the direct success each of these players has had against one another in their head-to-head Grand Slam matchups.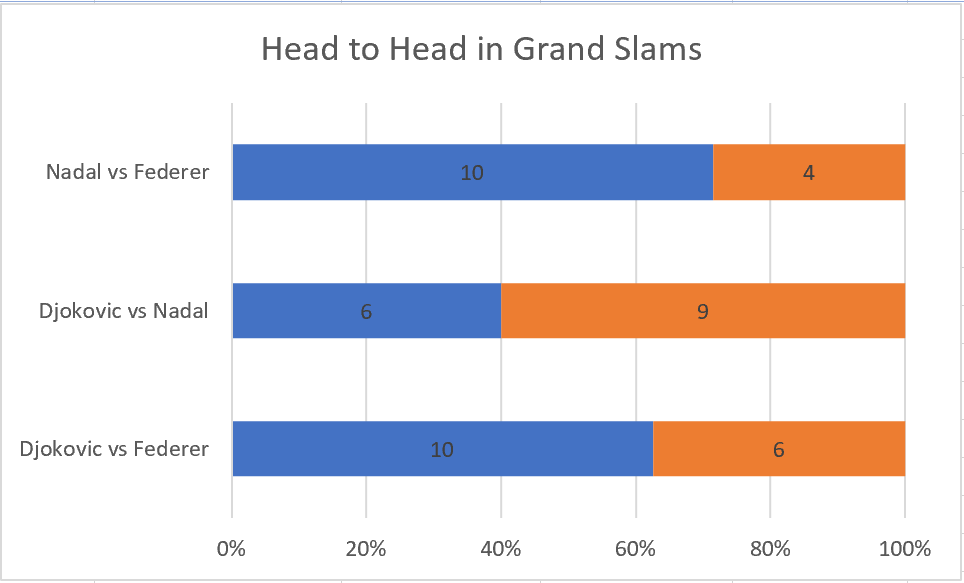 Nadal has beaten Federer 10 times in their 14 Grand Slam matches. This means Nadal has been victorious in 71.4% of these events. Nadal has also bested Djokovic nine times in 15 attempts. This means that Nadal has beaten Djokovic in 60% of their Grand Slam matches. Lastly, Djokovic has won 10 of his 16 major matches against Federer, putting him at a 62.5% win percentage. In terms of head-to-head Grand Slam performance, Nadal is the best of the three.
Conclusion
Clearly, today's Big 3 of Djokovic, Nadal and Federer is the most dominating group of tennis players the sport has ever seen. Their impressive winning percentages and major performances are unmatched. However, to pick one of these three to call the GOAT is nearly impossible. The answer depends on which court they're playing on, what the stage is, and what the future holds for each player. However, one thing that can be said for sure is that this era's Big 3 is the best the sport has ever witnessed.
Sources
www.tennis.com
www.atptour.com
www.totalsportek.com
www.sportskeeda.com
About the Author
Connor just completed his sophomore year at Purdue University, where he is pursuing a double major in actuarial sciences and applied statistics, with a minor in management. He has had a passion for both sports and statistics since a very young age, and enjoys discovering all the new information statistics can give us about sports.