Published on January 17, 2019 by Patrick Schilling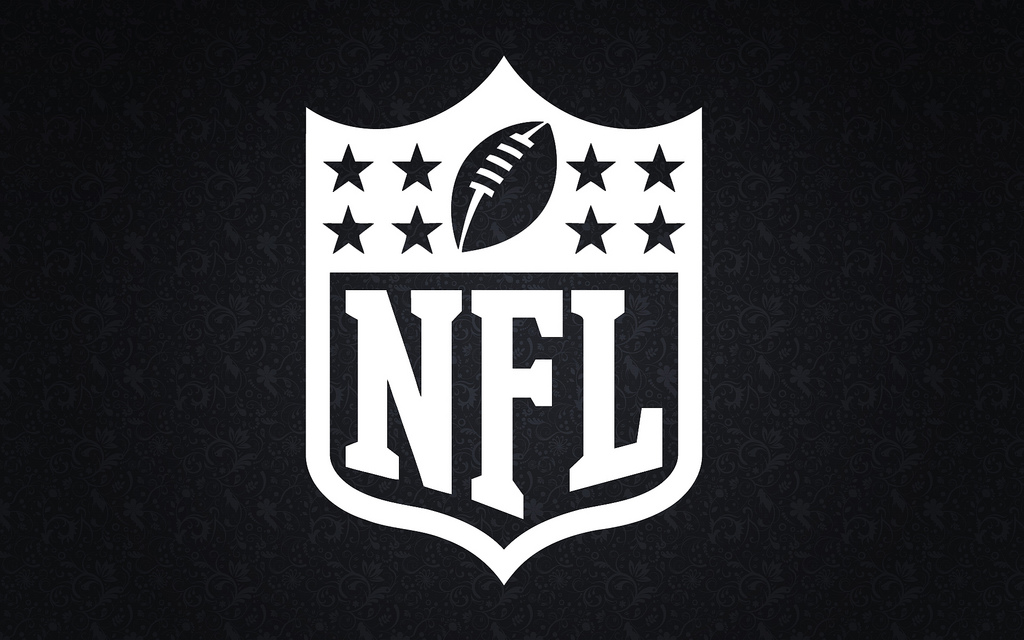 The defensive line is to me one of the most important position groups on the 53-man roster. You see big contracts dished out every year to top lineman and the proven veterans are always a hot commodity. Just this past offseason, Star Lotulelei was given the seventh most valuable contract to a free agent, worth $50m for five years. Overall, five defensive linemen received new contracts that were worth more than $20m in total. Of those five teams that signed them, just one has a playoff shot, Tennessee signing DaQuan Jones.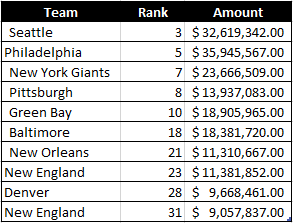 Unfortunately for a defensive lineman, that sort of trend reflects that of the past ten Super Bowl Champions. Although four teams did rank in the top ten of cap hits in their year, four ranked between twenty-first to thirty-first. The entire defensive line ranks fourth lowest in the overall highest paid position group which I think would be a shock to most people. Interestingly, only three teams in the last ten winners have had an offensive and defensive line that were both inside of the top ten in cap hits (Seattle, Philadelphia, and Pittsburgh), all three also had QBs that were thirteenth or lower for their cap hits. There is a clear distinction with these contracts that you can either pay your lines or your QB and although both options have worked, paying your lines and having a younger QB who has a smaller contract may be the way to go.
As for the two positions on the offensive line, things look even bleaker for justifying large contracts to defensive ends and tackles. For the highest individually paid defensive ends on Super Bowl teams, that cap hit ranks thirty-seventh. The lowest of any individual position across the team. It's also one of only two positions that are outside of thirtieth for the highest individual cap hit.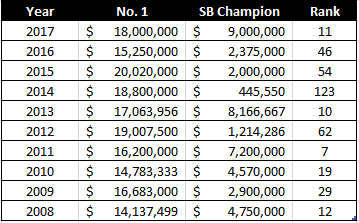 I think this is maybe the most telling position in terms of overpaying for that "must have" player in the offseason. Only one time in ten seasons did the SB Champion have a defensive end with a top-ten cap hit. Although a good pass rusher is a necessity, it's clear from this table that it's not necessary to overpay for one.  With an average difference in cap hit versus the highest paid defensive end at $12,732,379, it has the greatest difference at any position on the team, even more than the quarterback position.
Defensive end is also one of only two positions wherein the last ten years, the highest cap hit at the position was not less than $10m. The lowest cap hit was $14.1m which is higher than the highest cap hit for the top safety, kicker and punter in the last ten years as well as about half of the top paid cornerbacks. The more I investigate this, the more I think that NFL teams are desperately overpaying defensive ends in hopes of getting a game changing DE like Michael Strahan or J.J. Watt.
As for defensive tackles, they are the clear higher paid position on the defensive line.  Without the defensive end rankings pulling them down, their individually highest cap hit has an average of twentieth over the past ten years for SB champions. Although that ranks middle of the pack for defensive cap hits, it has an average difference between the highest cap hit and highest on a SB team at $8.13m.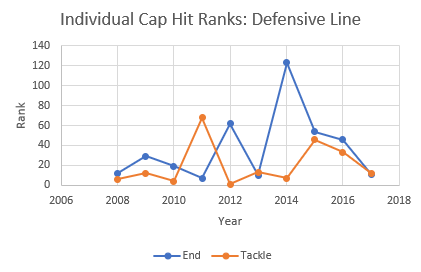 Looking at the difference between defensive ends and tackles. It's very similar to that of offensive tackles versus the rest of the offensive line. Besides 2011, the individual cap hit for the SB champions defensive tackle is lower and at most, close to even of that of the defensive end. This doesn't mean don't ever pay your tackle more than your end, or vice versa. It just shows one way to look at free agency and building a team. Just because you need a defensive end to fill a need on your roster, doesn't mean that you must splurge on a mediocre one so that you get him before anyone else. It's all about paying a player what they are valued and trying to get away from the "market value" of some positions.
Source
https://www.spotrac.com/
About the Author
Patrick Schilling is a senior at Western Carolina University pursuing a double major in sports management and computer information systems. Please follow him on LinkedIn.