Published on December 17, 2019 by Sam Hewitt  
Sports and other forms of competition have been around since the beginning of mankind. The root of human existence has always been built upon competition. The world of sports has been changed over the years based on many factors. Attendance of sporting events is something that teams and organizations need in order to be successful. Because of the rise in prices, fans are now more than ever considering things like the price of tickets, concessions, parking and more. These factors are hurting the overall attendance at sporting events and because of this, action is starting to be taken to fix this issue. I have researched and analyzed different ways that organizations are taking action towards this problem.
Why the Rise?
Ticketing is a continually growing issue in today's world. Tickets continue to rise in price and it is not slowing down. People love sports but there is only so much money even the most passionate fan will give up to see their favorite team play. Brooke Adams mentions in her article how fans are now resorting to easier options such as watching the games in the comfort of a home or in front of a television. This eliminates things like having to go to the stadium and fight crowds, pay for parking, buy food, and the worst one… buying an expensive ticket! It all wrapped up into a tumbling effect when the tickets started getting expensive as it caused fan support and overall engagement to slow down. #priceclimb
The NFL Look
Brooke Adams talks a lot in her article about the New York Jets and the struggling issues that they have been having with attendance as a team. The chart below shows the attendance for the Jets from 2006-2017. They were able to reach an all-time high in 2012 but have been declining ever since. The Jets are doing something now that many people have shot down and said would be unsuccessful. Adams states in her article that the Jets are utilizing a dynamic ticket sales strategy for the NFL seasons. Pricing has the potential to drop to as low as 11 percent depending on the market. This allows for the ticket prices to have flexibility. While many are doubting this because of the negatives this idea could bring, the bright side of this plan is it has the potential to be very effective. With an increase in fans coming to the games, this will help with the selling of things like concessions, gear, and any other items bought within the stadium. This is just an example of one of the ways that franchises and teams are acting to fix the problem of ticket sales.
To add on to the new idea, the Jets have decided to implement a new incentive system for season ticket holders which includes a variety of extra amenities. Adams says this includes things such as free breakfast on game days or tickets to other events that are going on in the New York area. This will hopefully promote the idea to keep purchasing season tickets as well as attract new potential buyers. With the leagues new deal with Seat Geek, they will able to easily analyze what is working, what isn't working, and why this is the situation which is a very handy technology to have.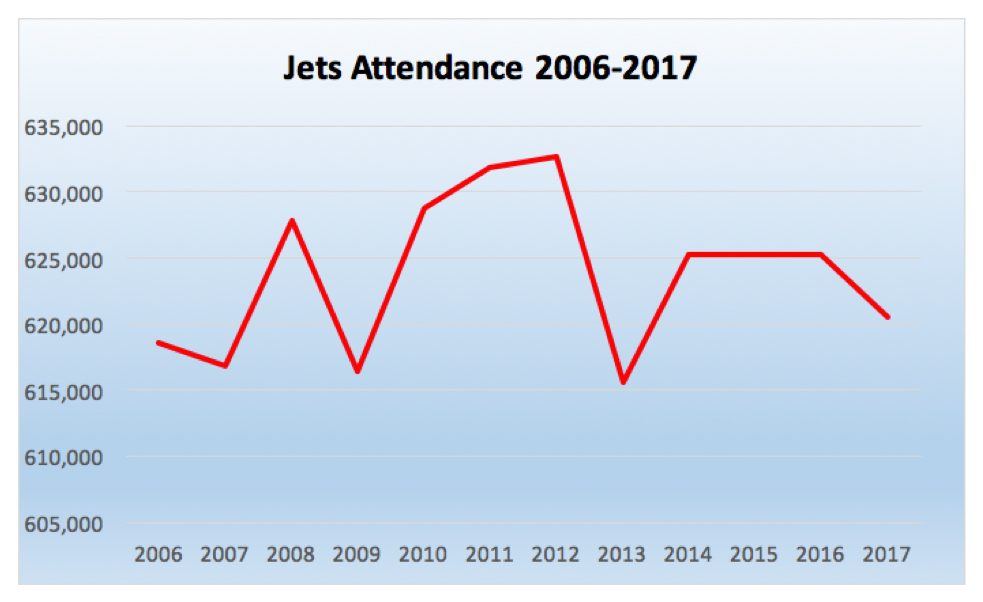 Attraction to The Diamond
It is very obvious that our world is moving further away from commitments such as, season tickets. This has been a root cause of so many of the attendance issues that are happening throughout different sports. In an article by John Lombardo in the sports business journal, he describes how the Oakland Athletics of Major League baseball have taken this problem and come up with a genius solution that has spread all throughout the world of sports. Lombardo states that this new approach is called the Netflix approach. It offers fans the opportunity to buy tickets in a monthly discounted package that does not have a requirement to be renewed. This method is so successful that more than two-thirds of MLB's 30 teams have offered this deal. The teams that have adopted this process have seen an increase in ticket sales by up to a 36% each season! Unbelievable results! Lombardo talks about how many different strategies have been brought to life based off this original proposal. Jamie Morningstar who is the senior vice president for ticket sales for the Bucks said, "There is a definite place for it and we try to be as creative as possible with it". #becreative
The league asked the Athletics "What is the benefit to rolling out subscription-based ticketing plans?" When this question was further researched the results showed that 50% of the data pointed to attracting a younger crowd to the games, 17% to game day revenue, 16% how the fans purchased their tickets (via the team mobile app), 11% ticket sales revenue, and 6% no response. Catering to the younger generation is a big factor to creating successful sales in today's world. The photo below is a good example of how the Oakland Athletics have made an outfield social area for fans to congregate to eat, drink, and socialize.
The Standards Are Set
With proven success from recent attempts at this sales model we can expect to see more and more teams/leagues jump in. The world of sports is being adapted to a new generation of people. Things that used to be important to fans at sporting events may no longer be important. A quote from Lombardo says, "As teams build new arenas and stadiums that include far more communal and open areas within the facilities, count on an even stronger trend toward the subscription ticketing model". Sports have been around since the beginning and that has not changed however, peoples wants and needs have. #sportsbusiness #setthestage
Sources
https://www.samford.edu/sports-analytics/fans/2018/High-Ticket-Prices-and-the-Secondary-Market
https://www.sportsbusinessdaily.com/Journal/Issues/2019/06/17/In-Depth/Tickets.aspx