Published on June 9, 2020 by Jake Awbrey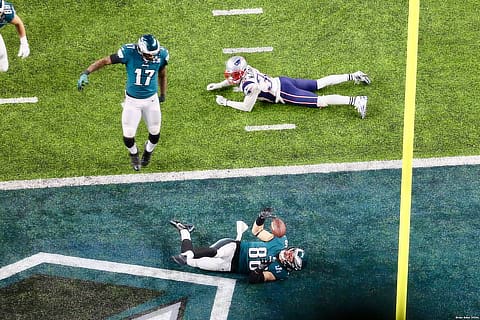 Introduction
The National Football League just celebrated its 100th year with the inaugural season being played in 1920 when the league was then called the APFA, or American Professional Football Association. In 1922, the league was renamed the National Football League and has since been under that same name that we've all grown to love. Millions of fans engage with the NFL every Sunday during the season through either watching the games or attending them in person, but what the majority of these fans don't realize is the amount of data analytics their favorite team is using behind the scenes to assist in their team's success.
The use of data analytics in the sports industry is something that is very new and has the potential to revolutionize the way teams make decisions. The 2002 Oakland Athletics baseball team made people realize the serious effect the use of data analytics could have on the success of a team. After the movie Moneyball was released in 2011, the public began to see the way Billy Beane used analytics to build the roster for the Athletics. This was the true first big moment for analytics in sports where we were able to see the dramatic effect it can have on a team. The NFL slowly starting using analytics not too long after, and over the past few seasons a couple of teams have used analytics in a significant way to make team decisions.
NFL Data Analytics
The first team to lead the analytics movement in the NFL was the Philadelphia Eagles. Beginning in 2014, Eagles head coach Doug Pederson made it clear that all decisions made by the organization were going to be informed by analytics. Ryan Paganetti started in the Eagles' analytics department in 2014. During the 2018 season, he served as Coach Pederson's right-hand man during games and had a direct line of communication with the head coach "in-game". Paganetti's job was to feed Coach Pederson math-based recommendations during particular moments of a game. After just four years together, the Pederson-Paganetti duo used their analytics to adjust the offensive scheme which earned the Eagles a victory in Super Bowl LII.
In 2014, Zebra Technologies started working with the NFL by putting RFID (Radio Frequency Identification) technology in stadiums across the league. This technology has the ability to track and record real-time results of the players movement across the field using chips that are placed in their shoulder pads. This is something that the Eagles started using to gather data about each player's tendencies. The Eagles were the first to have this technology installed in their practice facility in 2014. Since then, only about a third of the league has followed and over the next 5 years it is anticipated that most NFL teams will utilize this technology.
In addition, player tracking data is something that will change the way general managers evaluate players in the future. Zebra Technologies has taken what they've learned since partnering with the NFL in 2014 and have improved the player tracking abilities to a heightened new level. Their technology now has the ability to capture all players speed, distance traveled, proximity, acceleration, and deceleration.
Amazon Web Services, one of the world leaders in cloud, data science, and machine learning, has partnered with the NFL to form 'Next Gen Stats'. Next Gen Stats uses all of the information gathered from Zebra Technologies to provide analysis of players for teams to use and determine which players might fit into their particular scheme. These teams are using the data to help make decisions regarding training, fitness, and game preparation. Next Gen Stats provides in-depth statistical information including fastest ball carriers, longest plays, fastest sacks, longest tackles, improbable completions, and incredible YAC (yards after catch). These stats are only available through the tracking data that is provided from Zebra Technologies. Teams can use this data to make decisions for their players and for players on opposing teams and how they can game plan better against them.
Along with the in-depth stats that Next Gen provides, they also provide media that is easy to sort through that teams can use for scouting. The film can be sorted by team, season, week, and player making it easy to watch film at any point of the season for any particular player. Next Gen Stats is taking the lead in the analytics field and teams are starting to realize all of the many benefits their organization can obtain from this data. This is a resource that will continue to grow in the league as teams attempt to identify trends in particular offenses and defenses to identify the players that will best excel in each game plan.
Fourth Down Aggressiveness
With the increase of information available through data analytics, there are already some significant game changes schematically that are being affected by the use of analytics. One of these trends is teams electing to "go for it" on fourth down a lot more frequently than ever before. Teams have started to realize that in many circumstances it is more valuable to risk going for it on fourth down rather than punting the ball away to their opponent. In the 2017 NFL season, there were 485 total occurrences of a team going for it on fourth. Since then we've seen a 11.13% increase of this in 2018, and another 10.39% increase during the 2019 season. This trend is likely to continue as teams further evaluate the data and choose to expand their playbooks for these fourth down situations.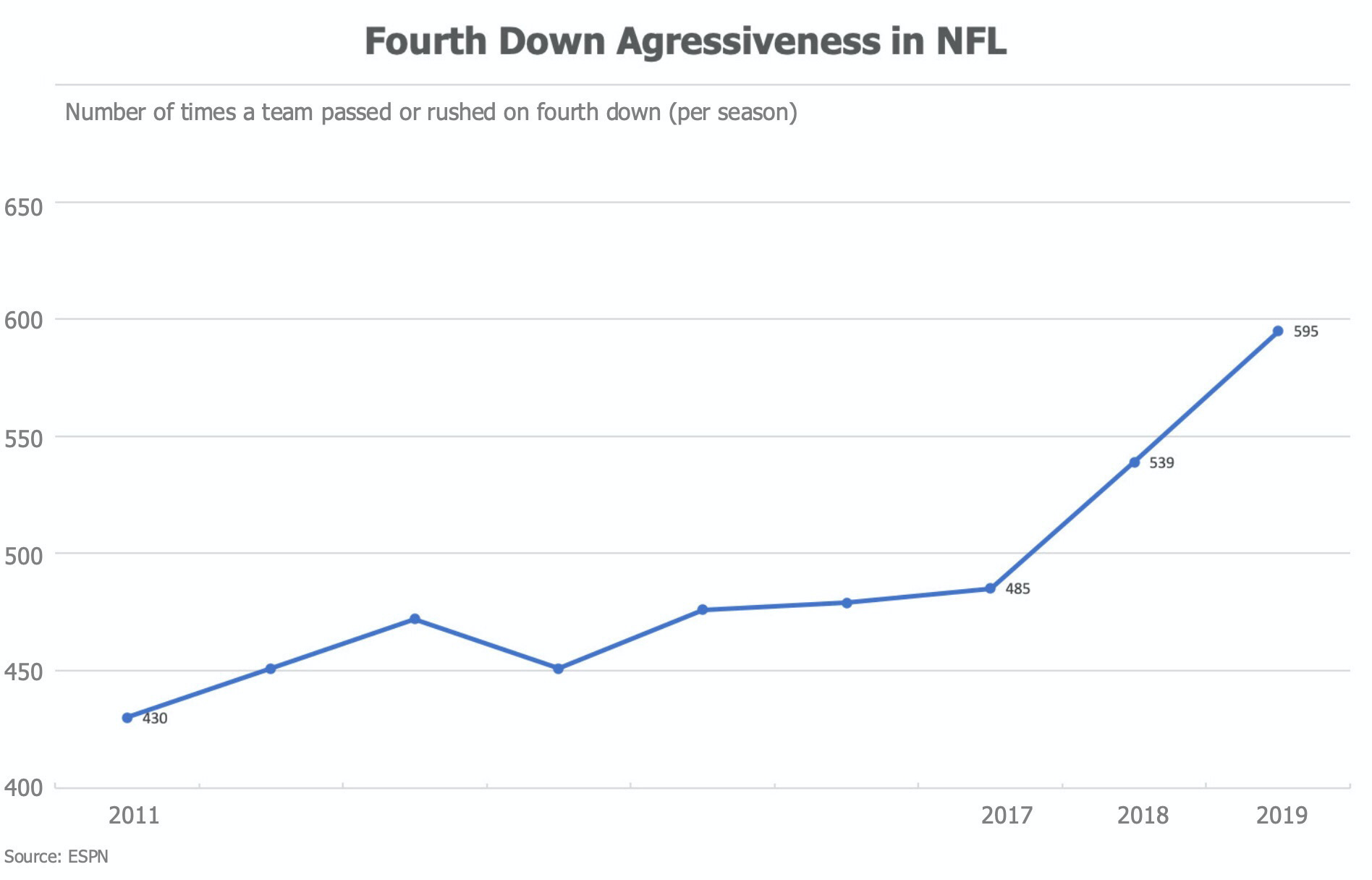 First Down Play Calling
Another trend likely to become more evident in the upcoming years is an increase of passing plays on first-and-10. During the 2019 season, passing plays gained an average of 3.2 more yards per attempt than rushing plays. With that said, only 43% of the plays on first-and-10 were pass attempts. The more teams analyze the numbers behind first down success, it appears there will be a significant schematic change on first-and-10 play-calling throughout the league.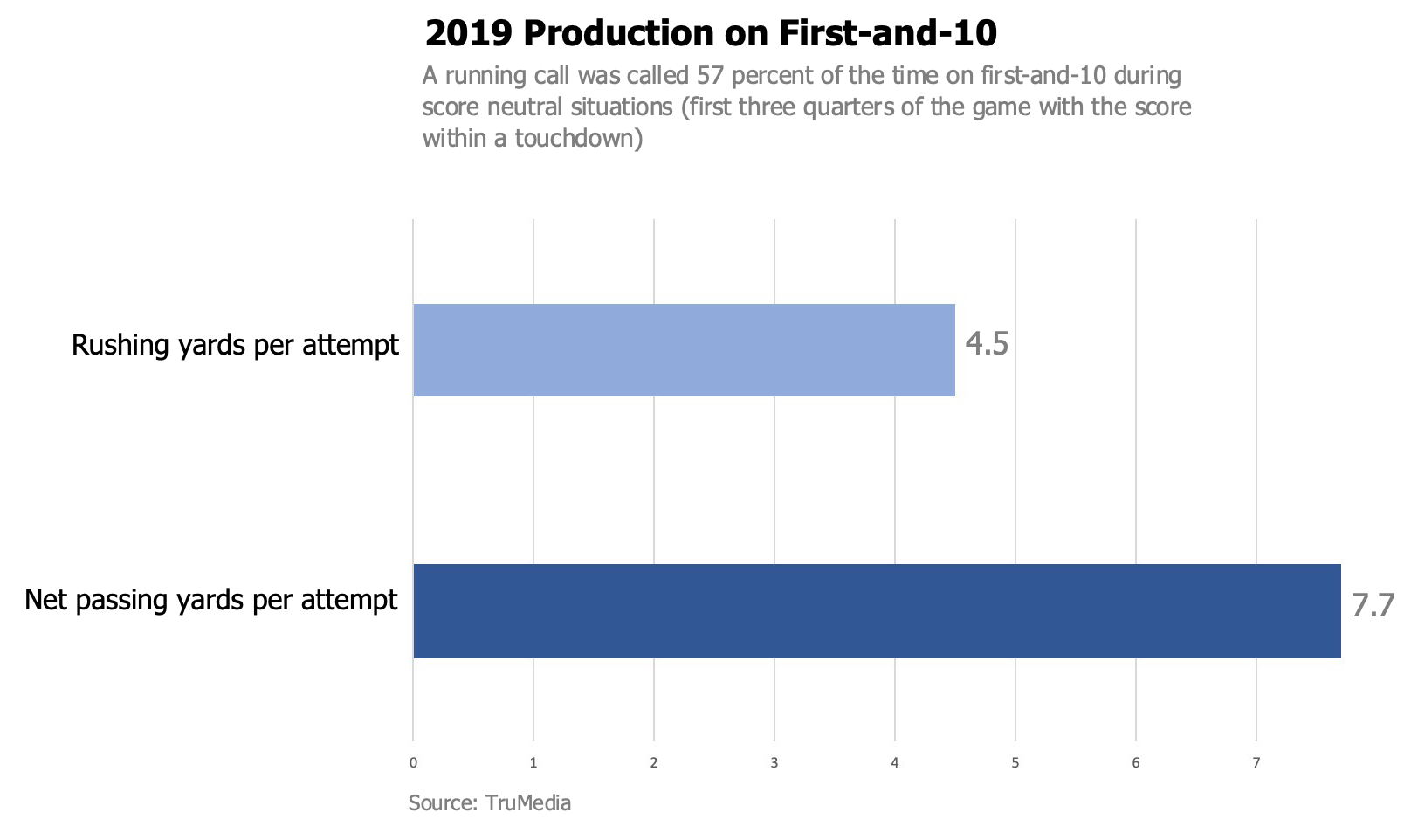 Conclusion
The future is bright for the NFL as teams will continue to accept and adapt to this new and effective practice of using data analytics. More and more teams are creating analytics positions within their organization in an effort to embrace this technology and stay ahead of the rest of the league. With the increased development in machine learning and predictive models, teams will undoubtedly continue to have more usable data than was previously utilized. It's just a matter of time before what separates playoff teams from non-playoff teams is their ability to appreciate and work effectively with data analytics.
Sources
https://www.delltechnologies.com/en-us/perspectives/big-hit-the-nfl-turns-to-data-analytics/
https://www.espn.com/nfl/story/_/id/24445965/player-tracking-data-next-step-nfl-analytics-revolution
https://www.espn.com/blog/philadelphia-eagles/post/_/id/27697/eagles-provide-roadmap-to-analytics-driven-future-of-nfl
About the Author
Jake Awbrey is a Senior at Auburn University where he is majoring in Business Analytics with a minor in Finance. He has always had an interest in sports and working with numbers which has drawn him to sports analytics. After graduation, Jake hopes to work with an NFL team in their analytics department.