Published on March 19, 2021 by Mallory Messer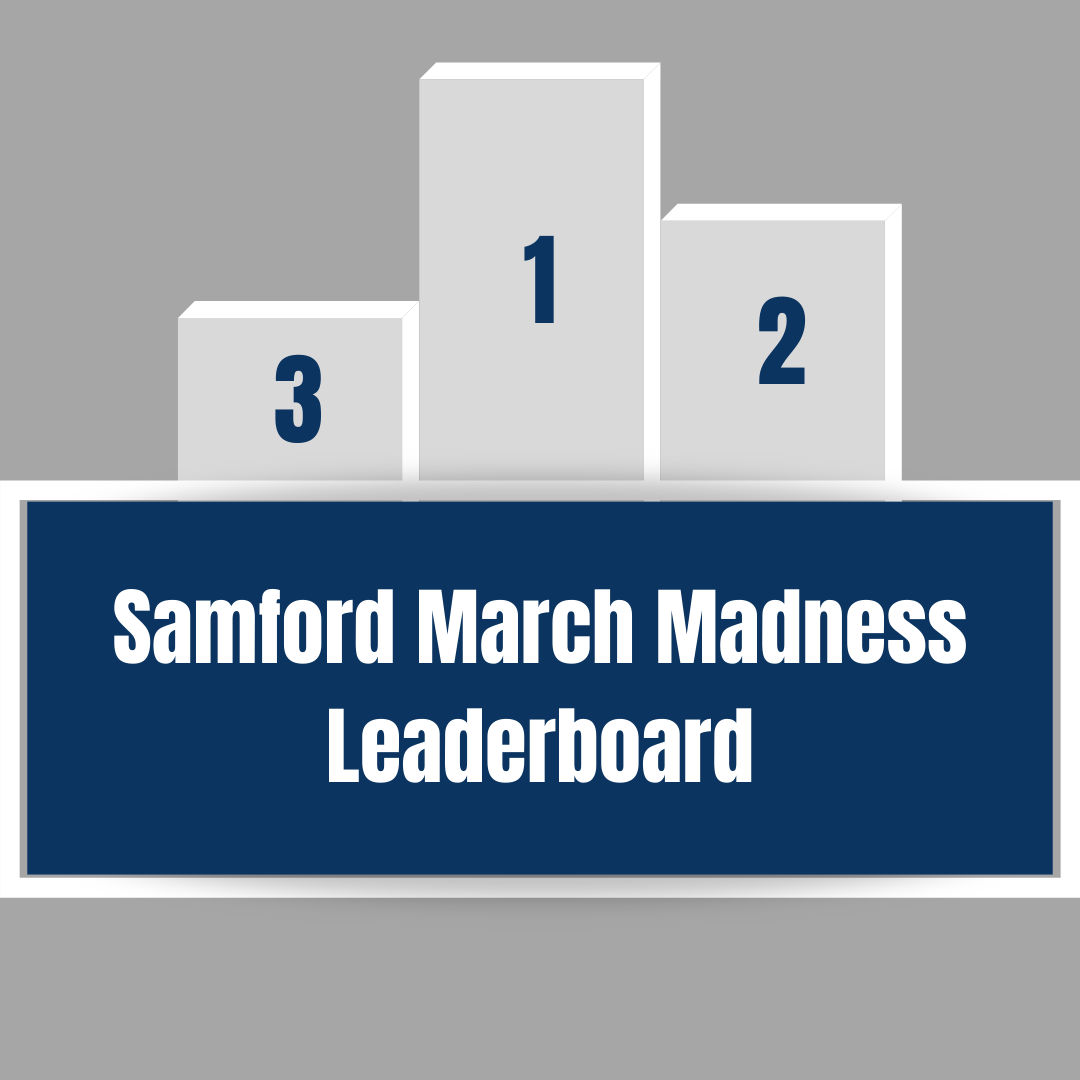 Let the Madness Begin
The Elite Eight has ended and we have our Final Four teams for the NCAA Men's Basketball Championship. The Final Four teams are #1 Gonzaga, #11 UCLA, #1 Baylor, and #2 Houston. #11 UCLA moved past #1 Michigan to continue their road of upset wins. #2 Houston ended #12 Oregon State's season and #1 Baylor ended #3 Arkansas hope of a Final Four appearance. #1 Gonzaga continued their undefeated season passed #6 USC. #1 Gonzaga is two games away from an undefeated miracle season ending with a National Championship. There have only been seven teams who have had undefeated National Championship seasons. The seven teams being 56' San Francisco, 57' North Carolina, 64' UCLA, 67' UCLA, 72' UCLA, 73' UCLA, and 76' Indiana. The anticipation has grown over the #1 Gonzaga vs #11 UCLA game. Will Gonzaga advance to have the opportunity to be the eighth undefeated National Champion or will #11 UCLA be the first double digit seed to play for a National Championship. Be sure to check out the Center for Sports Analytics social accounts this week for more updates on our competition.
Alpha Omicron Pi is currently in first place overall with 750 points. They currently have a 96% accurate bracket and have Gonzaga winning overall. The Volleyball team and the Biology and Environmental Science Department comes in a close second with 740 points. Both of these groups also predict Gonzaga to win it all. Tied for fourth place is the Office of Human Resources, Brock School of Business staff, and the Samford Men's Track and Field Team with 730 points. Two of the three groups have selected Gonzaga to win it all, but the Office of Human Resources has selected Baylor to win it all. If Baylor wins two more games, the Office of Human Resources could take it all.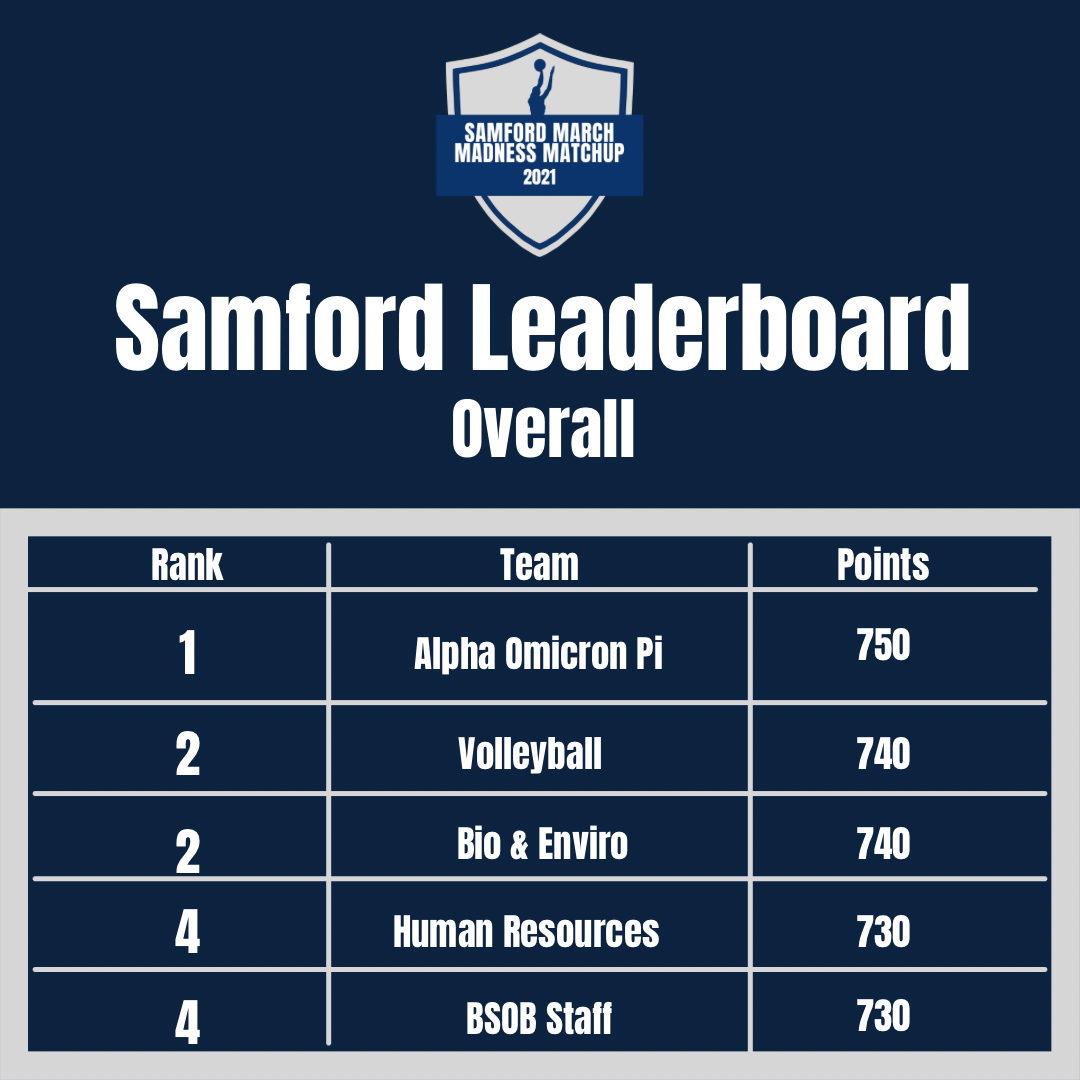 The leaderboard comparing President Westmoreland and President-Elect Taylor's bracket continues to remain tied after the Elite Eight. President-Elect Taylor has selected Baylor to win whereas President Westmoreland has selected Gonzaga. This leaderboard will likely come down to the last game!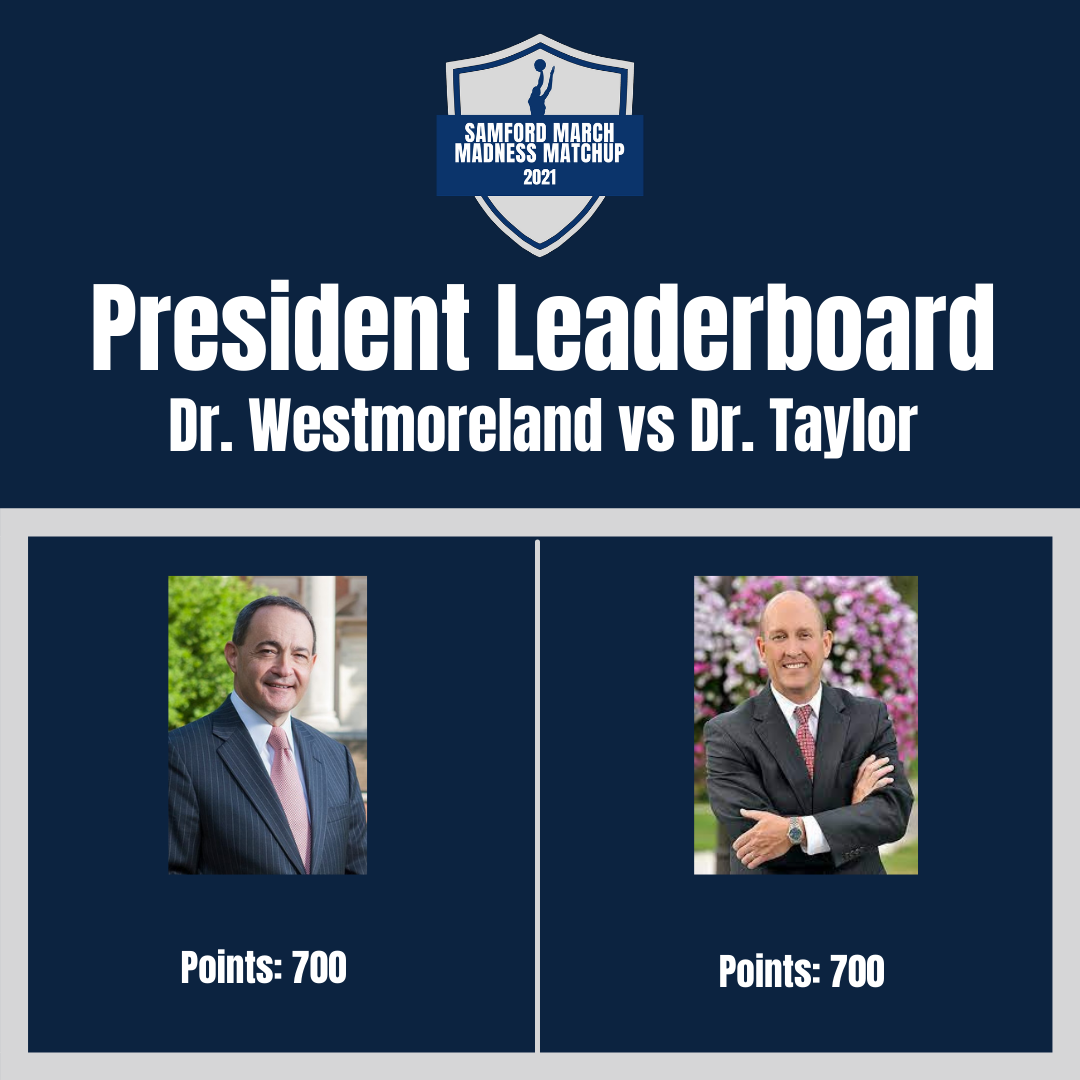 Our Athletic Team Leaderboard continues to remain competitive. The Volleyball team has claimed first on this board and second overall with 740 points. The Men's Track and Field team follows with 730 points. There is a big drop until you reach the third-place team which is the Football team with 670 points. The Baseball team and the Women's Track & Field team are tied for fourth place with 580 points.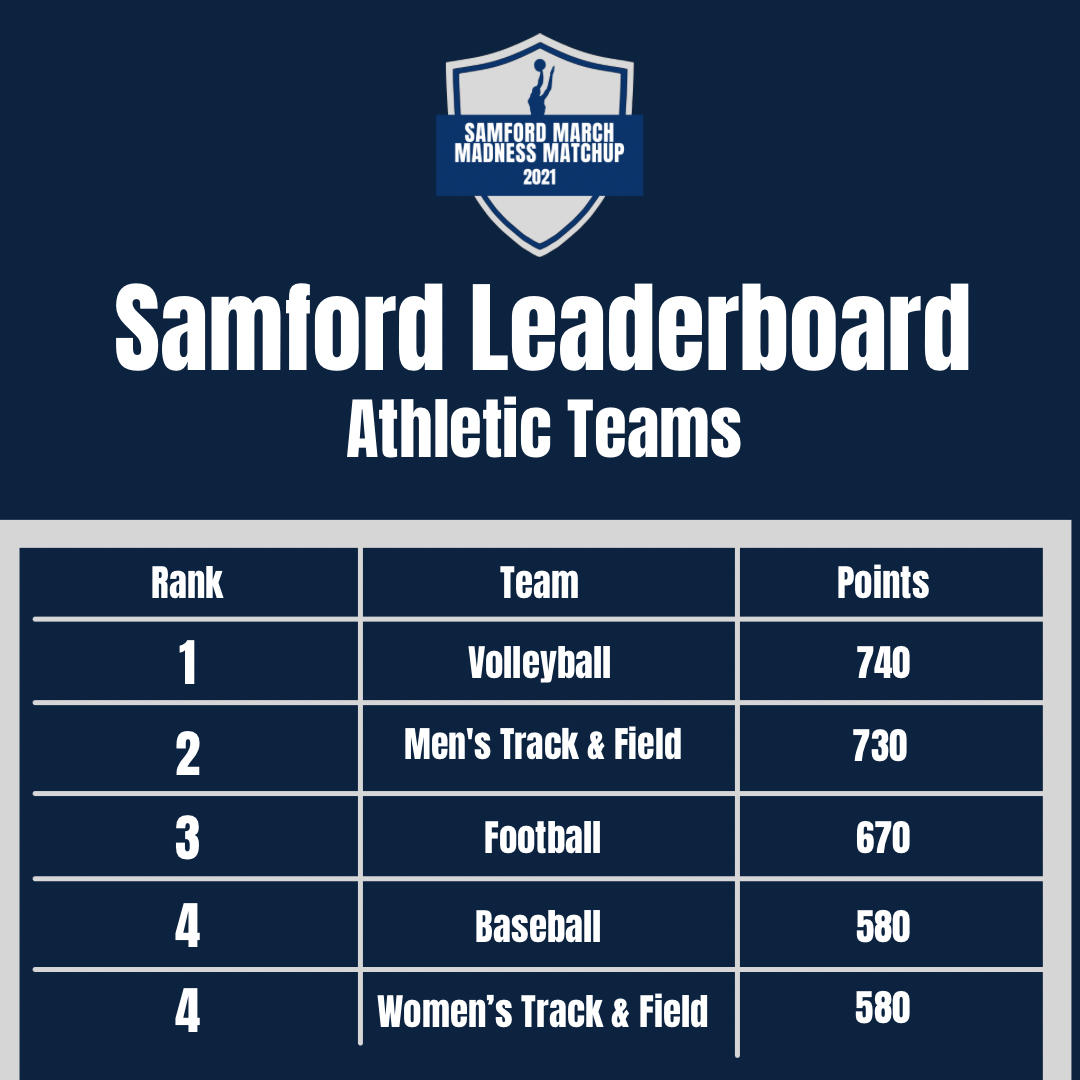 The Department leaderboard is the most competitive sub-leaderboard in the competition. We have heard that several departments called special meetings to pick their brackets. It's clear that Samford's faculty and staff are a competitive bunch! The Biology and Environmental Science Department holds first place overall with 740 points. The Office of Human Resources and the Brock School of Business staff are still tied but fighting for second place with 730 points. The Executive Leadership Team and the Sports Marketing Program are currently tied with 700 points for fourth place. This sub-leaderboard is still any department's game.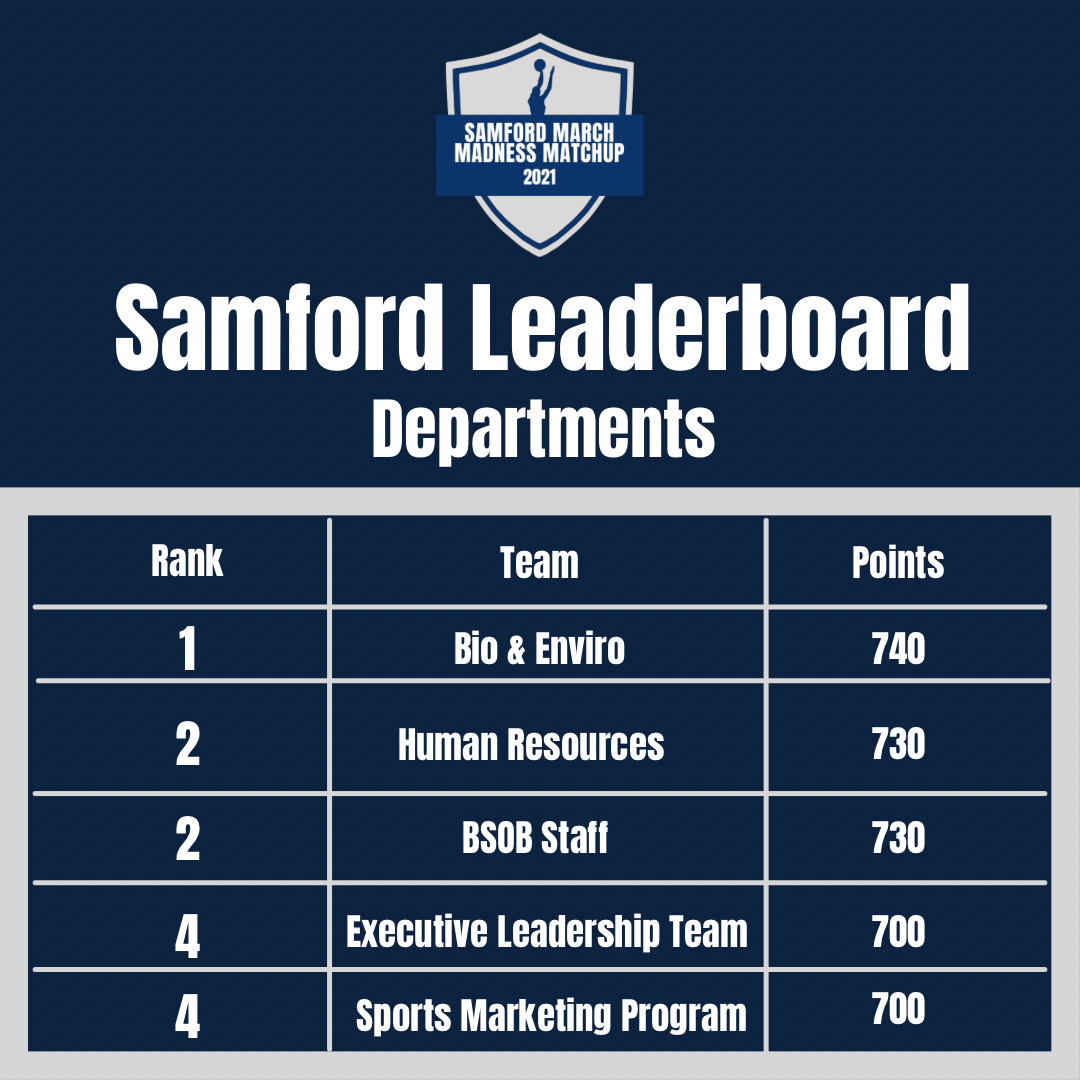 Our next category of groups is our Student Organization Leaderboard. The Student Dietetics Association have joined the board and claimed first with 690 points. The Micah Fellows and Professional Sales group are now tied for second with 680 points. Dudes A Plenty remains on the leaderboard and remains tied with the Student Executive Board for fourth place with 640 points. Our Student Organizations Leaderboard is not as competitive as other sub-leaderboards. This leaderboard's first place team is ranked fourteenth overall.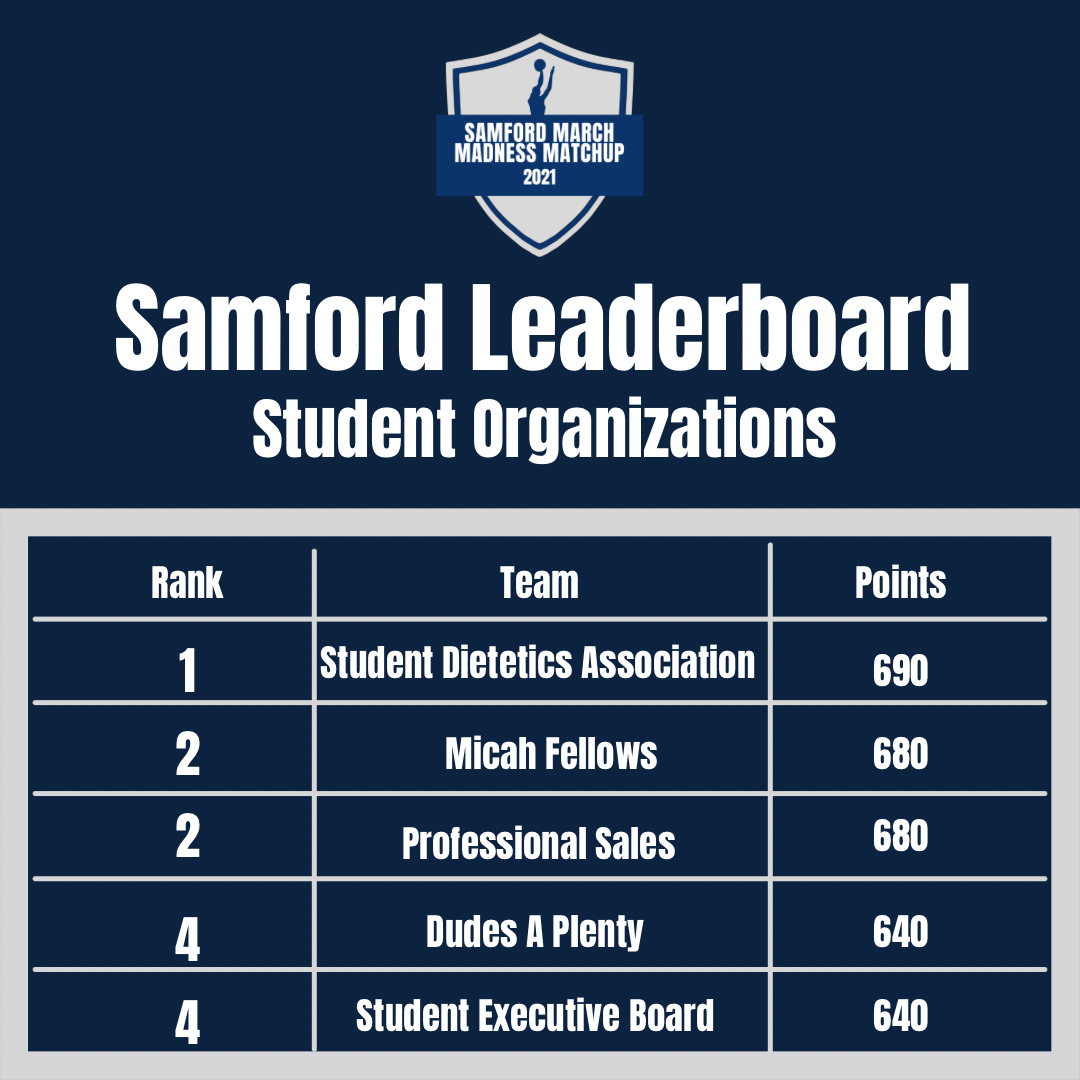 The last sub-leaderboard is the Greek Life Leaderboard. Alpha Omicron Pi has been on top of this board the last few rounds and currently remains first with 750 points. The second-place team with 700 points is Tri Delta. However, Tri Delta has selected Illinois to win overall which limits their chance of catching Alpha Omicron Pi. Lambda Chi Alpha holds third place with 690 points, but has Baylor winning the National Championship. If Baylor does win, Lambda Chi Alpha could take over this board. Phi Mu holds fourth place with 650 points and Zeta Tau Alpha holds fifth with 640 points. Phi Mu and Zeta Tau Alpha both have selected Gonzaga to win overall leaving them no chance to win this sub-leaderboard over Alpha Omicron Pi.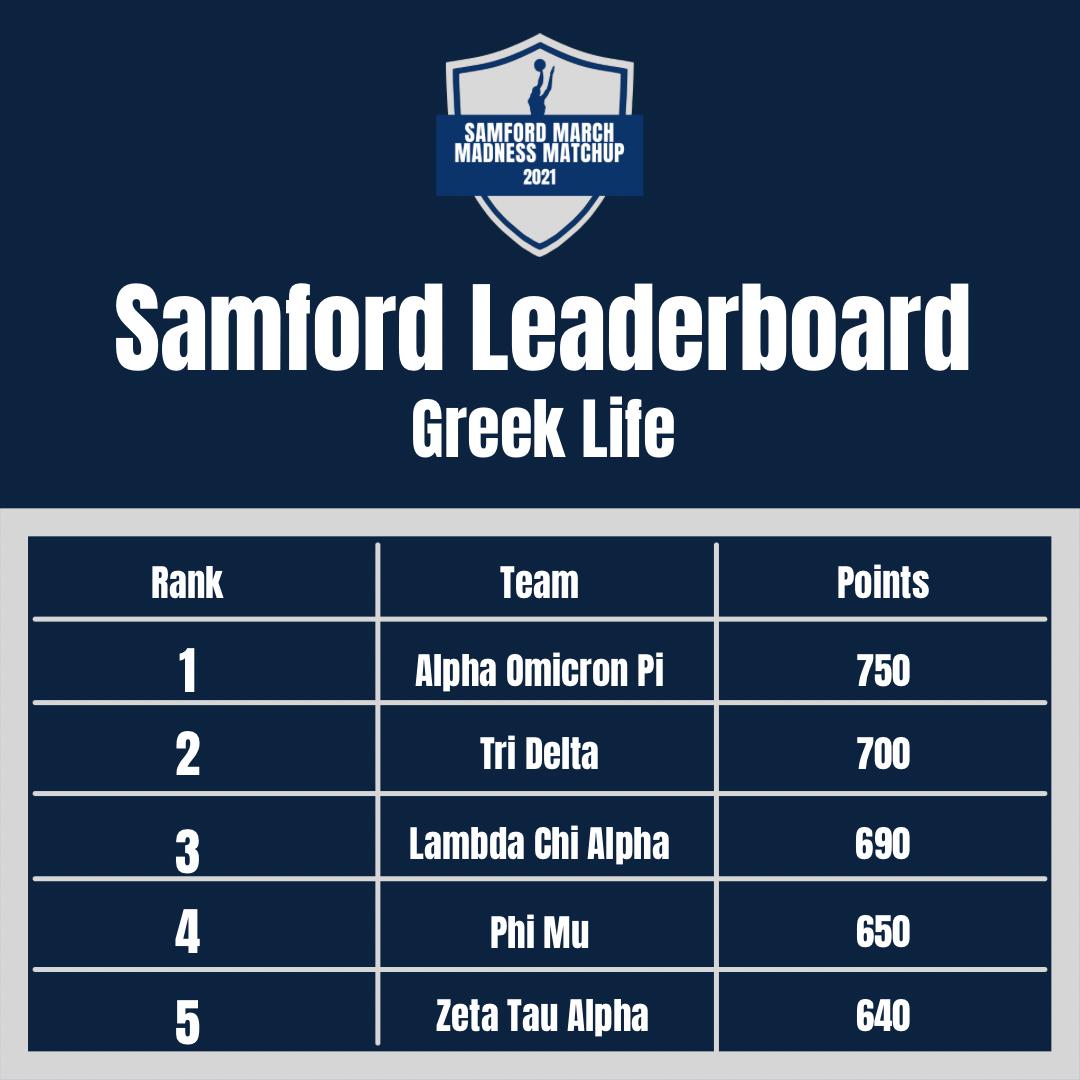 Our March Madness Matchup competition's best bracket is ranked in the 96th percentile for all brackets filled out on the ESPN website. The National Championship could still go many ways with the Final Four teams left. The Final Four Games will be played this Saturday night followed by the National Championship on Monday night. Be sure to follow the @samfordsacenter accounts on Twitter and Instagram for updates, analytical theories, and more.