Published on August 15, 2021 by Noah Haworth  
Liverpool F.C. is one of the most successful European football teams in history has won a total of 6 European Cup trophies. As well as winning the English top-division league title 19 times. Liverpool's success on the field has not gone unnoticed. They have grown a fanbase of over 17 million followers on Twitter. Liverpool's followers span worldwide and only continue to grow in numbers.
England overall has the most Twitter followers for Liverpool but doesn't lead by a super large margin of followers.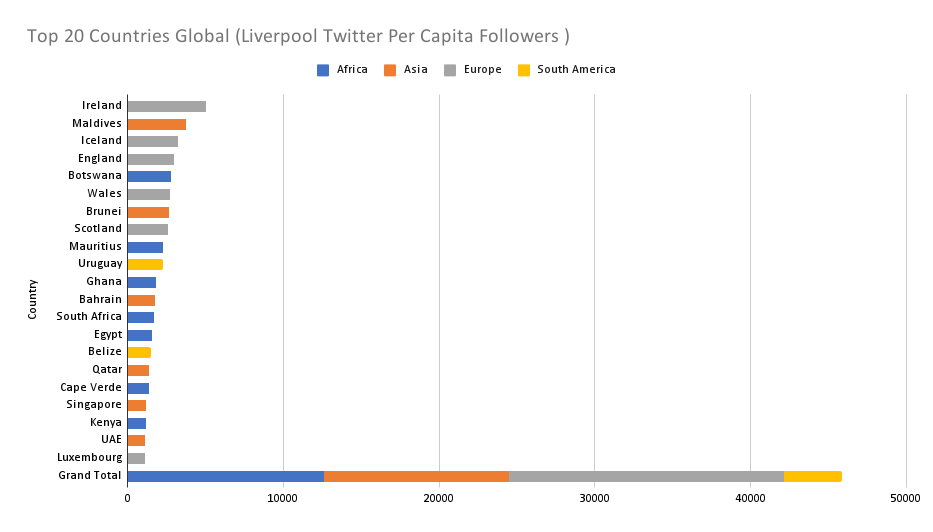 This graph displays a prorated follower count based on the roughly 4 million followers collected from Affinio, made proportional to Liverpool FC's current Twitter follower count of 17,286,087.
England has a total of 1,988,757 total followers and claims the top number of followers likely due it's the vicinity of Liverpool football.
Egypt has the second most followers in the world likely due to Liverpool star, Mohamed Salah
Egypt surprisingly has the second most with 1,559,450 followers despite not being the closest to Liverpool football.
The reason for Egypt having the second most followers in the world is likely due to one of Liverpool's star players, Mohamed Salah. Without this connection of an Egyptian player for Liverpool, the amount of Liverpool followers in Egypt would likely drastically decrease. This case also shows the impact of having players from different places on the globe and how that can grow your fans and audience.
Africa nearly doubles Europe in followers
Interestingly Europe only has 2 countries in the top 20 total followers (England at 1 and Ireland at 13). Compared to Africa who has a total of 7 countries in the top 20 total followers (Egypt at 2, Nigeria at 3, South Africa at 4, Ghana at 8, Morocco at 9, Tanzania at 16, and Uganda at 17). This is likely due to the larger population of Africa, which sits at 1.216 billion compared to Europe at 746.4 million.
Africa almost nearly doubles Europe in population. Liverpool has featured many African players over the years, which has helped grow in audience and Europe and create the audience it has today in Africa.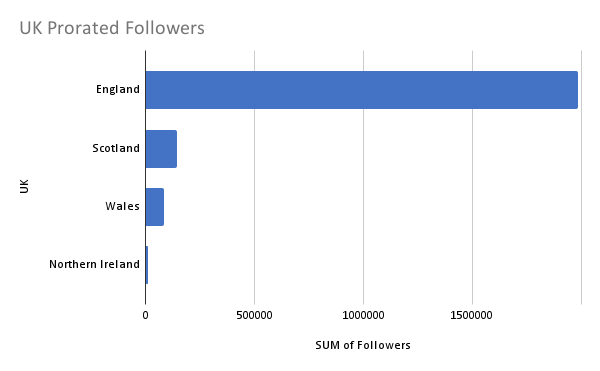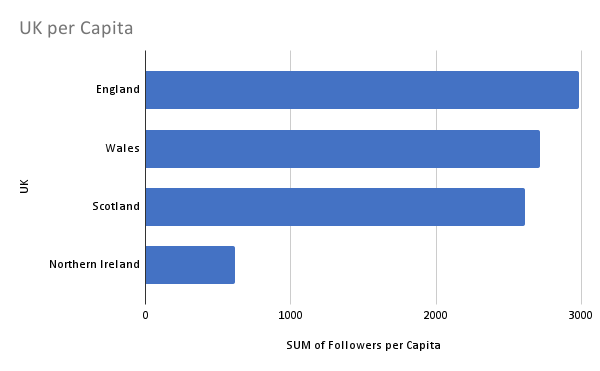 In the UK England leads by a large margin of followers with 1,986,149 total followers.
Other countries in the UK have just as many fans per capita than England
The second closest in the UK with total followers is Scotland with only 142,474 total followers in comparison. Liverpool is located in England is likely the biggest reason why they have a way the larger number of followers than any other UK country. Interestingly however when looking at followers per capita in the UK the gap isn't as large. While England still leads with the most followers per capita at 2,890 followers per 100,000 people in England.
Wales follows closely behind at 2,713 followers per 100,000 people in Wales.
This shows that despite England clearly having the most followers, other countries have just as many followers for a smaller population. If these populations of other countries in the UK grew to England's size they would likely have a similar number of total followers.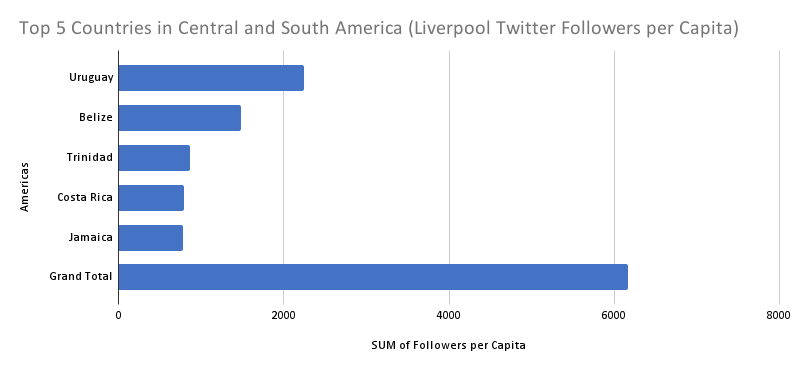 Uruguay leads with the most followers per capita in Central and South America with 2,243 total followers per 100,000 people in Uruguay.
Uruguay's own Liverpool team is the reason for their large amount of actual Liverpool fans
The reason for this is Uruguay has its own football team also called Liverpool. The team took their name from the Liverpool team based in England because there were many cultural similarities between the two regions. Fans of Uruguay's' Liverpool are likely to also follow England's Liverpool giving them the most Followers in Central and South America.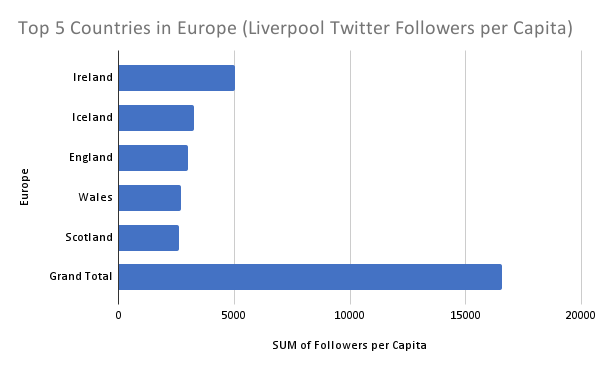 Ireland surprisingly leads Europe in the top number of followers per Capita with a total of 5,016 followers per 100k people in Ireland.
Ireland's Liverpool ties and Liverpool players are the reason for their large amount of fans
There are a few different reasons that could explain Ireland holding the most followers per capita in Europe. The first is the origins of Liverpool. Many Irish people immigrated to Liverpool during the Industrial Age and formed a large Irish community-based in Liverpool.
Also, over the years of Liverpool football, Irish players have helped Liverpool in their success through their existence as a club. Players like Steve Heighway, Mark Lawrenson, Ronnie Whelan, and Michael Robinson were all Liverpool players of Irish heritage who were instrumental in Liverpool's success to name a few.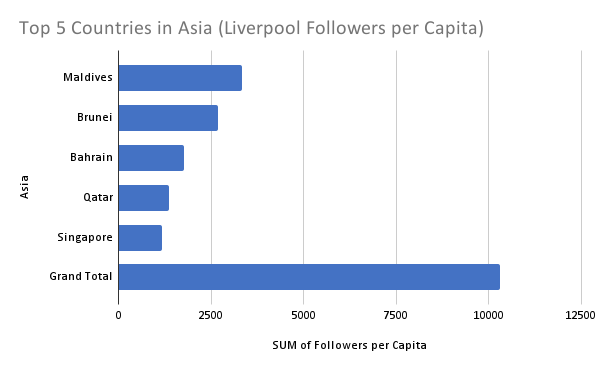 The Maldives leads Asia with a total of 3,323 followers per 100k thousand people who live in the Maldives.
President as well as popularity of Football is the reason for many fans in the Maldives
While The Maldives population may not be huge with a total population of around 530,000 people, a large amount of that population are fans of Liverpool football. Countries around The Maldives are fans of Cricket and other sports, but the Maldives differs with its extreme interest in the Premier League. The former president of The Maldives, Maumoon Abdul Gayoom, was a huge fan of Liverpool and help foster the love of Liverpool football in The Maldives to what it is today. As the population of the Maldives increases in years to come there will also be a large growth in Liverpool fans there, because of their loyal commitment to Liverpool football as seen by the Per Capita chart of followers.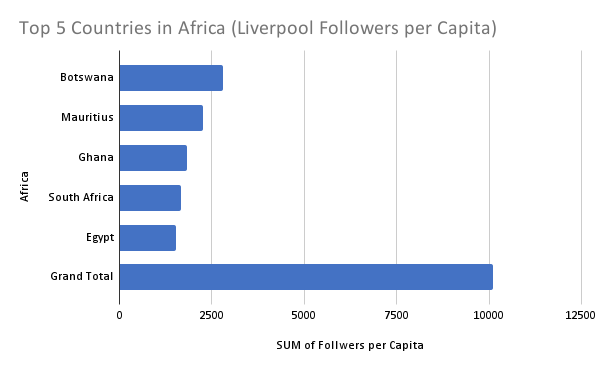 Botswana leads Africa with a total of 2,805 per 100k people in Botswana.
Chartered Bank is the reason for many fans in Botswana
The reason for Botswana having this big of a fan base is because of Liverpool's main partnership, which is Standard Chartered Bank. Standard Chartered Bank has a heavy market in Africa, Asia, and the Middle East. The country where the bank has had the most success for advertising Liverpool football is Botswana. Chartered Bank has built a heavy Liverpool Football fan base in Botswana and has made opportunities like their "Bank More Score More Plan" to help get their customer who is interested in Liverpool rewards related to the team like tickets. Connections like these even though they don't seem large can actually lead to a large growth in Liverpool's overall fanbase worldwide.
Liverpool's followers will continue to grow
Liverpool's popularity worldwide is already massive and will likely continue to grow over the years with growing populations and recognition and interest in the sport of football. Through looking at per-capita statistics for charts like the one for the UK one can see that other countries have just as much interest in Liverpool football, but lack the population that larger countries have with more followers. So as populations continue to grow so will the followers in these areas, because the interest in the sport is in these areas.