Published on May 4, 2021 by Braden Murray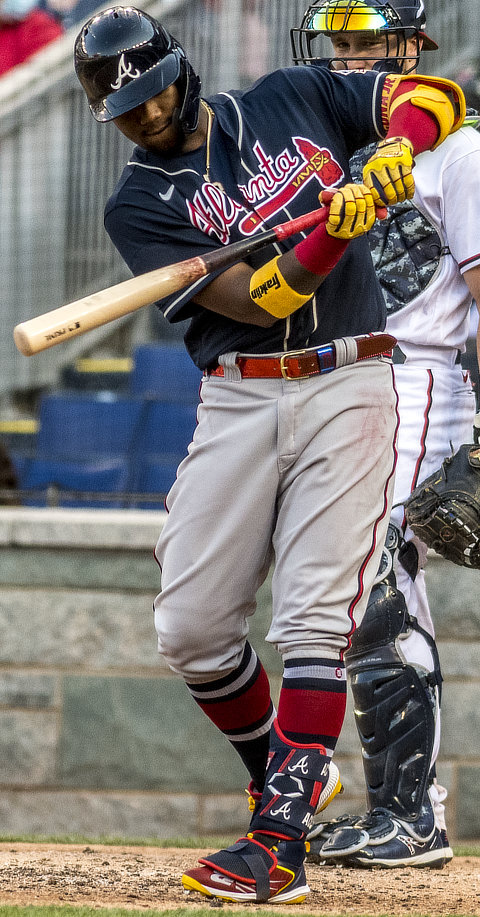 Baseball season finally kicked off on April 1, 2021 and it's had an exciting start. There are new, young players coming into the limelight and dominating, securing the future of baseball. The superstars of the last few seasons are continuing their hot streaks from 2020 making highlight plays and putting up monstrous numbers thus far. If you have kept up with Major League Baseball at all on social media lately, you've probably seen dozens of Ronald Acuña Jr. highlights. He has had the hottest start to the 2021 season and here are the numbers he's been putting up from his very first game until now.


Ronald Acuña Jr.'s 2019 season has been his best complete year thus far. In 2019, he ranked first in stolen bases with 37, third in runs scored with 127, and seventh in home runs with 41. He managed to break the 100 RBI mark, which only 16.29% of qualified batters were able to do. He had his most plate appearances in a single season in 2019 due to being called up halfway through the 2018 season and a shortened 2020 season because of COVID-19. His 2018 batting average, slugging percentage, and OPS were all higher in 2018 due to not playing a complete season and coming in late.

Ronald Acuña Jr. has always done exceptionally well hitting the baseball, as evident in the data above. Acuña's batting average over his young career is .285 and is currently in the 100th percentile after averaging in the 73rd percentile the previous three seasons. His on base percentage has increased 11.2% from 2019-2020 and 11.8% from 2020-2021, always staying above the 90th percentile. It is very rare that one of the fastest players in the league is also one of the hardest hitting players. As a rookie center fielder, Acuña's exit velocity was in the top 7% of all hitters and averages in the 90th percentile over his career. His speed has always been a huge factor of his game, currently in the 97th percentile. His slugging percentage has always been in the top 5% of the league, never dipping below the 95th percentile. Not only does Ronald Acuña Jr. get a lot of hits, he hits the ball as hard if not harder than anyone while also proving to be one of the fastest players in today's game. He is a true five-tool player.
Acuña has always had trouble with strikeouts until now. From 2018-2020. Acuña struck out in 27.1% of his at-bats, ranging from the 14th to 20th percentile. He has made major changes to his approach in 2021 thus far because he is striking out in 13.9% of his at-bats, which is a 48.7% decrease in strikeouts.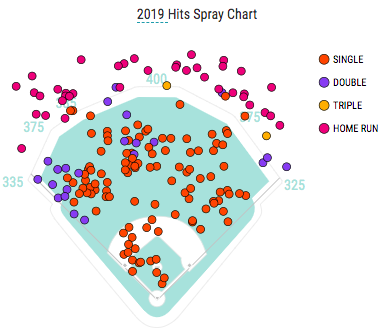 With the skill and power that Acuña has, there is no surprise he pulls the baseball a majority of the time. In 2019, he pulled the ball roughly 38% of the time. He hit it up the middle 34% and hit opposite field 29% as well. 38% of Acuña's home runs were to the left side and 50% of his doubles were pulled as well. He is skilled enough to hit the ball anywhere in the ballpark, but slightly leans towards pulling it to left field each time he makes contact due to his eager and powerful swing.
Overall, Ronald Acuña Jr. has done nothing but get better since his entrance into Major League Baseball. When factoring out the 2020 shortened season with only 60 games played for each team, most of his statistics have been improving. His batting average, slugging percentage, OPS, home run rate, stolen bases, exit velocity, on base percentage, and much more have been increasing. His swing and miss rate as well as his strikeout percentage have decreased greatly. He has proven he can hit the ball hard and anywhere in the park. If Ronald Acuña Jr. can keep this pace of improvement, he is guaranteed to win the National League's Most Valuable Player in 2021, make multiple All Star Games appearances, and potentially become a Hall of Famer.
Source
Ronald Acuña Jr. Statcast, Visuals & Advanced Metrics: MLB.com. (n.d.). Retrieved from  https://baseballsavant.mlb.com/savant-player/ronald-acuna-jr-660670
About the Author
Braden Murray is from Acworth, Georgia and is currently studying Marketing and Finance with a Concentration in Sports Marketing at Samford University. He plans to work in sports marketing upon graduation. Braden is a huge sports fan. His favorite teams include the Atlanta Braves, Oklahoma Sooners, and San Antonio Spurs.