Published on February 16, 2021 by Marshal Smith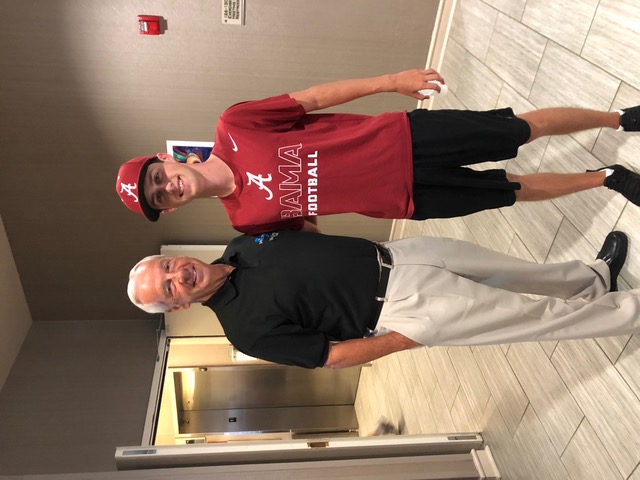 With future Hall of Fame coaches Bill Self, Roy Williams, Coach K and John Calipari; players such as Joel Embiid, Tyler Hansborough, Jayson Tatum and Anthony Davis - these four teams have had major success in recent years. But could this be the beginning of the end of the Blue Bloods?
Since the turn of the century, Kansas, North Carolina, Duke and Kentucky have combined for 8 National Championships, 19 Final Fours, and a staggering 32 of the 80 #1 seed bids given in the NCAA Tournament. But with a combined record of 41-35 so far this year, the Blue Bloods are having rocky seasons compared to years past.
What's Going Wrong?

3-Point Shift
With bigger men of years past like Marcus Morris, Harrison Barnes, Jabari Parker and DeMarcus Cousins - the Blue Bloods counted on many of their points coming from inside the arc. However, this style of play is on its way out and the era of the 3 ball is here. Looking at the statistics, 3-point field goal attempts have risen steadily over the years. Compared to Duke's 2015 National Championship team, this year's Blue Devils are attempting over 4 more 3's per game. Roy Williams' team down Tobacco Road are taking almost 5 and a half more long balls per game than his 2009 championship team did.
Florida International, who leads Division-I schools, attempt on average 31 long balls per game. This is almost 15 more 3 point attempts per game than Kansas and 13 more than Kentucky. The ACC Blue Bloods (Duke & UNC) seem to be adapting better, as they are averaging 22 and 23 attempts per game, respectively - although still none of the four teams are in the Top 40 nationally in total 3-point field goals attempted.
Another example of the 3-point gap between the Blue Bloods and others pushing for the long ball after looking at analytics is the University of Alabama, coached by the forward-thinking Nate Oats. The Tide has attempted 282 more 3-pointers than North Carolina and 313 more 3's than Kentucky by only playing 3 more games. The Kansas Jayhawks have played the same amount of games as Alabama and have attempted a whopping 336 less shots from beyond the arc.
One and Dones
Another factor in the decline of the Blue Bloods is the increase of one-and-done players. Current NBA players like John Wall, Zion Williamson, Andrew Wiggins and Coby White were all members of the one-and-done club. This is nothing new in the college basketball world (and some teams have made it work for them);  but it has become more prevalent in recent years due to the desire to get to the NBA as quickly as possible.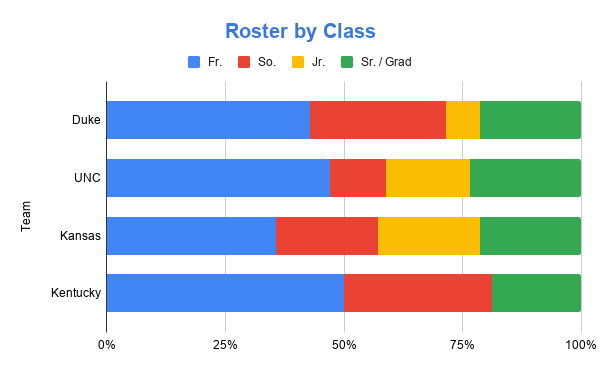 As this chart shows - the four teams' rosters are comprised of an average of 67.2% undergrads for the spots given. Freshman account for 43.9% of the four rosters, with half of the Kentucky Wildcats being the new kids on campus. This a major sticking point for the teams, as very experienced players are far and few between. The lack of Senior leaders in the locker room and the fact that the players are not used to playing together is a major reason other teams have outperformed the Blue Bloods this year.
Duke - 8-8 (6-6 ACC)
Coach K's Blue Devils are having a rough season in Durham. Opponents are averaging over 72 points per game, which ranks Duke 223rd in Division-I scoring defense. This Blue Devils team just may be having a down year due to the irregularity of the season and not being able to have fans at Cameron Indoor, but Coach K will need to tighten the reins to finish out the season if he wants to not miss the tournament for the first time since 1995.
Easiest Way In? - Win the ACC Tournament
The Blue Devils easiest path in is by making a Cinderella run in the ACC Tourney to become an automatic qualifier. They could also possibly squeak in if they win out to finish the regular season and perform well in the Conference Tournament.
Likelihood of Dancing? - Unlikely
With teams like Florida State and the University of Virginia standing in their way of an ACC Tournament win, the Blue Devils chances of going dancing are slim as it stands.
UNC - 12-7 (7-5 ACC)
Roy Williams (arguably the nicest coach in College Basketball - no bias here) and his Tar Heels have had a rough couple seasons in Chapel Hill as the team has gone .500 since being eliminated by Auburn in the 2019 Sweet Sixteen. UNC's main problem is they rank 287th nationally in 3-point field goal percentage and 323rd in 3's made per game and a mere 5.2 average.
Easiest Way In? Win 2 of Their Last 3 Home Games.
With two more games against Top 25 teams (Virginia Tech & Florida State) and a matchup with a tough Louisville squad at home, the Tar Heels would likely be in if they could win two of the last three they play in Chapel Hill.
Likelihood of Dancing? - A toss up.
The Tar Heels have been inconsistent all year and don't have a single win against a Top 25 squad, but going 7-3 since the New Year has put the Heels back in contention. If they can perform well to end the regular season or make a deep run in the ACC Tournament, the Heels should get to dance this year in Indianapolis.
Kentucky 6-13 (5-7 SEC)
By far the worst Kentucky season in recent history, Big Blue Nation is not happy with how the Cats have been playing. A lack of cohesiveness due to half of the team being freshman, plus selfishness in certain players has plagued the team all year. The Cats rank next to last in the SEC and 234th nationally in points per game.
Easiest (& Only) Way In? - Win the SEC Tournament
            Running the table at the SEC Tournament in Nashville next month is the Wildcats only way in. Even if Big Blue wins out and plays well in Music City, they would still be below .500 vying for a bid, something the NCAA could not justify - even given their historical success.
Likelihood of Dancing? - More likely for Nick Saban to lose to the same team twice in a row.
The Big Dance won't be the same without BBN (given that they don't pull off another Music City miracle), but hopefully they can get it together this offseason and be back better than ever. Coach Cal has his work cut out for him, however. As it stands, Kentucky has its worst recruiting class since 2007 (albeit still in the top 5 nationally).
Kansas - 15-7 (9-5 Big 12)
Rock Chalk Jayhawk is by far this season's best Blue Blood with 5 Top 25 wins (the only Top 25 wins across all four teams), plus quality losses against out-of-conference teams like Tennessee and Gonzaga. This team is not bad, but is definitely not up to the KU standard. The Jayhawks defense is their strong point with the team holding their opponents under 62 points in 8 of their 15 wins. One place where Bill Self's team needs to improve to catch up to the competition though is in 3-pointers attempted - sitting at 16.8 per game - as noted earlier.
Easiest Way In? - Win 1 of Their Last 3.
Kansas has 3 top 15 matchups to close the regular season and if they can pull out a win in any of these, they likely are a lock. Another way the Jayhawks could get in would be to win a couple games in the Big 12 Tournament.
Likelihood of Dancing? - Very Likely.
Currently in third place in a league with 5 top 15 teams, Kansas is sitting pretty to draw a bid for this year's NCAA Tournament. But if the Jayhawks lose their last 4 games and make an early exit in the Big 12 tournament, they may be biting their nails on selection Sunday.
The Blue Bloods of years past all still have chances to make this year's NCAA Tournament, but the likelihood of Duke or Kentucky to make it to Indianapolis is very slim. North Carolina controls their own destiny, and unless Kansas completely tanks to finish the season, they should be invited to the big dance.
All four of these teams must continue to evolve in an ever-changing college basketball landscape if they want to continue the great success of years past and remain one of college basketball's iconic Blue Bloods.
Sources
https://247sports.com/Season/2021-Basketball/CompositeTeamRankings/
https://goheels.com/sports/mens-basketball/roster
https://kuathletics.com/sports/mbball/roster/
https://ukathletics.com/sports/mens-basketball/roster
https://goduke.com/sports/mens-basketball/roster
https://www.sports-reference.com/cbb/
https://www.secsports.com/statistics/mens-basketball/team/scoring-per-game
http://clipart-library.com/search2/?q=college%20basketball#gsc.tab=1&gsc.q=college%20basketball&gsc.page=1
https://www.ncaa.com/stats/basketball-men/d1/current/team/625
About the Author
Marshal Smith is a Senior Entrepreneurship and Sports Marketing student here at Samford University. He plans to pursue a career in the sports industry, with the ultimate goal of owning the Nashville Predators. Here is a link to his LinkedIn profile: www.linkedin.com/in/marshalwsmith