Published on December 20, 2022 by Zach Chandler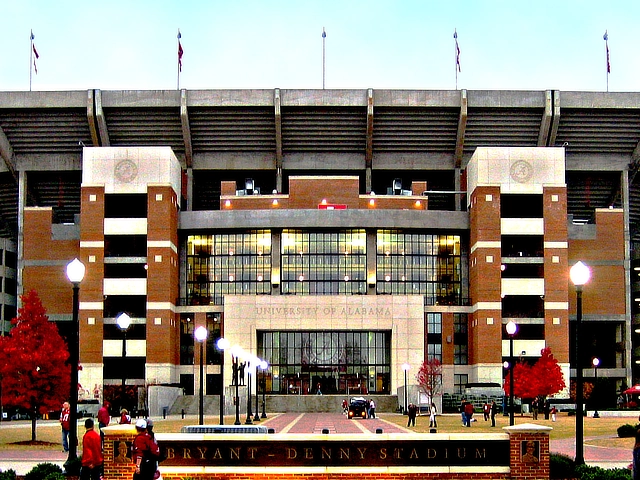 Once upon a time, a college football game was played in College Station, Texas, between the Texas A&M Aggies and the Alabama Crimson Tide. It was a pleasant fall afternoon, with temperatures in the mid-70s, a perfect day to watch two top-10 teams go head to head. With the game already in hand, defensive back Minkah Fitzpatrick picked off yet another one of Kyle Allen's passes and scooted down the sidelines for the team's third interception returned for a touchdown that day. Moments like this were mere fairytales for the Crimson Tide in 2022. The team managed a lowly five interceptions during the regular season, tied with the likes of UTEP at 123rd in the nation. The puzzling 10-2 season has left many wondering what happened to the days of opportunistic defense, grit, and the "killer" instinct. This isn't solely a question of 2022 but of multiple preceding seasons where the defensive effort has been, at times, tumultuous. So, where did the slipping begin? 
The Whole Story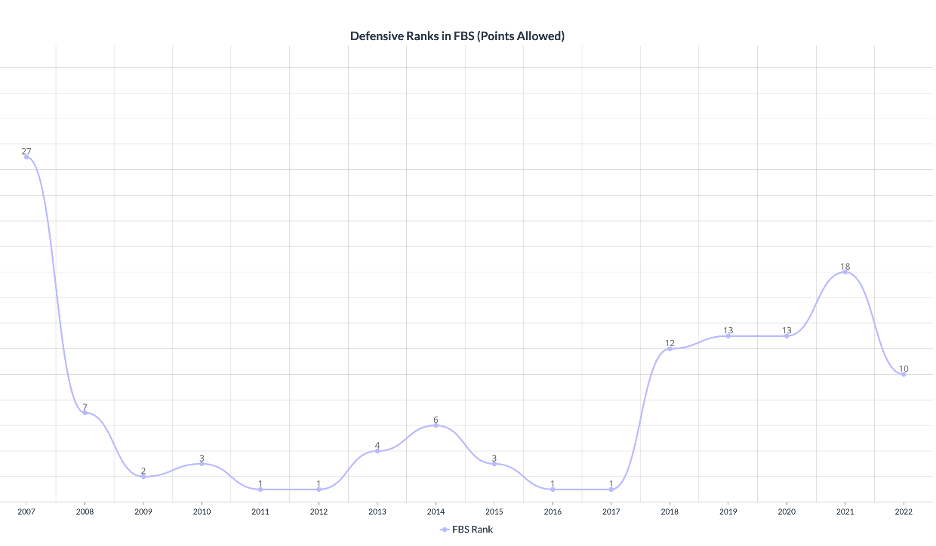 Via SRCFB (Sports-reference.com)
It's best to start where this all began: 2007. The arrival of Nick Saban on the campus of Alabama was meant to be the turning point in an otherwise turbulent era of the football program. 
The Beginning: Kirby's Ascension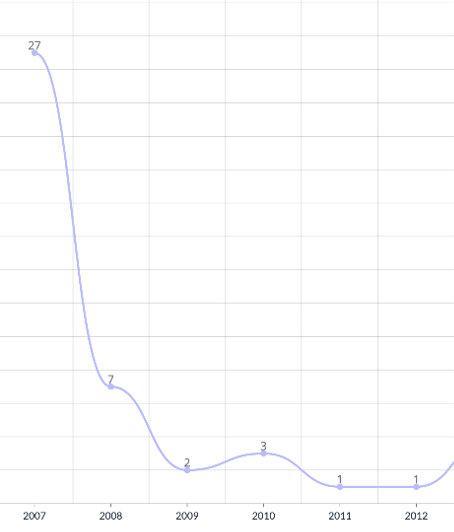 Via SRCFB (Sports-reference.com)
For only his first season, Kevin Steele was the first defensive coordinator under Nick Saban at Alabama. The defense was shaky and struggled to limit good offenses from reaching the endzone. The team finished 7-6 but was ready to take the next big step under incoming defensive coordinator Kirby Smart. Smart immediately altered the defensive culture, leading Alabama to rank near or at the top of the leaderboards for points per game allowed between 2008 and 2012. During that span, the Crimson Tide brought home three national championship trophies. 
"The Dynasty is Over"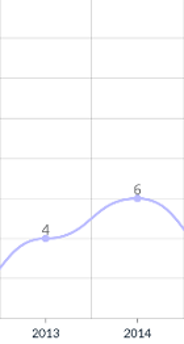 Via SRCFB (Sports-reference.com)
After defeating Notre Dame in the 2012 BCS Championship, Alabama entered 2013 with a chance to win three national championships in a row. An 11-0 start to the year had fans optimistic, but then came Gus Malzahn and the infamous "Kick Six." Malzahn was in his first season as head coach for the Auburn Tigers and had them sitting at #4 in the country at the time of the Iron Bowl. His offensive philosophy was cutting-edge, flashy, and essentially unstoppable. The Tigers would hang 34 points on the Tide, leaving them out of the SEC Championship and placing them into the Sugar Bowl against Oklahoma. An uninspired performance saw Alabama give up 45 to another high-octane offense led by Bob Stoops and Trevor Knight. An 0-2 finish to the season had the naysayers foaming at the mouth. Now enter the 2014 season. The Tide dropped an early game to the 11th-ranked Ole Miss Rebels, a team led by another up-and-coming offensive guru, Hugh Freeze. However, Tide would recover and found themselves back at #1 for an Iron Bowl rematch. In one of the wildest games between the two rivals, the Tide pull away late for a 55-44 victory. The defense had once again faltered to Malzahn's attack, giving up a whopping 630 yards of offense in the contest. Soon after, Alabama would be pitted against the #4 ranked Ohio State Buckeyes in the first-ever College Football Playoff. And once again, the defense fell apart against another high-flying offense. A losing score of 42-35 had many people claiming that the dynasty Nick Saban had built was dead. 
The Recovery: Pruitt Shines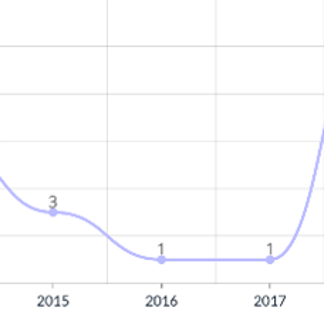 Via SRCFB (Sports-reference.com)
Looking to rebound from another season without a national championship, the Tide entered the 2015 slate with high hopes surrounding an improved defense and the emergence of future Heisman winner Derrick Henry. After opening the year on a high note, the Tide faltered again to Hugh Freeze's Rebels in a 43-37 shootout in Bryant-Denny Stadium. With more and more fingers pointed at the defense's incompetence, football fans began to question the program's future. However, Alabama answered the bell and went on a tear to end the season with their first-ever College Football Playoff Championship. The defense showed great adaptation to the new age of the college football offense and went into 2016 with a chance to repeat, just not with Kirby Smart. Smart took a job with his alma mater Georgia as the head coach, and Jeremy Pruitt would be appointed to run the defense for the 2016 and 2017 seasons. Both years saw immediate success under Pruitt's control, with the defense finishing 1st in points per game allowed in both years. After the Tide took home their next College Football Playoff Championship in 2017, Pruitt would also leave to pursue a head coaching position in the SEC, eventually landing at Tennessee. Unbeknownst at the time, this would be the true beginning of Alabama's defensive struggles. 
The Standard Slips: Lupoi to Golding
Via SRCFB (Sports-reference.com)
In 2018, new operators of the defense were announced to be Pete Golding and Tosh Lupoi. While unproven, there was still an abundance of talent on the defensive roster. It would be quite difficult for the coordinators to squander what could be an elite defense. The struggles on defense in 2018 were largely overlooked due to the humming offense led by Tua Tagovailoa and a select group of future 1st round wide receivers. The team was 14-0 going to the national title game against Clemson but was dominated 44-16. It was a blowout like nothing anyone had seen Alabama suffer in years. Tosh Lupoi was out after one season at the helm, leaving the full position of defensive coordinator to be taken over by Pete Golding. Before being handed the reigns to the defense on college football's juggernaut, Golding had only had coaching experience at Tusculum, Delta State, Southeastern Louisiana, Southern Miss, and most recently, UTSA. While it seemed like he was in over his head, Saban clearly had enough trust in him to run his defense. The 2019 season saw an explosion of points on the wrong side of the ball, especially against ranked teams.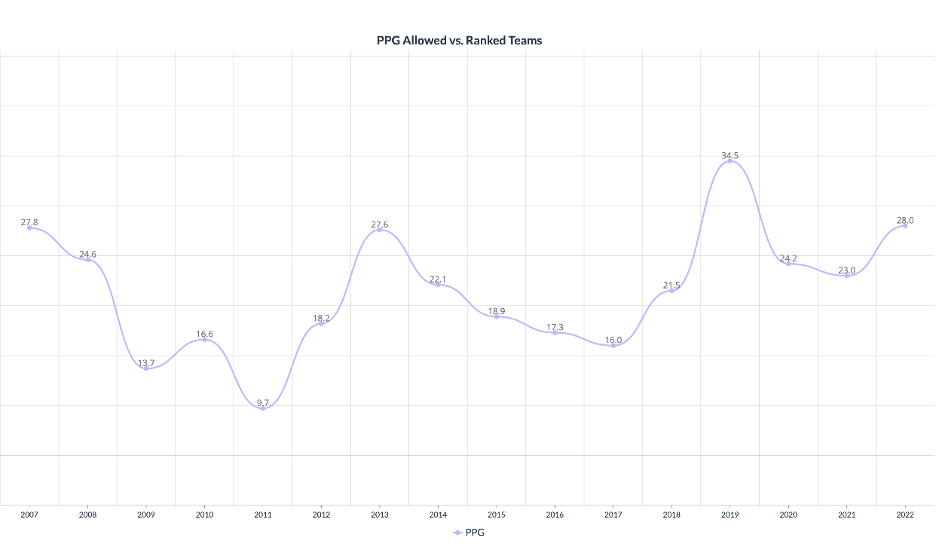 Via SRCFB (Sports-reference.com)
34.5 points per game allowed to the ranked competition Alabama had played that season was above and beyond the most a Saban-coached team had allowed during his time at the Capstone. And while it would improve over the following season, nothing has been the same under Golding's watch. In 2020, one of the best offenses in college football history, led by Mac Jones and Devonta Smith, once again masked the defensive issues during a COVID-19-ridden season that saw Alabama win its latest National Title. Golding's defense allowed 48 and 46 points to Ole Miss and Florida but was bailed out by Steve Sarkisian's offense. In 2021, the defense was torched on the ground en route to 29 points allowed at Florida. Weeks later, the Tide gave up 41 on the road in a losing effort to a mediocre Texas A&M squad. Later in the year, Golding's squad would again scrape by with a victory against Arkansas despite giving up 35 points at home. Finally, and perhaps most notably, Golding saw his group give up multiple scores in the 4th quarter of the National Championship game against Georgia, losing 33-18. The fans who had kept their faith in Golding despite his previous shortcomings were likely no longer on his side after the heartbreaking effort in the Championship's final frame. 2022, a year with high expectations, needed to be Golding's best effort. A defense led by arguably the best player in the country in Will Anderson, senior leader Henry To'oto'o, and an experienced defensive back group comprised of Kool-Aid McKinstry, Jordan Battle, DeMarco Hellams, and Brian Branch, seemed like it was primed to be one of Saban's best during his time at Alabama. Well, this sentiment didn't age very well at all. Golding's squad squandered a big lead at Arkansas, allowing them to climb back into the game with 26 points before long runs by Jahmyr Gibbs and backup quarterback Jalen Milroe saved the day in the end. This performance was nothing compared to what was inevitably coming in the proceeding weeks. The game against 6th ranked Tennessee proved to be one of the worst defensive meltdowns, not just in the Saban era, but in the history of Alabama football. The entire day consisted of long throws by Hendon Hooker to Jalin Hyatt, five resulting in touchdowns. The Vols hung 52 points on Golding's squad, the most Alabama has allowed in a game since 1907. In case you're bad at math, that would be 115 years into the past. Two weeks later, Golding made inexcusable mistakes by not adjusting to the legs of LSU quarterback Jaden Daniels as he torched the Tide for a long touchdown run in overtime. The ensuing two-point conversion try saw an out-of-position defense blow the game to the LSU Tigers, the final score being 32-31. The Tide's Playoff hopes were now on life support. While the team did finish the year on a high note, the defense showed another questionable performance in the Iron Bowl. Against a 5-6 Auburn squad with no full-time head coach, Golding's group gave up 27 points and over 300 yards on the ground to a below-average Auburn offense. While Nick Saban does his best to get the fans to see the brighter side of things, a 10-2 regular season coupled with the lofty preseason expectations was a massive disappointment. 
What about Kirby Smart and Georgia? 
It's common to hear various questions regarding the state of college football these days. Is NIL ruining the sport? Why do we have a transfer portal? Should athletes be paid like employees? Is good defense on its way out? To answer that last question, no, it is not. While the game does focus more on up-tempo offense and trying to light up the scoreboard, elite-level defense is still obtainable. For some, the apparent offensive takeover is used as a crutch to make excuses for the   Alabama defenses of years past and present. This justification for inconsistent and rather poor performance isn't viable because it isn't impossible, by any means, to have a defense that can dominate anyone and everyone. Remember Kirby Smart's defense at Alabama in 2011? That group gave up 7.8 points per game to Power 5 teams. That number doesn't even include FCS opponents, which ironically gave that 2011 defense the most issues. That level of defensive prowess is still obtainable in today's football landscape. Infrequent, yes. But not inconceivable. Speaking of Kirby Smart, I think it's safe to say he has accomplished this "rare" feat of defensive dominance at Georgia. Between 2019 and 2022, Smart's defense has ranked 1st in scoring defense three out of four seasons and twice in a row since the beginning of 2021. Many consider his 2021 defensive squad to be the best in college football history, perhaps better than his 2011 group at Alabama. Outside of a 41-point hiccup allowed to Alabama in the SEC Championship Game, Georgia's next highest point total allowed all year was 18 to Alabama in the National Championship Game. Eight of their fifteen games saw them allow single-digit scores to their opponents. I thought stuff like this in 2021-2022 was "impossible?" The question now is why can Alabama not do the same thing? Are they less talented? No, not by any stretch of the word. In fact, Alabama has out-recruited Georgia nearly every season since Smart left in 2016.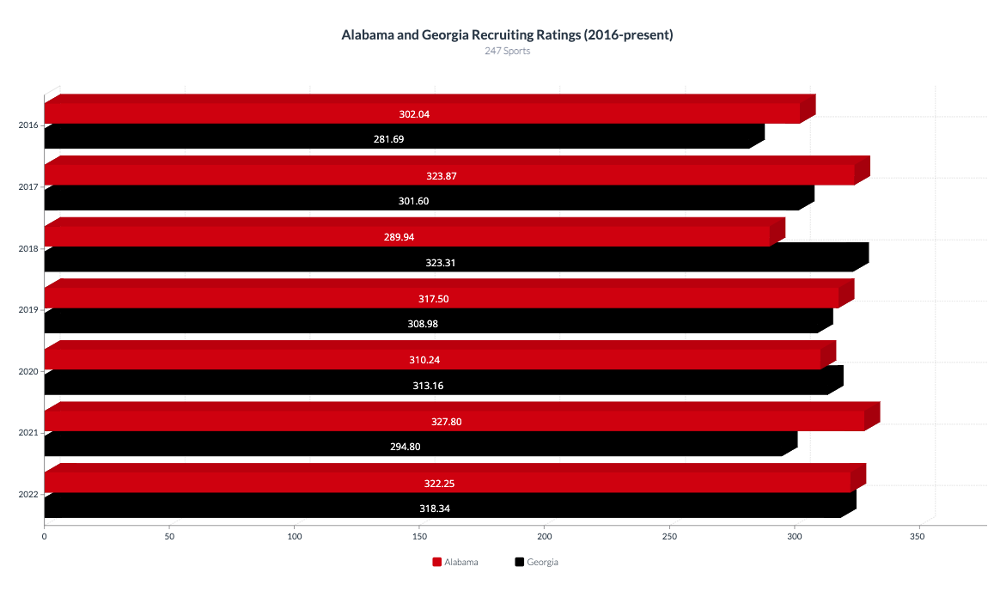 Via 247Sports Class Calculator 
What it comes down to is simple: quality coaching. Alabama has all the four and five stars it can get its hands on. It always has since Saban arrived in Tuscaloosa. The issue that faces Alabama is a lack of quality coaching on the defensive side of the ball. Kirby Smart, Saban's best defensive mind throughout his career, was no spring chicken when he took over the coordinator role in 2008. Smart had stopped at places like Georgia, Florida State, LSU, and even in Miami with the Dolphins. Similarly experienced was Jeremy Pruitt, Saban's defensive mastermind between 2016 and 2017. Pruitt, a former Saban disciple between 2010 and 2012, took the reigns of Florida State's defense in 2013, leading them to a dominant championship run. Pruitt also had a brief stint at Georgia before taking over for Smart at Alabama. But then comes Pete Golding in 2018. Limited experience, no stops at big schools, and nothing much to hang his hat on as far as a premier track record like his predecessors. Yet Saban trusted him with his defense and has stuck with him ever since. 
What's next for Saban and the Crimson Tide?  
For Alabama to reclaim its dominance on defense, it needs to find another man for the job. While Golding has proven himself as an excellent recruiter, there is no question that the defensive performance has slipped dramatically during his time in Tuscaloosa. His statistics are not objectively poor, but that's if you compare them to teams that aren't Alabama. We repeatedly hear about "the process" or "the standard" that Saban wants to implement into his program. The performance by Golding has not met that standard and is a significant reason why the teams of late have been questioned by many. Alabama doesn't judge itself against other teams. That isn't in Saban's philosophy. Alabama judges itself against itself, and because of this, it's evident that a staffing shakeup that brings in proven defensive coaching needs to occur if Alabama wants to keep up with Georgia's dominance in today's era of college football
Sources
College Football Statistics and History. (n.d.). College Football at Sports Reference.com. https://www.sports-reference.com/cfb/
247Sports. (n.d.-a). 2023 Football. https://247sports.com/Season/2023-Football/
Biography
This blog post was written by Zach Chandler. You can learn more about Zach Chandler on his LinkedIn profile.