Published on June 8, 2022 by Ana Beatriz Macedo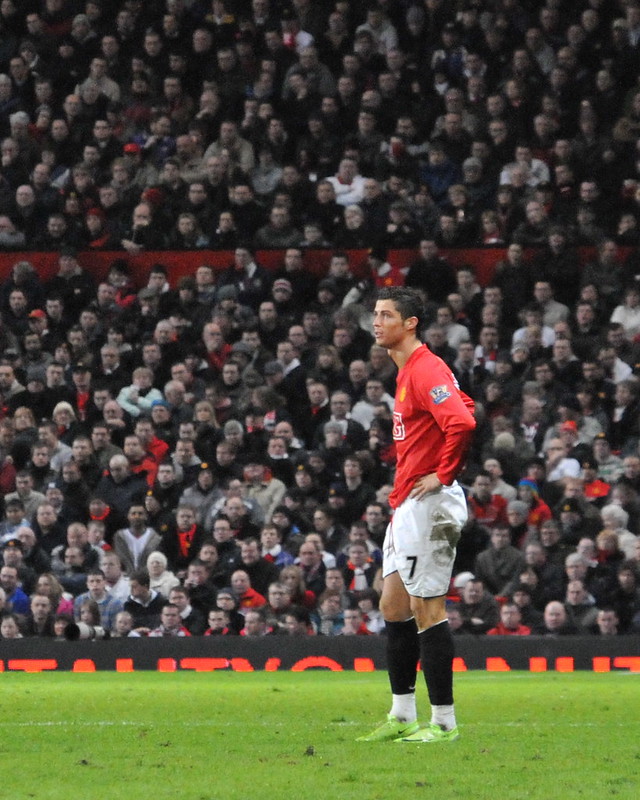 In the 2021-22 Premiere League season, Cristiano Ronaldo decided to leave Juventus and come back to Manchester United after leaving them for Real Madrid back in 2009. How did this affect the team? Positively, negatively or did nothing change at all?
Cristianos's second debut for United was nothing but joy for every Red Devils fan. Seeing one of their idols back and seeing him already score two goals was even better. For the next four weeks, we could say that his return was a great deal for the organization since the team either ranked in the third or fourth position on the table, but things quickly did not turn out how they were supposed to be.
They had some tough losses in the following weeks like losing to Leicester City by 4-2, then on the next week losing to Liverpool by 5-0, then to Manchester City by 2-0, and finally an embarrassing loss to Watford by 4-1. Consequently, Unites's head coach of 3 years, Ole Gunnar Solskjaer, left his role after such disappointing weeks. After that, Manchester United ranked its lowest on the table in the 10th position in just a matter of weeks. Way differently than the last season Rank's.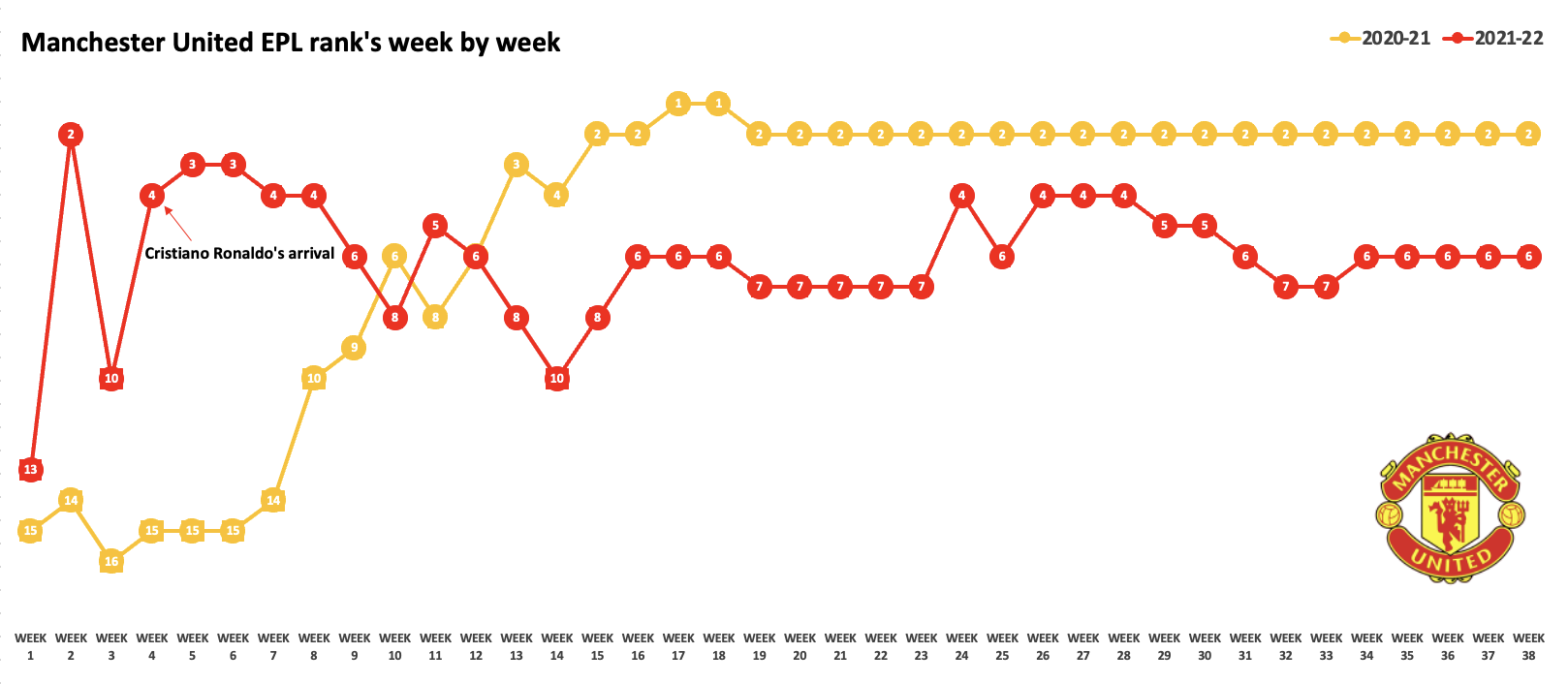 Before the arrival of Ronaldo, Bruno Fernandes was the top scorer of the team and Rashford was the second. Now they, respectively, moved to second and third after the arrival of Cristiano. Could this have affected the gameplay of United? Here is a more detailed look at the three players' stats for 2020-21 and 2021-22.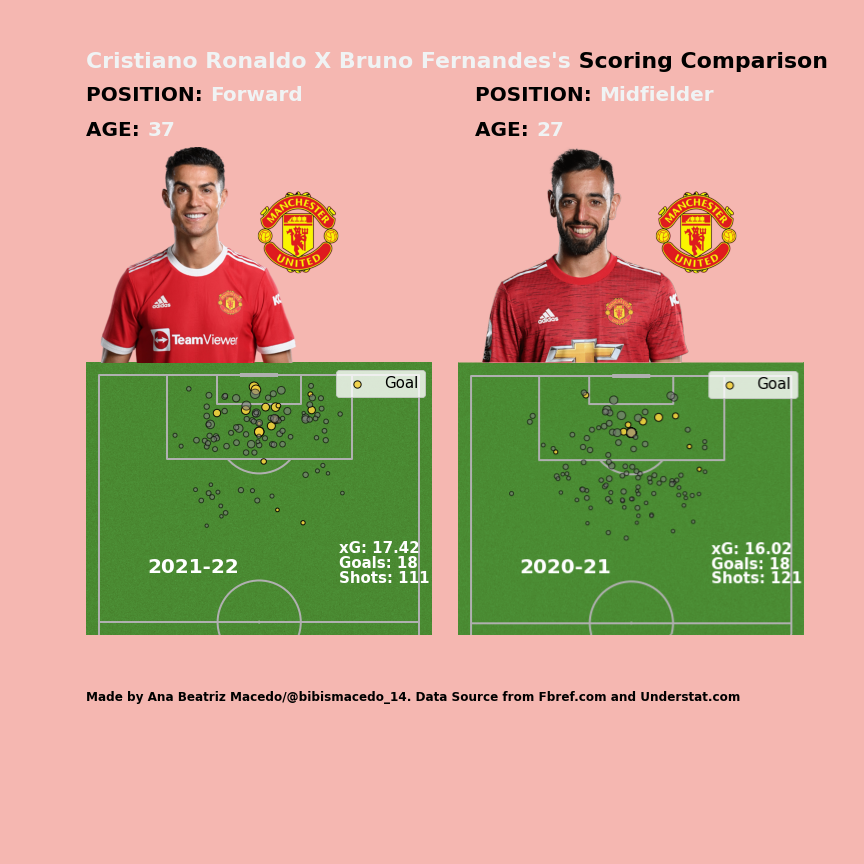 If we do analyze players' performance, we could compare the top scores of United from last season to this season. Bruno scored the same amount of goals as Ronaldo in the previous season with less xG.  Plus, Rashford and Fernandes have a better percentage of shots on target than Ronaldo.

However, Cristiano, in fewer appearances than the other players, has a better percentage of Goals per Game, meaning he did have a strong effect on the United's attack, but it was not enough for the team to elevate its overall performance.  
We can assume that the prime role of scoring was passed on to Ronaldo who did not fail on keeping the goals and xG high for Manchester United. So, could the defense be the main effect of United's underperformance?
The goalkeeper, De Gea, allowed many goals and ended up with just a few clean sheets compared to other top-tier teams. The Red Devils conceded more goals than teams who ranked way lower on the table like: Burnley (Relegation spot), Aston Villa(14th), Brentford(13th), Crystal Palace(12th), Wolverhampton(10th), Brighton(9th) and finally West Ham(7th) who had the same number of wins as them.
In addition to that, on average, they conceded 1.51 goals per match while the teams ranked above, with their average calculated together, conceded 0.9 goals per match. An significant difference. Plus their goal-scored and goal-conceded difference was equal to zero(57-57=0), while in the season pre-Ronaldo the difference was of +29 goals.
The organization had their up and downs during this last season but were able to maintain better classification during the last few weeks and clinch the sixth place in the League. Yet, they still ranked lower than in the two previous seasons, respectively, second and third.
They did not classify for either the Champions League or the Europa League and sources say that with Manchester United out of the Champions League, there will be a salary cut and some new transfers and signings over the summer. But most importantly, Ronaldo appears to remain in Old Trafford for the next season.
All in all, if we do compare Ronaldo's arrival season to the last one, yes, because it did not live up to its expectations or had the impact everyone was hoping for. But he was able to do what he does best: score.  Could Manchester United have ranked better without his arrival? Maybe, but we will never know for sure. We'll just have to stick with the idea of what could have been.
About the Author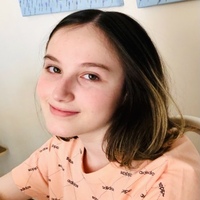 Ana Beatriz Macedo is a Data Science and AI undergraduate student. Plans on pursuing and developing a career in Sports Analytics and Data Science. Favorite leagues are the NBA, NFL and EPL. Here is a link to her LinkedIn  and Github profile.
Sources used to make the charts and statistics
https://footystats.org/
https://www.premierleague.com/
https://understat.com/
https://fbref.com/en/comps/9/Premier-League-Stats
https://statsbomb.com/