Published on September 23, 2022 by Ana Beatriz Macedo and Austin Streitmatter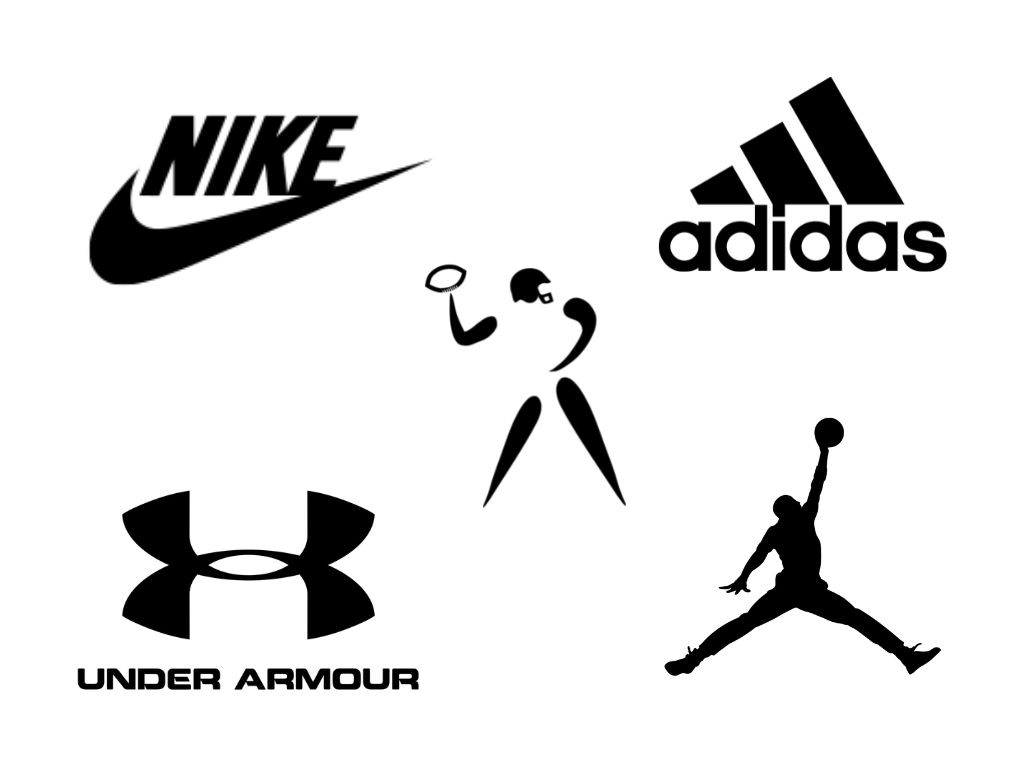 College sports are known for a multitude of different reasons but one of the main ones is the colors that these teams wear in competition. From the literally named Carolina blue of the University of North Carolina to the crimson and white of the University of Alabama's Crimson Tide to the oranges of the University of Tennessee and University of Texas. However, these colors are brought to life on the fields by certain jersey providers. If these colors become part of the school and fanbase's identity, are these jersey providers obtaining the same level of affinity that the colors are? That is the question that we set out to answer throughout this research: Does a school's partnership with a jersey brand affect the affinity of the respective fanbase to their own brand?
Utilizing Zoomph's social media tools, we found affinities for each FBS football school's Twitter and Instagram toward Nike, Under Armour, Jordan, and Adidas. We wanted to find out if the fans of a particular school had preferences for their own team sponsor or if they just had a generalized affinity for every brand.
Out of all the sports brands, non-Power 5 and Power 5 Schools have a higher affinity for Nike with the exception of two schools. The University of North Carolina is the only school from the Power 5 group that does not have a Nike affinity brand, but they have a bigger preference for Air Jordan since he is their Alumnus. Maryland has a bigger affinity for Under Armour.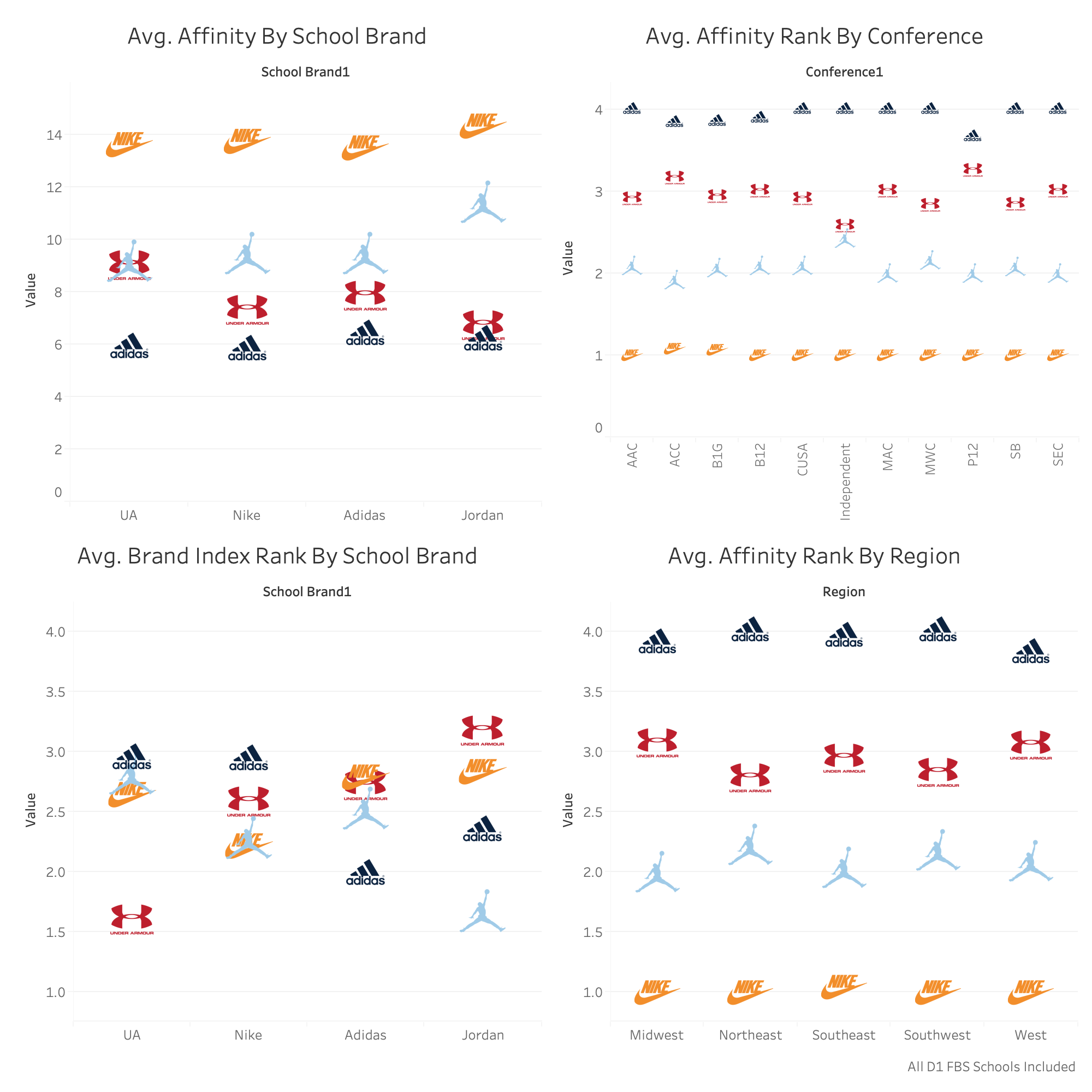 Nike is the primary brand in 128 out of 130 schools, Jordan and Under Armour are the primary choices of only two singles schools while Adidas ranks in fourth or third position for every school brand preference.
Nevertheless, we are able to see that among all of the conferences and, consequently, the country's regions, Nike stands out as the most popular sports brand, followed by Jordan, Under Armour, and lastly Adidas.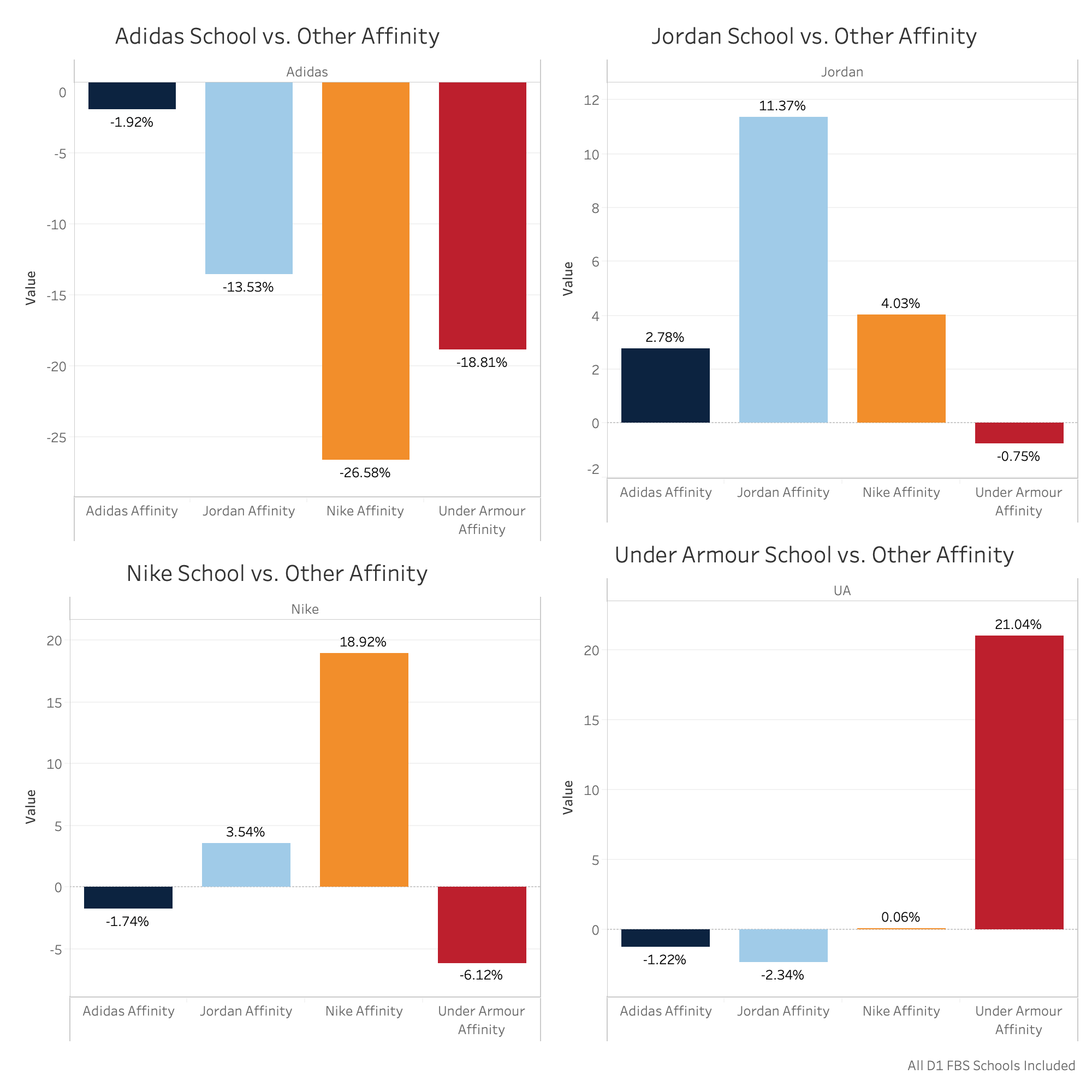 We also decided to figure out if our data had any valuable correlations among our attributes to understand better our final results by doing some regressions.
It turns out that there aren't relationships among the data we gathered that can help us understand why some Brands have a higher affinity than others. But, by doing some research, we are able to understand why Nike has a bigger affinity than the other brands.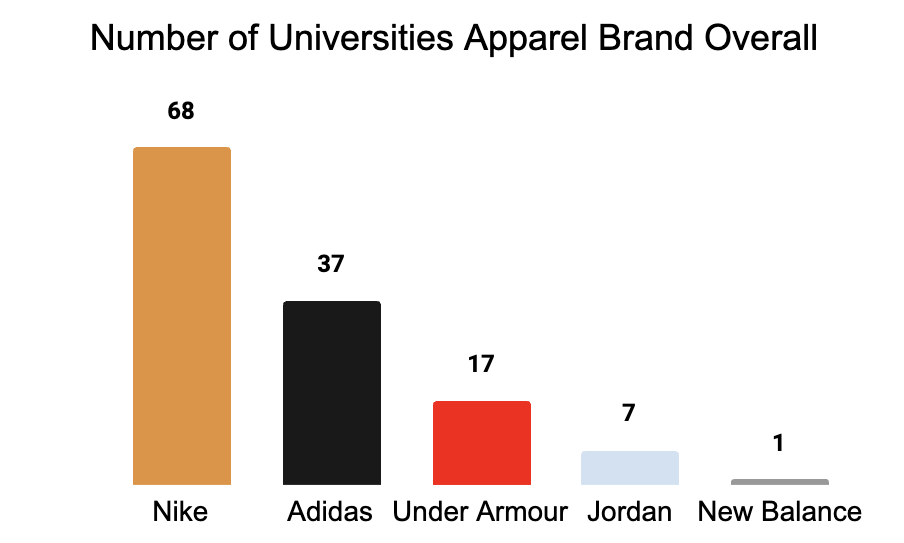 Out of the 130 schools, 52.3% (68 universities) of them are primarily sponsored by Nike. And even though Adidas is the least ranked in affinity, it is the second brand that sponsors more schools with 28.5% (37 universities).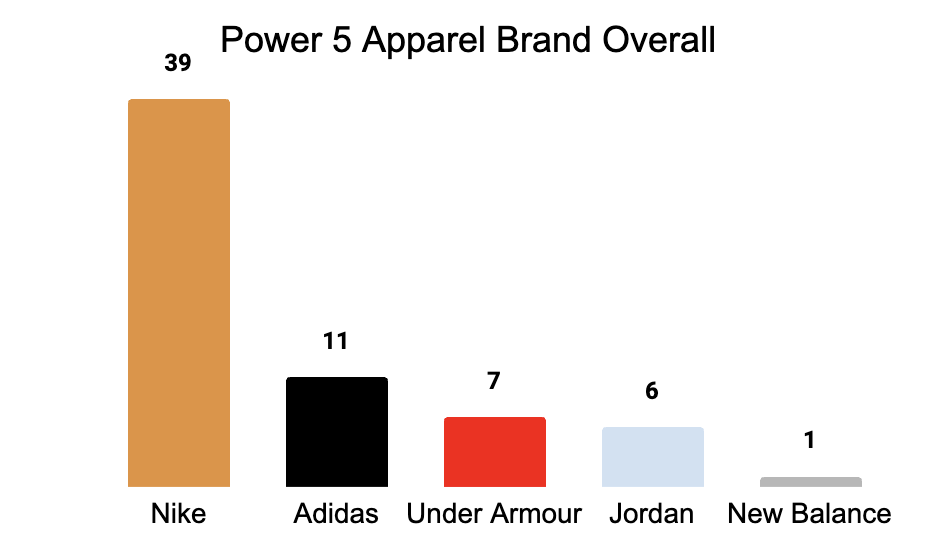 If we consider only the Power Five Conferences (ACC, Big Ten, Big 12, Pac-12, and SEC), Nike still has the most participation in school apparel sponsoring. But among all of these conferences, Nike [rest of sentence missing in original text].
In addition to that, from our data, we were able to see that Nike and Jordan have high correlations and are the top two schools in affinity. But what is the reason for that? Well, Jordan speaks to Nike's company strategy for the Jumpman, which has been on transitioning some schools spread across multiple conferences over from Nike proper.
Curiously, the one Power 5 school under New Balance sponsoring is Boston College, because the university was in need of a new shoe deal and the headquarters of the brand are located in Boston.
In the end, we found that although these jerseys are seen, admired, and worn by fans almost every Saturday for 5 months, there were no significant correlations between a school's brand affinity and that same school's jersey partner. There were some increases on a school-by-school basis such as Jordan to UNC or Under Armour to Maryland mainly due to direct ties between the institution and the brand but for the vast majority of schools, there were no significant correlations.
About the Authors
Ana Beatriz Macedo is a Data Science and AI undergraduate student. Plans on pursuing and developing a career in Sports Analytics and Data Science. Favorite leagues are the NBA, NFL, and EPL. Here is a link to her LinkedIn and Github profile.
Austin Streitmatter is a senior marketing and sports analytics undergraduate student who plans on pursuing a career in the Sports Analytics industry. His favorite leagues are the NFL and the WNBA. His LinkedIn can be found here!
Sources used to make the charts and statistics
- NCAA Football Apparel Brand Partners