Stephen Bailey
Stephen Bailey '11 is earning a Ph.D. in Neuroscience at Vanderbilt University
John Ballard
John Ballard '10 is a court officer and student at Nashville School of Law
Adam Borneman
Adam published the book The Social and Political Dimensions of John Williamson Nevin's Theology of Incarnation.
Garrett Brown
Garrett Brown '13—deferred admission to Ohio University (M.A. in Musicology)
Aaron Carr
Classics and religion double major Aaron Carr '12 is a student at Emory University's Candler School of Theology. His 2012 sermon on the topic of "Foundations," presented at the National Festival of Young Preachers in Louisville, Ky., was included in the book Uncommon Sense: Jesus and the Renewal of the World (Chalice Press.) He is one of six members of the Academy of Preachers' national Gospel Catalyst Network leadership team. 
Jeremiah Chester
Jeremiah Chester '10 earned a Master of Divinity degree at Princeton Divinity School ('13)
Tyler Clardy
Tyler Clardy '12 is working with an international sports marketing firm
Kaitlin Cordova
Kaitlin Cordova '12 is a freelance editor in Huntsville, Ala.
Ben Garrett
Ben Garrett '12 is earning a Master of Art degree at the University of Chicago.
Nathan House
Nathan House '13 is earning a Master of Divinity degree at Duke Divinity School
Marvin Leathers
Marvin Leathers '04, a double major in classics and biochemistry, is a Ph.D. candidate in neuroscience and a Mellon Fellow at the University of Pittsburgh. He is the first author of an article that is receiving considerable attention in the neurological science world–"In Monkeys Making Value-Based Decisions, LIP Neurons Encode Cue Salience and Not Action Value," that appeared in the October 2012 issue of Science.
Stephen Nelson
Stephen Nelson '11 is a youth minister in Knoxville, Tenn.
Jennifer Pharr Davis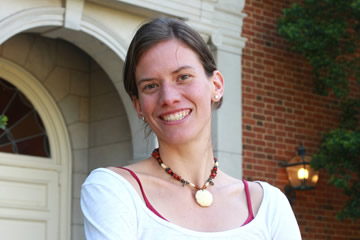 Jennifer Pharr Davis '04 set a new record of 46 days, 11 hours and 20 minutes for an assisted thru-hike of the complete Appalachian trail. Davis also published Called Again: A Story of Love and Triumph and Becoming Odyssa: Epic Adventures on the Appalachian Trail, the chronicle of her record-setting 2008 hike of the trail. She also is the author of numerous magazine articles and the hiking guides Five-Star Trails: Asheville: Your Guide to the Area's Most Beautiful Hikes, Best Easy Day Hikes Charlotte and Best Hikes Near Charlotte. She continues to hike, guide and speak through Blue Ridge Hiking Company, which she founded in 2005.
Josh Stiers
Josh Stiers '10 earned a J.D. degree at Seton Hall Law School ('13)
Michael Taunton
Michael Taunton '10 and Alan T. Halbrooks published The Caffeinated Gospel: Traditional Christianity With a Bold, Modern Flavor.