Italy: Eternal Rome
Classics 304 (4 credits)

 In Rome, ancient edifices lie around every corner, so as you wander the medieval streets past Renaissance palaces on your way to savor the joy of gelato, you'll wonder at the ubiquitous fragments of our classical inheritance.  Rome will deliver unexpected surprises, like the magnificent aqueduct above, to those who heed Horace's call of CARPE DIEM.
This class leads students out of the classroom and into world famous archeological sites (think Colosseum) and world class museums (think the Vatican Museums and its Sistine Chapel) in order to examine the history and culture of Rome from its Greek and Etruscan antecedents through the Roman Republic doomed by Julius Caesar on to the Roman Empire established by Caesar Augustus, all the way to the Renaissance transformation of the Classical ideal.
Greece: The Crucible of Civilization
Classics 303 (4 credits)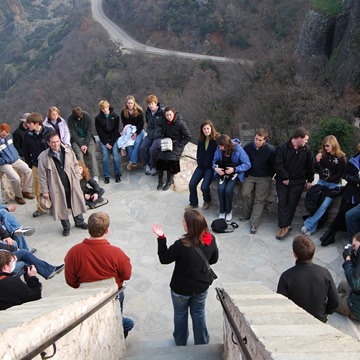 An adventure in Greece finds you following the footsteps of Plato and of Paul as you explore the ancient ruins, the rugged mountains, the timeless sculptures, the peaceful beaches, the historic battles, the savory cuisine, the haunting poetry that is Hellas, which is Greek for Greece.
This class guides students through winding streets to the foot of the Acropolis, then through its gateway to the base of the Parthenon.  This is the heart of Athens, birthplace of democracy, and just one of many incredible classrooms in which you will experience with all your senses the epic of Homer, the tragedy of Sophocles, the wisdom of Socrates and the journeys of Paul.