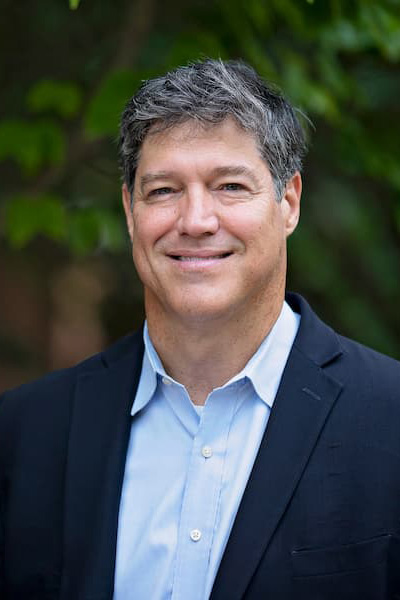 Professor, Chair
Howard College of Arts and Sciences
English
251 Ingalls Hall
Beowulf
and
The Canterbury Tales
work and how, in modern times, these texts have been put to various uses that serve the needs of modern communities. He is a co-editor for
Grundtvig-Studier
(published in Copenhagen, Denmark) and has served on the editorial boards for
LATCH: Literary Artifact in Theory, Culture and History
and
Medieval Perspectives
. He is the author of
Translating the Past: Essays in Honor of Marijane Osborn
(ACRMS) and
Approaches to Teaching the Middle English
Pearl, which is forthcoming from the Modern Language Association. He is currently working on a monograph about the pioneering
Beowulf
scholarship of the nineteenth-century priest, poet and politician N.F.S. Grundtvig.
Before coming to Samford University in 2013, Busbee was Associate Professor and Chair of the Department of Language and Literature at Florida Gulf Coast University (2006-2013). He held a post-doctoral fellowship at the University of California, Davis in 2005-06, a visiting lectureship at Johannes Gutenberg Universität in Mainz, Germany in 2004-05, and a Fulbright Fellowship to Denmark in 2003-04.
Busbee and his wife, Kathleen, live in Homewood, Alabama, with their three daughters, Kamilla, Suzanna and Sadie, and their son Elias.
Degrees and Certifications
PhD, University of California, Davis
MA, Middlebury College
BA, Presbyterian College
Awards and Fellowships
William J. Calvert Award for best scholarly article (awarded by the Alabama College Teachers of English Association, 2020-21)
Samford Howard College of Arts and Sciences Award for Outstanding Scholarship (2019-20)
William E. and Wylodine F. Hull Research Fellowship for "Living Wellsprings of Christian Humanist Collaborative Research" (2016-17, 2018-20)
Southeastern Medieval Association Excellence in Teaching Award (2015)
American-Scandinavian Foundation Grant (2007)
Fulbright Fellowship to Denmark (2003-04)
National Endowment of the Humanities Grant (1998-1999)
Dewitt Wallace -- Reader's Digest Fellowship (1996-99)
Books
Translating the Past: Essays on Medieval Literature in Honor of Marijane Osborn, co-edited with Jane Beal Tempe: AZ: Arizona Medieval & Renaissance Texts and Studies, 2012.
Approaches to Teaching the Middle English Pearl, co-edited with Jane Beal, Modern Language Association, 2018.
Selected Articles, Book Chapters, Translations, Reviews
""A Little, Shared Homer for England and the North': The First Version of Beowulf for Young Readers." Beowulf as Children's Literature: Studies in Adaptation. Edited by Britt Mize and Bruce Gilchrist. Toronto: University of Toronto Press, 2021, pp. 20-55. (chosen for the William J. Calvert Award, best work of published scholarship.)
"De sidste tiders underholdningspoesi, "Danske Kirketidende, June 2018, volume 170, pp. 18-19.
"Indledning til 'Om Bjovulfs Drape eller det af Hr. Etatsraad Thorkelin 1815 udgivne angelsachsiske Digt'," Grundtvigs-Værker (October, 2016).
"Introduction." "Om Bjovulfs Drape eller det af Hr. Etatsraad Thorkelin 1815 udgivne angelsachsiske Digt." Grundtvigs-Værker.
Translation: "A few words about the recently published Anglo-Saxon poem, the first edition of Beowulf" (Et Par Ord om det nys angelsaxisk Digt). Grundtvig Studier (2015): 1-55.
"Performative Cannibalism in Richard Coer de Lion." Medieval Perspectives 30 (2015): 195-216.
"Teaching Pearl in the Context of its Sources." Approaches to Teaching the Middle English Pearl, pp. 139-47.
Review of Weaving Words and Binding Bodies: The Poetics of Human Experience in Old English Literature. Choice: Current Reviews for Academic Libraries. September 2016.
Review of School for Life and Living Wellsprings, translated by Edward Broadbridge. Grundtvig-Studier (2015): 207-14.
"Holy Grail in Christianity and Literature." (Co-authored with Gareth Griffith of Bristol University in the UK) The Encyclopedia of the Bible and Its Reception (EBR). Vol. 9. Berlin: De Gruyter, 2015.
"The Case for a Sleeping Spell in Beowulf." Medieval Perspectives 29 (2014): 121-132.
"The Idea of India in Early Medieval England." India in the World. Ed. Bernd Dietz, Cristina Gámez and Antonia Navarro. New Castle upon Tyne, UK: Cambridge Scholars Press, 2011. 3-16.
"Grundtvig and Tolkien on Beowulf: A Comparative Analysis." Grundtvig-Studier (2010): 12-30.
"A Paradise full of Monsters: India in the Old English Imagination." LATCH: A Journal for the Study of the Literary Artifact in Theory, Culture, or History. (November 2008): 49-70.
"How Nationalism Enhanced the First Translation of Beowulf." Transverse: A Comparative Studies Journal. 7 (Spring 2007): 64-80.
Selected Conference Papers
"Keeping the Secrets of Natural History: Robinet Testard's Humanist Preservation Project in BN Français 22971," Southeastern Medieval Association Conference, Nassau, Bahamas, 8 November 2018.
"'Lands of the Living'" Opening Address," Lands of the Living: An International Symposium on the Influence of N.F.S. Grundtvig. University of London, England, 1 August 2018.
Plenary Address: "Grundtvig's Educational Use of Medieval Nordisk Literature: An Experiment that Succeeded." Lifelong Learning in Developing Countries: Issues and Perspectives. To be presented at Kalyani University, Kalyani, West Bengal, India. 17 February 2017.
"An explication of the first (mostly) accurate modern essay about Beowulf: 'Et Par Ord om det nys udkomne angelsaxisk Digt' by N.F.S. Grundtvig" Southeastern Medieval Association Conference 2015. Little Rock, Arkansas. 23 October 2015.
Keynote Address: "Grundtvig and the Living Words of Beowulf." Seminar om Beowulf i Selskab for Nordisk Filologi. Copenhagen, Denmark. 8 October 2015.
"China in Robinet Testard's Preservation Fantasy." Southeastern Medieval Association Conference 2013, Boone, North Carolina, 4 October 2013.
"The Old English Wonders of the East as Pre-National, Imaginary Travelogue." 42nd Annual Conference of the College English Association, St. Petersburg, Florida, 31 March 2011.
"'O serpent under femynynytee': The Lamia in the Man of Law's Tale." 36th Meeting of the Southeastern Medieval Association, Roanoke, Virginia, 19 November 2010.
"N.F.S. Grundtvig and the Rise of English Medievalism." 21st DeBartolo Conference, University of South Florida, Tampa, Florida, 2 April 2010.
"The Degenerative Cultural Effects of English Translation on Navajo Ritual." 125th Annual Meeting of the Modern Language Association, Philadelphia, Pennsylvania, 28 December 2009.
"Encounters between Vikings and Persians on the Silk Road." 44th International Congress on Medieval Studies, Western Michigan University, Kalamazoo, Michigan, 8 May 2009.
"The Love Engendering Letter in the Old English Apollonius of Tyre." 80th Annual South Atlantic Modern Language Association Convention, Louisville, Kentucky, 8 November 2008.
Involvement
Association of Departments of English
International Society for the Study of Early Medieval England
Modern Language Association
Society for the Advancement of Scandinavian Study
Southeastern Medieval Association